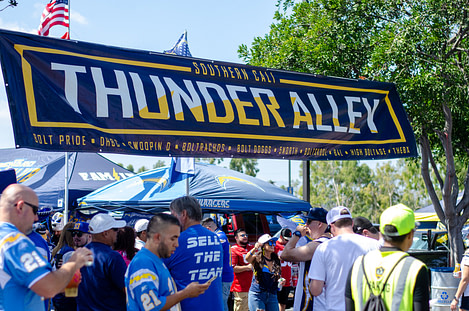 Thunder Alley and the rest of the Bolts fans will be cheering from their homes as the Chargers travel to New Orleans for Monday's game. Photo by Glenn Marshall.
---
By Jeremy Gonzalez, Sports Editor
Los Angeles Chargers vs. New Orleans Saints. 5:15 p.m. ESPN.
Mercedes-Benz Superdome. New Orleans, LA.
Chargers record: 1-3, 4th in AFC West. NFL Week 5 Power Ranking: 18
Los Angeles is on a three-game losing streak, with their most recent loss coming at the hands of Tom Brady and the Tampa Bay Buccaneers, who defeated the Bolts 38-31 behind Brady's five TDs.
Saints record: 2-2, 2nd in NFC South. NFL Week 5 Power Ranking: 11
New Orleans got back in the win column after a 35-29 road victory against the Detroit Lions. Second string running back Latavius Murray shined for the Saints, rushing for 64 yards and two touchdowns.
The lights will be bright for the primetime matchup between the Los Angeles Chargers and the New Orleans Saints on Monday Night Football. While the teams play in different regions and conferences, they will always be tied together by one man: Saints quarterback Drew Brees.
A long time ago, the Chargers were located in San Diego, nearly 100 miles south of their current home. The Bolts drafted Brees in the second round of the 2001 NFL Draft,where he eventually became the team's starter in 2002 and made the Pro Bowl in 2004.
Brees was enjoying success in San Diego until he suffered a torn labrum and rotator cuff in his final game of the 2005 season. During free agency, the Chargers initially offered Brees a contract that was mainly based on performance incentives, but Brees did not bite. He chose to sign with New Orleans instead, where he has played ever since.
When Brees left his final game for the Chargers after suffering the career-threatening shoulder injury, Justin Herbert was 7 years old. Fast forward 15 years later and the pair will be facing off in primetime, with Herbert the promising Chargers rookie QB and Brees a Saints legend.
Here's a breakdown of the quarterback showdown and other things to watch out for ahead of the Monday night clash between Los Angeles and New Orleans:
IN THE POCKET
Chargers head coach Anthony Lynn announced Thursday that Herbert would be the team's starting quarterback moving forward, according to ESPN's Adam Schefter. Herbert started each of the last three games after team doctor's accidentally punctured Tyrod Taylor's lung before Week 2.
Herbert faced off against Tom Brady and the Bucs last week in a thrilling showdown that saw Herbert go toe-to-toe with the future Hall of Famer, throwing for 290 yards and three TDs, but Brady outlasted the Bolts to edge Los Angeles 38-31. If Herbert's matchup against Brady is any indication of what might come Monday night, then fans are in for another thriller.
Herbert is a rookie quarterback that was drafted sixth overall in the 2020 NFL Draft out of the University of Oregon, but he's not playing like a rookie. Herbert looks fairly comfortable in Lynn's offense despite the team having multiple injuries on that side of the ball.
Despite not earning his first victory yet, Herbert has played generally well, completing 72 percent of his passes for 931 yards and five touchdowns with three interceptions through three games. His strong play has even captured the attention of his counterpart.
"He's definitely a very talented player," Brees said in a press conference earlier in the week. "Some of the throws I've seen him make over the last few weeks have been pretty impressive and obviously he's a big athlete who can do a lot of things with his arm and with his legs – and it seems like they're asking him to do a lot, which shows his versatility."
Brees holds nearly every passing record that matters in the NFL, including being the league's all-time leading passer. And while the 41-year-old quarterback has regressed slightly from his usual performances that fans were accustomed to seeing on Sundays, Brees' knowledge of the game and familiarity of Sean Payton's offense still makes him one of the top-tier quarterbacks.
Brees threw for 246 yards and two touchdowns in a road victory against the Detroit Lions, completing 76 percent of his passes, proving he can still get it done with his arm.
The two quarterbacks are a generation apart, but the chess match that will take place between these two offensive leaders is must-watch football.
OFFENSE DEPLETED
The Bolts will be without right guard Trai Turner (groin) and right tackle Bryan Bulaga (back) for another week as both offensive linemen were ruled out of Monday's matchup, according to the Chargers Week 5 injury report. Backup quarterback Tyrod Taylor (ribs/chest) has also been ruled out for a third consecutive week as he continues to recover from his punctured lung.
Running back Austin Ekeler suffered a hamstring injury during last week's game against the Bucs, keeping him out of action for four to six weeks. Ekeler's injury pushes rookie Joshua Kelley into the starting spot. Kelley has led the team in carries (52) and is averaging 3.3 yards per carry, but has had fumbling issues the past two games.
The Chargers received a lifeline at the running back position last week when Justin Jackson was available for his first game this season after being sidelined for the first three weeks with a quad injury. Look for Kelley and Jackson to split carries throughout the game, but Lynn might go with the hot hand if one of them provides a spark.
The Bolts faced the league's top run defense last week and will have another challenge this week as the Saints boast the sixth ranked run defense. Being without their right side of the offensive line and their best running back will present an uphill battle for the Los Angeles offense.
Vegas Line
Opening: New Orleans is listed as the favorite. Line: -7.5. Total: 52.5
Sunday night: New Orleans is listed as the favorite. Line: -8.0. Total: -50.0
Lightning Rod pick: Herbert has continued to impress for the Bolts and is extraordinarily fun to watch, but he cannot continue to cover up for deficiencies elsewhere on the offense. Asking him to carry the franchise is asking too much against a Saints team that is getting healthier while the Bolts are plagued with injuries. The Saints will make things Breesy in primetime and in the Superdome, sacking Herbert three times and causing two turnovers. Los Angeles' fumbling issues will continue this week and the running game will struggle with key players missing.
Saints 28, Chargers 20.
csudhbulletin