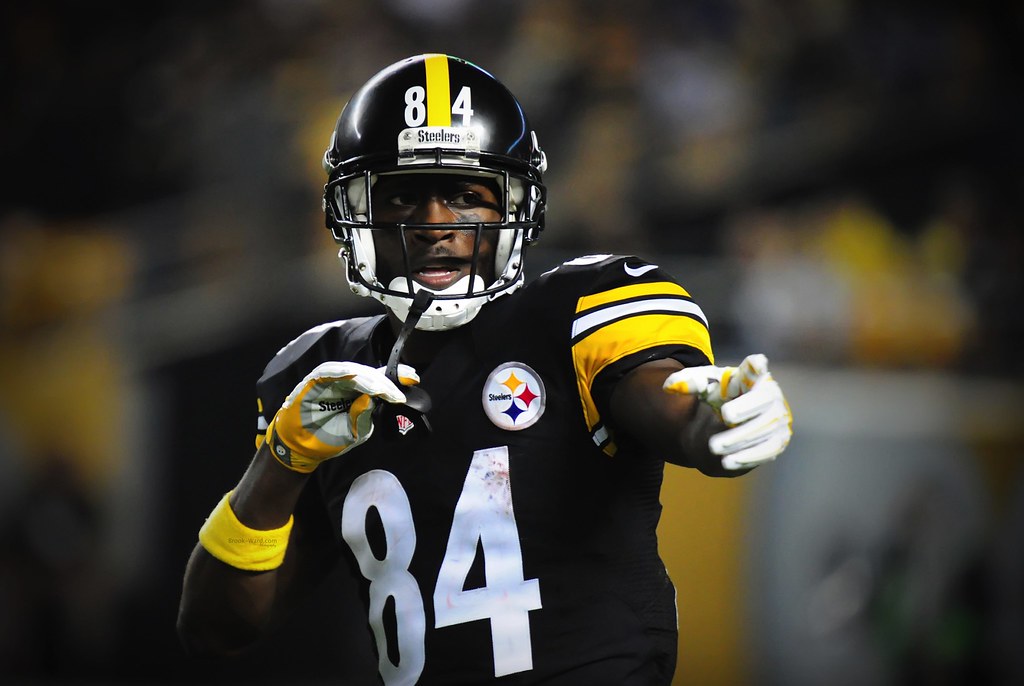 By Malena Lopez, Staff Writer
NFL star–sorry, former star– Antonio Brown has recently fumbled his entire career along with making this year one of the strangest in league history. How has a wide receiver once viewed as a living legend been reduced to a guy with a bleached mustache?
Don't worry, I'll tell you. But before I get to his downfall, let's talk briefly about his rise to fame.
Signing with the Pittsburgh Steelers in June 2010 is where Brown's Cinderella story begins. In the nine years that Brown was with the Steelers he was one of the league's biggest stars with his record breaking touchdowns and punt returns. I mean, he was the first player in NFL history to have more than 1,000 yards receiving and returning in the same year. And on top of that he joined Detroit Lion Calvin Johnson and Atlanta Falcon Julio Jones as the only NFL players to reach 10,000 receiving yards in under 116 games.
One could argue that these achievements in concussion, I mean, conjunction with becoming the highest-paid receiver at $68 million started to go straight to his head. The end of his career with the Steelers was filled with penalties and missed practices and incurring fines for excessive celebrating on the field, wearing the wrong colored shoes, running backward, and the worst of all, twerking. This is sort of where Brown's Cinderella story ends. Whereas Cinderella went from rags to riches, Brown went from punts to just straight up trippin.
Brown left the Steelers after the 2018 season and was picked up by Oakland Raiders in March 2019 and it's been nothing but trouble ever since.
Soon after his start with the Raiders, Brown began to raise hell over his helmet in one of his most memed moments of his entire career, as the internet took to calling him Dark Helmet after he threatened to never play football again unless he could continue wearing his old helmet that is no longer approved by the league (due to it not being up to concussions-CTE standard). THEN he went on to miss even more practices, since he refused to wear a different helmet, and had an explosive altercation that ended with Brown calling the team general manager
Mike Maylock, a "cracker" over the whole helmet request being denied.
Of course Brown was quick to apologize to him and the entire team. Who wouldn't when you have $30 million on the line? But ultimately, the Raiders came to realize that this guy was too much drama which led him to be signed with the New England Patriots only a few days later, a franchise well known for taking in faded NFL stars. But of course, his glory with the Patriots only lasted 11 days after being kicked off for a currently ongoing sexual harassment lawsuit from his former trainer, Britney Taylor. *Inserts clown emoji.*
A few days after this allegation, another sexual harassment lawsuit was filed involving an artist Brown had hired to do his portrait. *Inserts ongoing clown emojis* Understandably so, Brown left the league and went into hiding, sort-of.
So what is the Dark Helmet up to now, you ask? Well Brown has announced he is leaving the league to clear his name and going back to school. Brown has enrolled in online classes at Central Michigan University. I'm all for higher education but I cannot figure out his major after seeing the courses he has enrolled in:
Sociology. Marketing. English. A death and dying course.
I am a Steelers fan through and through, so by default, I had to embrace AB, but this guy is complete clown. He thought he was invincible and now no team wants to take a chance with him because of this investigation.
So is his NFL career over? Well, the league has given multiple chances to many in the past, so maybe it's not. Let's just hope that if his football days are over, he will use his death-and-dying English marketing degree for the good of us all.
csudhbulletin