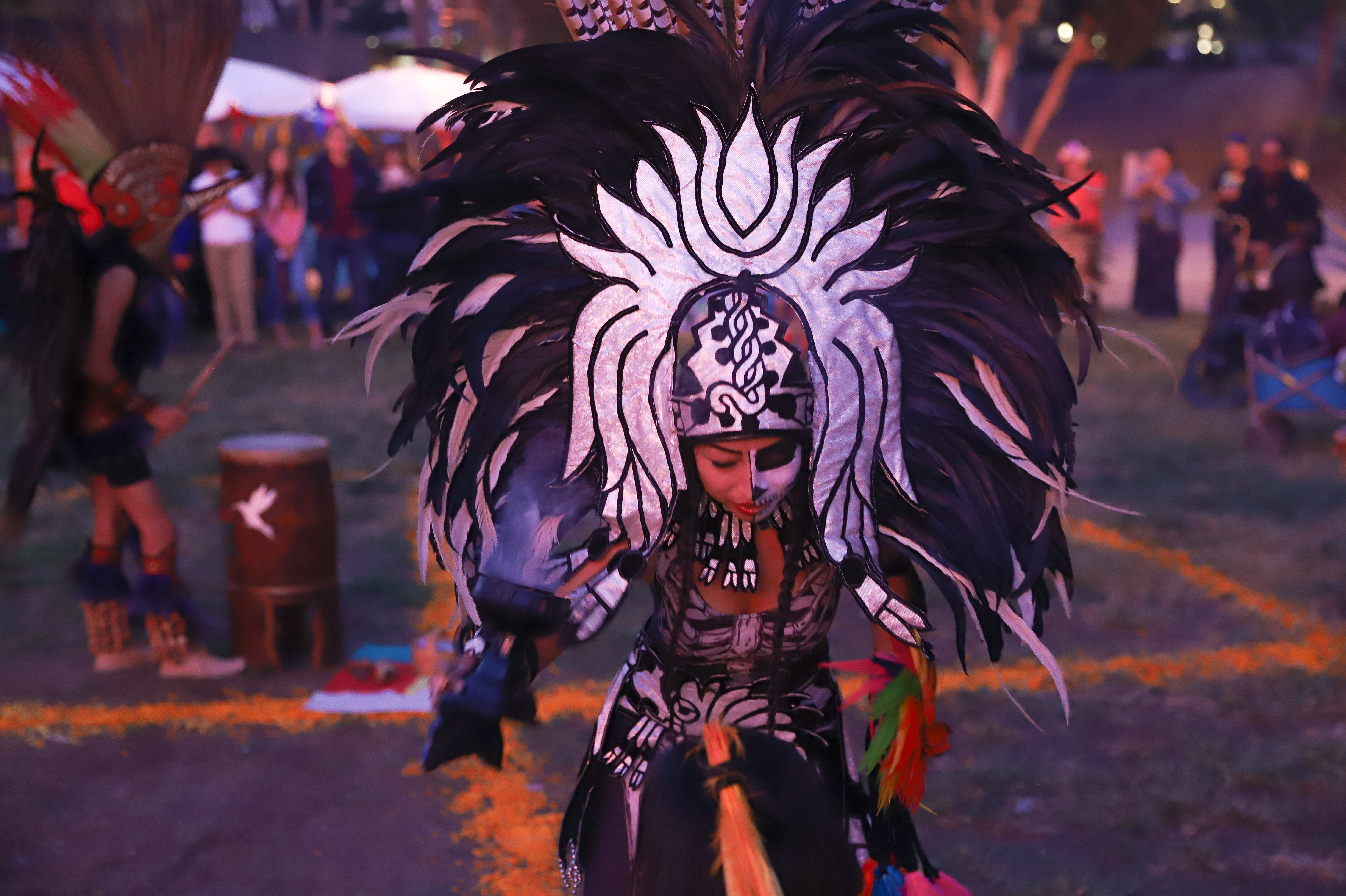 Photo by Nova Blanco-Rico
By Violeta Rocha, Co-Social Media Manager

Christmas, Easter and Halloween are three examples of rituals and traditions with roots reaching back more than 2,000 years that have become secularized and commercialized holidays emphasizing consumerism over culture.

Is Dia de los Muertos, or Day of the Dead, next on the list?

For one local example, in a Monday article in the Daily Breeze newspaper, columnist David Whiting wrote that although he had been to many Day of the Dead events across Southern California, he had never seen anything as "cool and awesome" as a Whittier celebration last week that included "tricked out and lowrider cars. (In fairness ,he did mention that Day of the Dead is rooted in "Mexican culture and time to celebrate and honor[relatives]."

But the emphasis on something that has nothing to do with a celebration that began during the Aztec empire gives credence to those who feel the increasing popularity of Day of the Dead in the U.S. is diluting its significance and obscuring its history. That the meaning and symbolism of a tradition that celebrates life through honoring the dead is endangered by things such as Hollywood co-opting it through films like "Coco" and the James Bond flick "Sceptre," cultural appropriation and being seen as "Mexican Halloween."

"I do feel that in recent years there has been the commercialization of the tradition without proper education of the rituals," Dr. Corina Benavides López, an assistant professor in the Chicano/a studies department, said. "Many times, one sees Day of the Dead decorations along with Halloween decorations at places like Target and Walmart. Yet, they are not the same type of celebration. El Dia de los Muertos is not a Mexican Halloween."

According to Claudia Mendoza Diaz, a professor in the modern languages department at CSUDH, Day of the Dead stems from Aztec mythology. They believed that after death, a person's eternal sould could only rest after a four-year journe through nine daunting layers. Every August, it was believed, the boundary between life and death was most fluid, and they felt the dead had returned to the land of the living. To make them feel welcome, alters, or ofrendas were erected in homes and adorned with skulls, a potent Aztec symbol of death and rebirth, and marigolds, considered a sacred flower.

However, when the Spaniards colonized Mesoamerica and forced the inhabitants to convert to Catholicism, the Aztec ritual, after unsuccessful attempts to eliminate it, was "rebranded" to the first two days of November, when the minor Catholic holidays of All Saint's Day and All Souls Day were observed.

This resulted in a cultural hybridization, with indigenous touches, such as the ofrendas holding offerings such as skulls and marigolds, but now alongside Catholic symbols, such as candles dedicated to saints and pan de muerto, a cross-topped bread symbolizing the Eucharist.
The fact some indigenous customs survived into the modern world is one reason why Day of the Dead celebrations began appearing in the U.S., particularly Southern California's East Los Angeles in the 1970s.

According to a 2013 article in The Journal of American Folklore, by Regina Marchi, these secular celebrations began "as a way to communicate messages of Chicano identity."
One can't help but wonder if buying Day of the Dead blonde ale at Wal-Mart, or a Day of the Dead shower curtain on Amazon for $17.99, was high on those cultural activists' agendas.
CSUDH's annual Day of the Dead celebration will take place in the Sculpture Garden Nov. 5 from 4 p.m.-7 p.m.

csudhbulletin