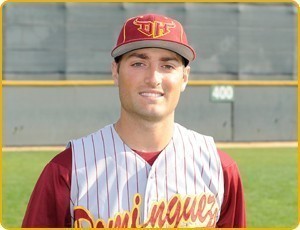 Editor's note: In honor of the 50th year of Toros athletics, the Bulletin will commemorate the greatest achievements, moments, and athletes in sports history at CSUDH through this column, where we will recount one notable sports achievement, athlete, or moment in every issue.

By Jeremy Gonzalez, Assistant Sports Editor

Hitting a baseball with a bat sounds like an easy concept, right? Just time it right and the swing should connect.
Well, consider this. According to someone who actually spent the time breaking it down on an online baseball forum in 2010, the average number of pitches each team sees in a Major League Baseball game is 146 and the average number of swings at those pitches is 66, with nearly 54 of those actually connecting with the ball.
That translates into nearly 81 percent of swings connecting See, not so difficult, right?
But hitting the ball is much different than actually getting a base hit. And considering that a batting average of .300 is considerd very good (about 22 percent of player hit at that number or higher) that means that the vast majority of players at the highest level fail to get a hit more than 70 percent of the time.
It's hard at every level, and while college sports isn't exactly MLB caliber, considering that the highest team average of any NCAA Division II team in 2019 was .357 and only 52 teams out of 260 D2 schools averaged .300, it's clear that getting a base hit is more difficult than playing level 2 of Nintendo's 1991's "Super Ghouls 'n Ghosts," which Buzzfeed called in 2014 the hardest video game ever.
Now, imagine playing real life baseball and going nearly three full months with getting a base hit every game. It has actually happened a handful of times,with Joe Dimaggio's legendary 56-game hitting in 1941, often regarded as the one single-season MLB record that will never be broken, the most notable example.
Well, a Toro nearly matched the Yankee Clipper. It was Kevin Pillar who, as a junior in 2010, set an NCAA Division II record in by getting a base hit in 54 games. The streak began Feb. 8 with a single into left field and didn't stop until May 8, when top-ranked UC San Diego finally shut him down. He broke the old record of 49 on May 1.
What is almost as amazing at that record streak was that Pillar didn't even have the best batting average of the regular starters on a team considered the finest in CSUDH history (it won a school-record 41 games and advanced to the NCAA II West Regionals, farther than any other Toro squad). His .379 average (according to the baseballcube.com was second to Abel Medina's .435.
Pillar played four years with the Toros, 2008 to 2011, hitting .379, .329, 379 and .369. After his senior season, he was drafted by the Toronto Blue Jays and is in the midst of the best career at the professional level of any former Toro. In 2011, his first minor league season, he batted .347, winning the Appalachian League batting title. He made The Show in 2013 and is still there, currently playing for the San Francisco Giants. While his career batting average of .256 doesn't match his collegiate prowess, he has done magic with his glove. A frequent sight on ESPN's nightly field gems segment with his spectacular plays, he earned the Wilson Defensive Player of the Year in his first year as starting center fielder in 2015, not committing an error in 413 total chances.
Pillar is the seventh and the latest Toro to see action in an MLB diamond. The starter of the Toro MLB dynasty was LaRue Washington in 1978 with the Texas Rangers. Washington had a long-lasting one-year MLB-career. Following Washington short-MLB-stint, we had more Toros with a short MLB career: George Stablein in 1980 played four MLB matches with the San Diego Padres, DeWayne Buice who signed for the Angeles didn't play a single official game (but was in the roaster for three-years) and Jim Pena played 25 games in 1992 for San Francisco Giants. On the other hand, Erick Plunk did hit triple digits in games played and was in the MLB from 1886 to 1999. Finally, Craig Grebeck is the Toro with the most games played in the MLB with 752 games. Pillar is only 38 games away from surpassing Grebeck.
Yes, considering that most of the historical moments in Toro history have honored teams that won a championship, or athletes who earned Olympic gold, or even an appearance on campus by NBA legend Magic Johnson, were actual moments in that each featured a single instant where a team was crowned or an athlete was awarded a medal or walked onto campus, Pillar's accomplishment technically doesn't belong on the list.
But what about this? Instead of one moment where he reached the pinnacle, Kevin Pillar strung together 54 of them.
csudhbulletin