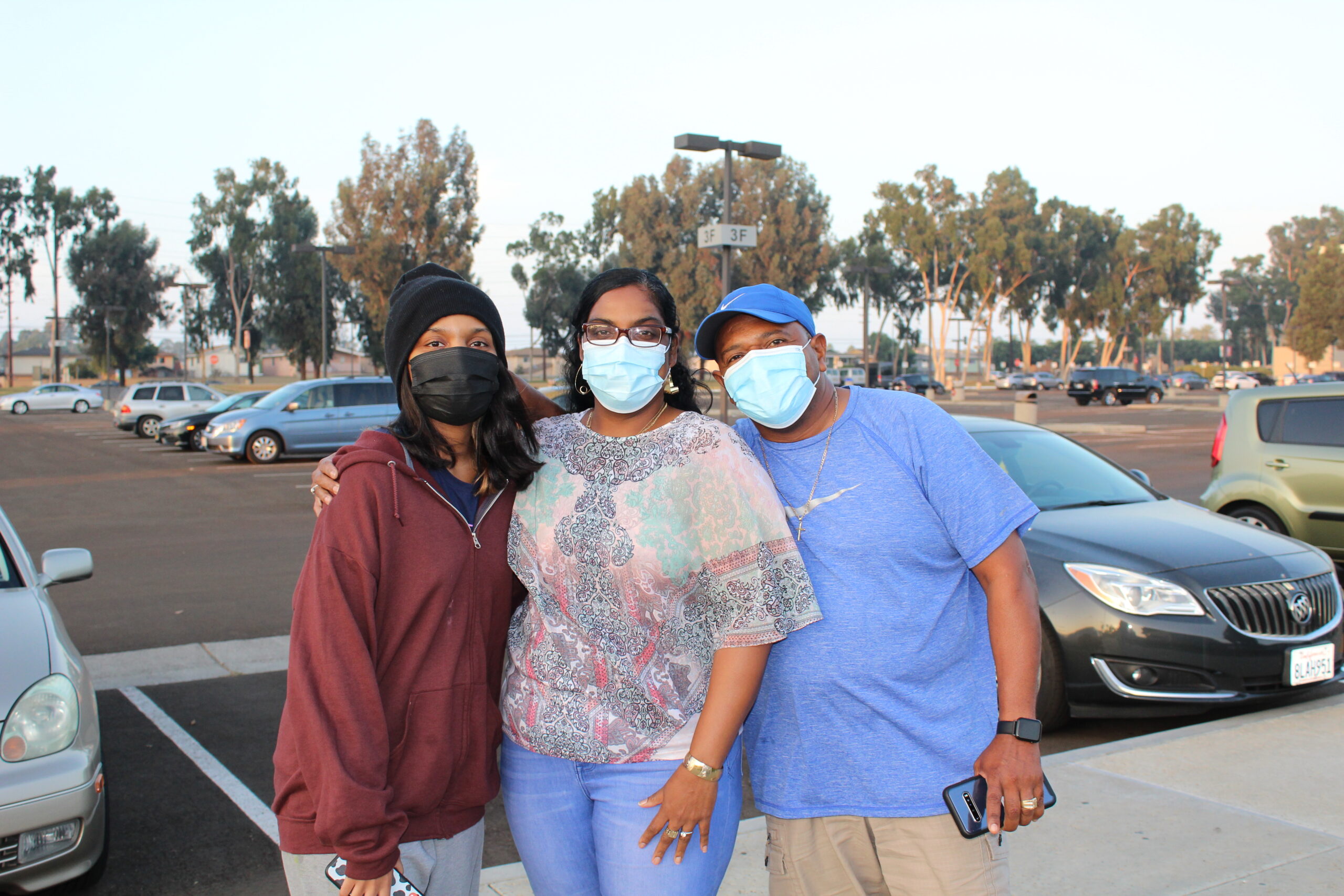 For the Arnold family who voted together on Tuesday at the CSUDH voting center, this is the first election they have been able to vote as newly naturalized citizens. Photo by Taylor Helmes, Managing Editor.
---
Editor's note:
This is an experiment in live blogging throughout today and into the evening. The topic: just the most consequential presidential election in our lifetimes. At least that what we keep hearing.
But this will not be a live blog of expert opinion or inside-the-Beltway perspective. Like most of America, we don't know what today holds.
But we do know that we're student journalists, and we have a website, and we've got eyes and ears and we're going to keep them open all day and into the night, whether we're casting our vote in person, or coming to campus to see what the crowd's like at the CSUDH voting center or if we're just hunkered down at home watching the election night coverage like everyone else.
And we're going to use this website as a place to record those observations, whatever they may be. And we promise to give a little digital ink to something other than the one race everybody across the world is talking about.
Once votes start being recorded by the LA County Registratr of Voters,we'll provide updated on the Carson City Council electtion, LA County board of supervisors, state and federal represenative, as well as all those propositions on the ballot.
Will we add much to the conversation? Who knows. But if it's true that journalists write the first draft of history, consider this our very small part in contributing some of the notes to that first draft.
11:22 p.m Speaking from the East Room of the White House,President Trump said that in his estimation, he has already won the election and that a "very sad group of people is trying to disenfranchise the millions and millions of people" who voted for him and that he will not stand for it.
"We were getting ready to win this election, frankly we did win this election," Trump said. Trump implied that Democrats knew they were going to lose the presidential election and therefore suddenly "stopped it" in hopes of pleading their case to the courts.
Trump thens aid it was his intentio to bringthe matter to the U.S. Supreme Court.
Trump said that he had "clearly won Georgia and North Carolina, and wa well on his way to winning in Michigan and Pennsylvania, and had a "lot of life" in Arizona and didn't understand why it was called for Biden earlier in the night.
Moments after Trump made his remarks, Fox news called Arizona for Biden.
As of midnight, none of the states Trump mentioned had been called for either side.
11 p.m. Washington D.C. The White House has announced that President Trump will speak within the next 10 minutes.
9:41 p.m. Wilmington, Delaware. Democratic candidate Joe Biden addressed a drive-in gathering outside the Chase Center in Wilmington, telling supporters that he was confident that Arizona, Michigan, Wisconsin and Pennsylvania would eventually rest in his column, but that the final results wouldn't be known until tomorrow at least.
"We knew this was going to go long," Biden said,. We feel good about where we are. We really do…"it ain't over until every vote is counted, until every ballot is counted."
8:30 P.M. California. Never Fear California is Here!
It's 2020 and the results are dark and full of uncounted mail-in ballots. For a good two hours, it seemed my whole Twitter feed, a carefully curated selection of liberals and socialists were trapped in social media terror. Between the dramatic up-to-date revelations of John King and CNN's Wolf Blitzer, one would think that President Donald Trump is winning so much that you might wake up tomorrow morning to find your nearest Sephora just added a gun section.
However, just mere minutes after the polls closed for the Golden State, the Associated Press declared former Vice President Joe Biden winner with 55 electoral votes in hand. You're welcome, everybody. Now, let us stress eat our avocados in peace.
– Destiny Jackson, Perspectives Editor
6:30 p.m. The Internet. Change is here and it's predominantly queer!
Delaware has always been pretty chill on my list. It's the only state with no-sales tax, home to former Vice President Joe Biden, and now has made senate election history. A big congratulations is in order for Delaware's 1st district state senate candidate Sarah McBride who is now the nation's first openly transgender leader in the position. Next up in a series of progressive victories is Richie Torres, Bronx's first queer Afro-Latinx elected official in the city's 15th congressional district. Fun fact in 2013, at age 25 he was the youngest elected official in NYC. Last but certainly can't be least (as the night is long and full of ballots) New York's 25th district now is under the socialist leadership of Jabari Brisport making him the 1st person of color to be elected to New York State legislature.
— Destiny Jackson, Perspectives Editor
6:00 p.m. CSUDH Voting Center. At California State University, Dominguez Hills, the voting center taking home at the Extended Education building the past 10 days have their final day today on Nov. 3. Hundreds of voters came through the doors to cast their ballot in the 2020 election. Election officials that had been working since 6 a.m. and don't plan on leaving until ballots have been picked up and counted for the last day of this turbulent election season.
As voters trickled in the late afternoon, most wore face coverings or masks, as required by state law and campus health protocols.
The voting center at CSUDH, dawning the 21 new voting machines that they recently acquired in the presidential primary elections in March. In light of COVID-19 and to protect the election officials and voters, volunteers wiped down ballot machines, plexiglass separators, hand sanitizer at the entrance and throughout the building and marked signs on the floor for social distancing.
Election officials are volunteers who earn $100 a day, making less than half of what minimum wage is in California. But veteran volunteers like Mary North don't do it for the money.
"At the end of the day, we don't work for the money but for the help," North said. She brought up comparisons between this year and the 2016 election and how the CSUDH community showed up in great numbers, especially the younger generations.
Approaching 66 years old, North was impressed with the younger voter turnout this year. "I'm so proud because the younger generation brought their friends and they know this affects them way more than it affects me," she explained.
"You folks came out and voted your booty off and I was really, really proud," North said.
Brigy Arevalo, a freshman Health major, approached election day planning on dropping off her ballot rather than mail it in because it was easy and accessible. "I dropped [it] off because I already had the people jotted down and it's faster," she said. Arevalo's family dropped off their ballots today, too.
Other voters who showed up today were Jizanne Arnold and her parents. Voting in their first U.S. election as newly naturalized citizens, the Arnold's dropped off their ballots with smiles underneath their masks. It was Jizanne's first time voting, "I registered when I was 17 at a college expo," she said.
— Taylor Helmes, Managing Editor, and Iracema Navarro, Politics Editor.
5:09 p.m. The New York Times calls Oklahoma, Mississippi, Alabama, Tennessee, Kentucky, West Virginia and South Carolina for Trump. Connecticut,. Illinois, Massachusetts, Maryland, New Jersey, Vermont, Virginia, and Biden's home state of Delaware.
At the moment, the Times has Biden leading 85-55 in the all-important race to 270.
4:30 P.M. CNN. Media outlets are starting to call states. At the moment, Indiana's 11 electoral votes are projected to go to Trump, and Vermont's three electoral votes are projected for Biden. (JN)

4:01 P.M. and 4:04 P.M. The Associated Press. The AP declares Joe Biden the winner in Vermont and President Donald Trump the winner of Kentucky. You win some. you lose some. I mean I assumed that Vermont senator Bernie Sanders whipped his citizens into shape, but Kentucky on the other hand? A bunch of Kentucky Fried Federalists if you ask me. Which you didn't. Can't wait to see how the rest of this unfolds in the south and northeast.
— Destiny Jackson, Perspectives Editor

3:00 P.M. LA COUNTY: 58.2% of registered voters in LA County have cast their ballots. 42% by drop off, 29.8% by mail, 20 % in person, and 7.3% dropped off at voting centers.
—(Jasmine Nguyen, editor-in-chief)
2:40 P.M. The Guardian Newspaper In the race for updates for the election of our lifetime, The Guardian is keeping this reporter (me) glued to the screen with their constant refresh filter that even has a countdown clock down to the second. Just in as of 2:40 p.m. New Hampshire, where the polls still don't close until 7 p.m. (EST) have started reporting their results. The Guardian reports 61.5% for Trump and 38.5% for Biden so far. I am not too worried as there is still a long night ahead of us.
–Destiny Jackson, Perspectives Editor
1:30 P.M. STAPLES CENTER: Black Lives Matter, Los Angeles chapter is just down the street from one of L.A's largest voting centers, Staples Center.
Their "Marathon Party at the Polls" as they called it, is an all day event which began at 7 a.m. and will stay afloat until 8 p.m., this according to their official flyer.
The social justice organization has been live streaming this gathering through the official Instagram page reminding Angelinos to get out and VOTE!
–Brenda Fernanda Verano, News Editor.
9:10 a.m, the internet.
A quick survey of go-to websites on a day like this revealed something about the two men at the center of this election. It came from the Drudge Report. As usual, the site breaks every conceivable design rule for the web as it merely stacks headlines on top of each other and links those headlines to stories from other outlets. . But, also as usual, there's a method to the apparently random disorder of the site.
Right under the main photo, these two headlines on top of each other.


csudhbulletin