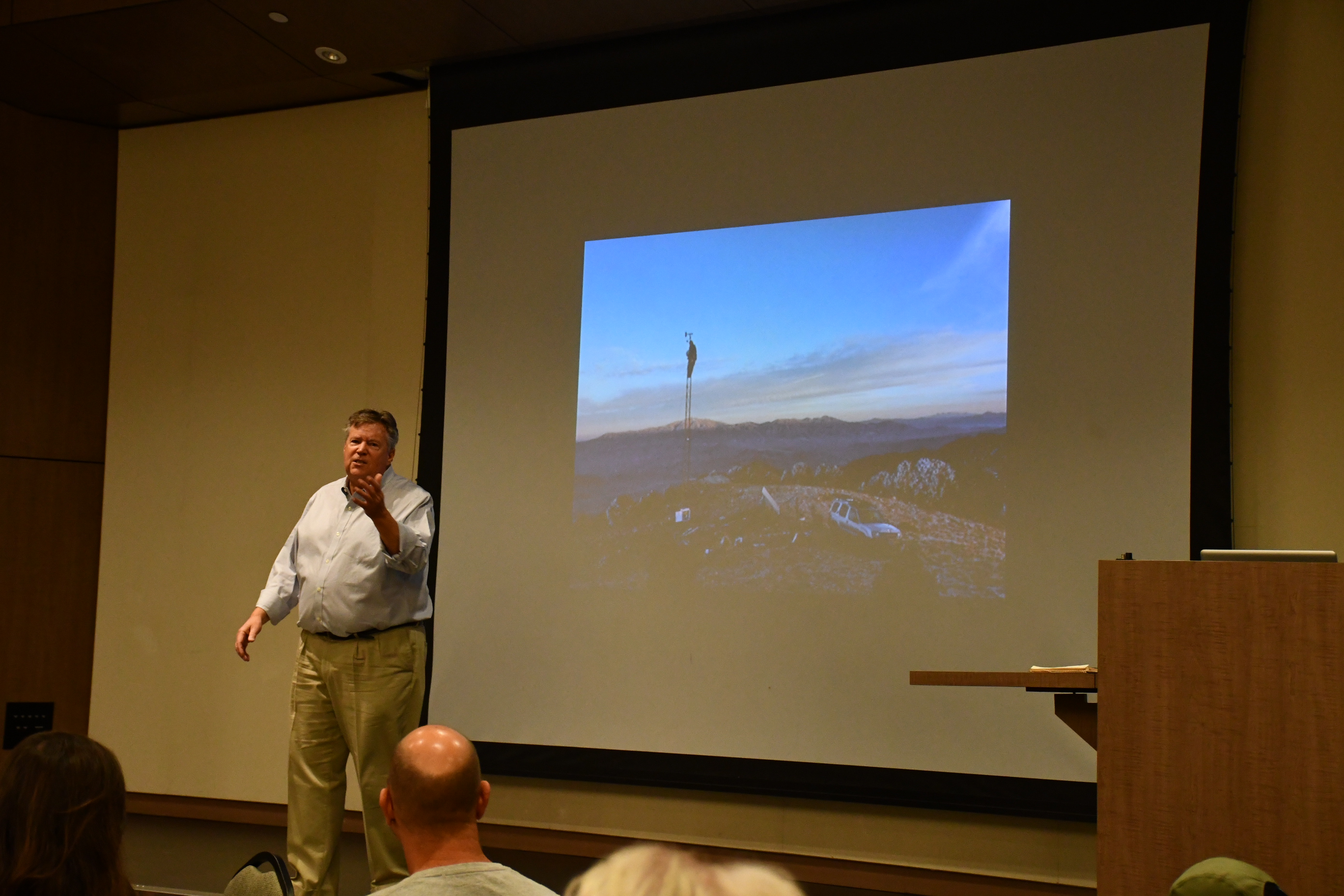 By Osiris Bahena
Staff Writer
The ceiling of the Sistine Chapel. The "Mona Lisa."  Ceramics, sculptures and other artwork that is still on display thousands of years after they were created. All suggest that once made, art lasts far longer than the artisans who created it, and the civilizations they were part of.
Yet, in reality, some 97 percent of art disappears within 100 years of its making. That fact was one of the many insights shared by writer and poet William L. Fox, Nov. 15 in a lecture sponsored by the College of Natural Behavioral Sciences, Anthropology, Art and Design, and English Departments, along with the Ceramic Guild
Fox is the founding director of the Center for Art and Environment at the Nevada Museum of Art. He is the author of 14 non-fiction books, 16 poetry books, and has curated more than 30 art exhibits as well as other scholarly projects. In 2007, he was also the one and only CSUDH Distinguished Visiting Scholar.
His lecture titled, "The Once and Future Monuments: Art versus Time" focused on what time does to art and what art does to our perception of time. According to Fox, up to 97 percent of all art goes away within 100 years of its making. This is due in part to, "[art] experiencing weather, things being shipped around the world, things being vandalized, and just the passage of time," Fox said.
Pointing to an image of Brazil's National Museum engulfed in flames in September, Fox said: "Sometimes it burns up. This is Brazil, a few months ago. Over a million items were lost. The cultural heritage of that country is irredeemably changed."
An image that those in attendance were familiar with was Banksy's "Girl with Balloon" painting which was recently deliberately shredded at an auction in London. "They only shredded half the painting. Now it's worth 10 times what it sold for at the auction," Fox said.
"The famous stuff, that's written about in books doesn't exist anymore," according to Fox. But rather than sounding alarmist, Fox said he thinks it's a good thing.
"If it all survived it would be buried under old stuff and we could never have room for new stuff," he said. " It's part of the natural process. "
However, Fox did emphasize the importance of preserving objects and archives for generations to come. He believes this is essential because the knowledge learned through art is earned at great cost. Through his profession, he resists the process of losing art, and in doing so he can transfer the knowledge of current art as far into the future as he can.
"When things become the same, there's nothing left, there's no knowledge. My job is to keep throwing things that are different into the future," explained Fox.
In the literal use of the word [time], Fox played a short video by Christian Marclay titled "The Clock," which is a compilation of film excerpts throughout 70 years of film history. At one point the film's time is running in sync to the clock in the film. According to Fox, the artist calls it a memento mori which is a way of acknowledging that time passes and that death is an inedible part of that process.
Fox explained how art and time have served a purpose in migration as well. To preserve the knowledge of things discovered in new territory and the survival of humanity, people have told stories through songs, dancing, and body decoration.
"These are stories that usually involve some sort of creation," Fox explained. He claims that this type of storytelling has helped generations survive and evolve.
Fox closed the lecture with Jonathon Keats' bristlecone pines project, which involves telling time biologically through trees in Nevada, some of which are more than 5,000 years old. Time is calculated by titanium rods on the ground which becomes incorporated into the trees with time. The take away of the project is the merging of time between human time and national time," Fox said.
"You and I will think about what the difference is between those two things," he said. "We'll think what is the reward in uncovering differences in time. Is there more than one kind of time? And what is our responsibility to understand [that] human time and clock-driven time, is not necessarily the way the [natural] world treats time?"
csudhbulletin