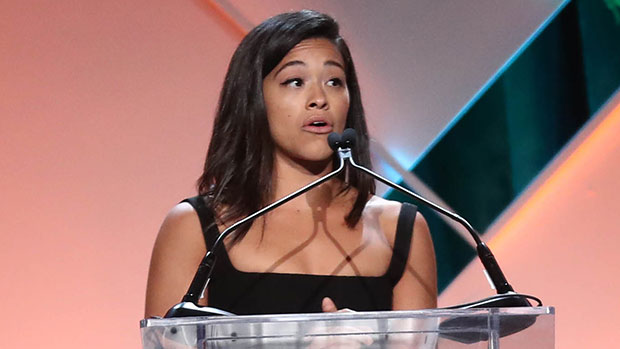 By Robin Renay Bolton
Co-Opinion Editor
Every single time I've seen Gina Rodriguez trending on social media, my first thought is, "Oh God. What did she say now?" I let out a literal moan and groan because she's never trending for anything good, which is unfortunate because I loved her role on the CW's "Jane the Virgin."
Rodriguez has a history of putting her foot in her mouth and completely missing the point when it comes to conversations about race. For this reason, I wasn't completely shocked to find out she was trending because she recorded herself saying the n-word as she sang along to a rap song.
There's been a long-standing debate about who can and cannot use the n-word. If you're white, don't think about it. If you're Black, it's up to you. Other people of color…that's debatable. It's a debate that I'm not going to get into because I'll be here all day but I will admit I feel some type of way when I hear people who are not Black, use the n-word.
Simply put, I think the n-word was something extremely negative and Black people flipped it into slang within our community and I don't like when others use it because I don't think they truly understand the evolution of the n-word.
Rodriguez singing the n-word probably would not have been as bad as it was if she didn't have a history of minimizing black people in Hollywood in the name of equality.
When "Black Panther", the first superhero film to feature a black leading cast, announced Rodriguez tweeted, "Marvel and DC are killing it in inclusion and women but where are the Latinos?! Asking for a friend…"
Instead of praising "Black Panther" for its historic casting, she chose to make this moment about the perceived lack of Latinos in superhero movies, which isn't completely true. Anthony Peña, Tessa Thompson, and Zoe Saldana are Latinos who have roles in Marvel movies. Rodriguez is correct about there not being a predominantly Latino-casted superhero movie, but let's be real. Complaining about that on the heels of the "Black Panther" announcement made her look like a hater. There are ways to advocate for the Latino community without bringing Black people down.
In 2018, during an interview alongside African American actress Yara Shahidi, Rodriguez reminded us again she just can't stay in her lane and leave well enough alone. When the interviewer asked Shahidi how she felt about being a role model to Black women, Rodriguez interjected before Shahidi could answer and corrected the interviewer by saying, "so many women," her emphasis of women completely erased Black women from the question, something she has a history of doing. I'm all for diversity and inclusion but I also believe a Black woman should be praised for her efforts without another woman of color trying to lump her in with all women of color.
Rodriguez's actions are bizarre to me because she's such a proud Latina but the moment Black people, Black women specifically, receive praise from something she chooses to diminish their accomplishments in the name of inclusion. It's utter bullshit.
So that takes us back to Rodriguez singing the n-word. You would think someone who has been called out time and time again about her perceived anti-Black moments, would understand why she should avoid recording herself singing the n-word. But no, she posted the video, left it up for hours and then gave us the most unapologetic apology.
In her apology video, Rodriguez says, "I'm sorry if I offended anyone by singing along to The Fugees song," again completely missing the point of why people are upset with her. People aren't upset or offended because she sang a song, we're offended because she sang a word she has no right to use.
Since Ms. Rodriguez can't seem to understand why her "singing" the n-word is a problem, I'm more than happy to help her out.
When Marvel announced a black leading cast, instead of praising the doors this opportunity could lead to, she decided to make it about the lack of Latino representation superhero films.
When a Black woman was praised by a Black man for being a role model to the Black community, Rodriguez lumped her in with all women because she is incapable of letting a Black woman have her moment.
Surpassingly, Rodriguez has continued to inadvertently erase the accomplishments of Black folks in the name of fake inclusion. She has incorrectly claimed Latinas are the lowest earners in Hollywood despite Sofia Vergara, a Colombian woman, being one of TV's highest earners. She did this to falsely prove a point and to make it seem like Latinos have it the worst in the industry. Her actions work against her image of inclusion for all and causes races to be pitted against one another.
All in all, it's tired and I just wish Gina Rodriguez would sit down somewhere and better herself instead of constantly trying to be a victim. If she was really all about diversity and inclusion, she would take a deep look at her actions and let other women of color have their moments. Most importantly, I just wish she would shut the hell up.

csudhbulletin