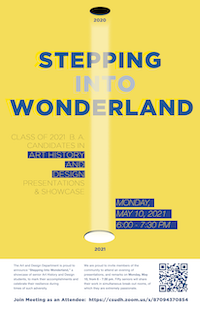 By Desiree Lee, Staff Reporter
Although it's a classic of English literature and one of the most beloved tales ever written, "Alice in Wonderland" has had some interesting interpretations, ranging from one long drug trip or a parable about eating disorders, to an allegory of British colonialism. But deep, or reaching, interpretation isn't required in figuring out why the CSUDH senior art and design student exhibition opening Monday is called "Stepping into Wonderland." After the last three semesters of their college experience was fundamentally altered by the pandemic, they find themselves stepping from the dark times of 2020 into the light of a world that may not be free of the coronavirus, but definitely feels like one where there will be more light.
And what isn't wondrous about that?
The exhibition will feature 44 graphic design students and 10 art history students, and will include work from their freshman years to their final year.
There will be a set amount of students per breakout room allowing each to present their work. Each student will be given three minutes to present insight of their work over the course of time at CSUDH. Graphic design students will present their projects and art history students will present their research of a specific genre.
The event will take place through a free admission zoom from 5:00 pm-7:30 p.m. For the link, visit here. The exhibit can also be viewed online at gallery.csudh.edu
csudhbulletin