Kettle Corn, Bees and Leafy Greens Found at SouthBay's Local Farmer's Market
csudhbulletin
March 19, 2021
0 COMMENTS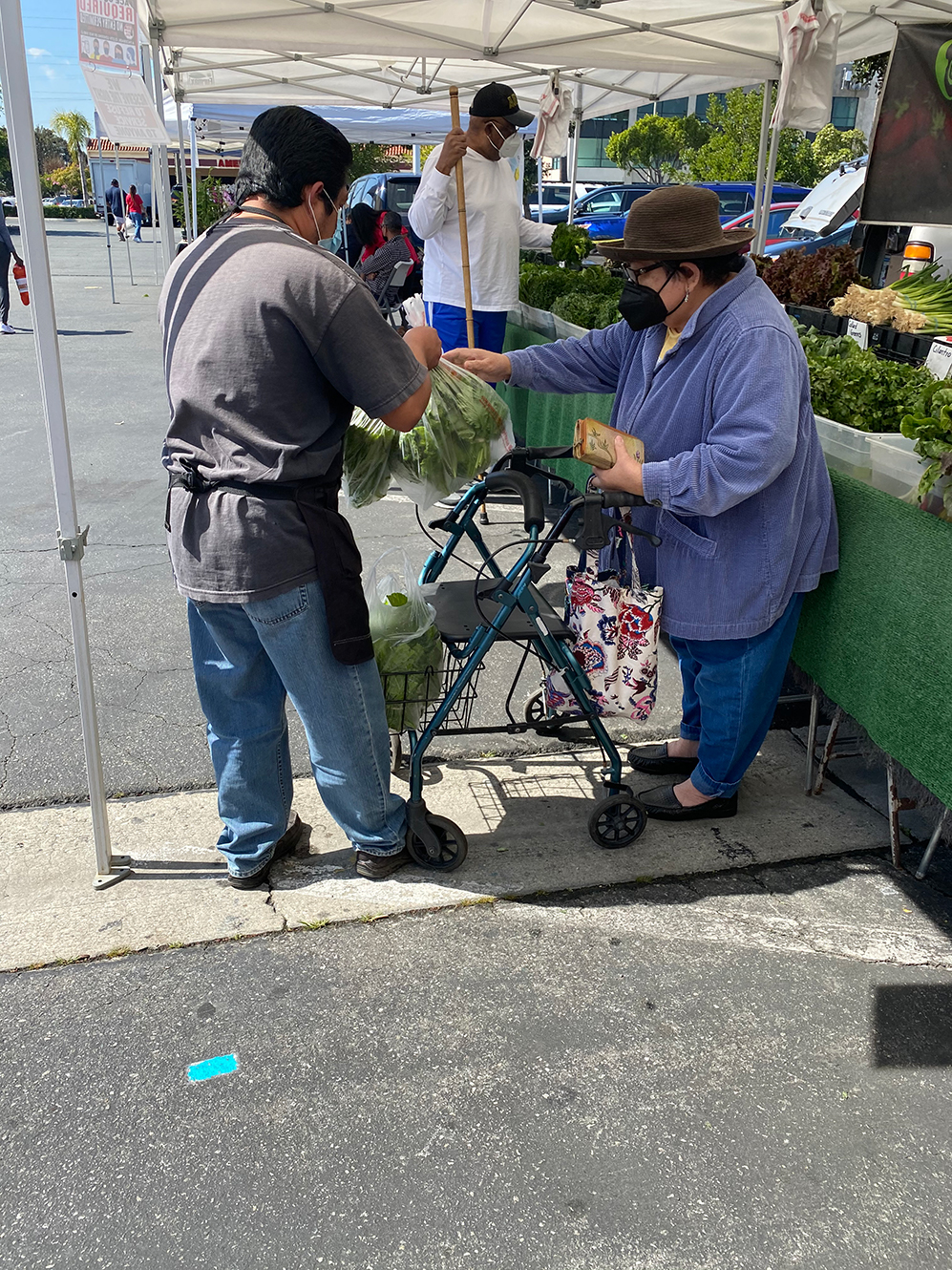 Upon arriving at SouthBay Pavilion Farmers' Market guests are required to wear masks as they are in proximity of open fruit and produce, but vendors still offer a friendly hand for those who need it. Photo by Gabriela Medina.
By Gabriela Medina, Staff Reporter
Grocery stores are great, but nothing beats a local farmers' market. If you're looking for produce and a friendly vibe, Carson's very own SouthBay Pavilion is excellent.
Vendors working at the SouthBay Pavilion Farmers Market under the strain of CDC guidelines means that there is less opportunity for small businesses to turn a profit. However, the local organic produce market has managed to prosper.
For those that attend, signs for mandatory face coverings are evident along with social distancing reminders.
Los Angeles resident, Rosa Lopez, felt comfortable leaving her home and going to the Farmer's Market just from being able to look up the guidelines in advance.
"I thought it would be nice to step out of the house and walk around the event," Lopez said. "A friend [recommended the market to me.] Her favorite vendor [sells] organic honey products. I am a huge fan of honey."
She was very impressed with the vendors and their products. Not only was it her first time at the SouthBay Pavilion Farmers' Market, but it was also her very first time going to a Farmer's Market in general. She was beyond impressed with the amount of produce and sage she had purchased at the event.
---
If you're looking for a buzz, and not in the traditional sense, Hacienda Bees has you covered. Jose Amezcua, vendor and local beekeeper sells all things bees. Including but not limited to; honey, propolis (anti-inflammatory) extract and honeycombs.
"[The] pandemic experience has been fine for us." Amezcua said. "We have seen people buying [local and] natural products like our honey, which is really good for the body especially for the immune system. We have grown to love participating in this event. The pandemic is not going to stop us from returning. We started before and will definitely continue to sell after."  
The most interesting was the honey sticks which ranged in flavors from chocolate to green apple, at the affordable price of four for $1 and 15 for $3, I bought one of each flavor.
Even though Carson is home to the SouthBay Farmer's Market, it is not exclusive to those outside of Los Angeles County. Meet Maria's Catering and Kettle Corn, hailing from the city of Anaheim. They have a large sampling of various popcorn flavors packed in different sizes, providing the perfect salty snack after my bout with the honey bees. When asked about how the pandemic was affecting their sales, Vicente Aparicio, a vendor at the stand had this to say:
"[The pandemic restrictions] has not been too good. Not many people show up and people are still concerned about coming out. Overall, it's a good experience and there are [some] friendly people that do come out here and support us—which we really appreciate."
If you're looking to shop locally and support small businesses, a farmer's market is a great choice! There are different vendors selling different products from handmade to naturally and organically grown.
The local farmers' market is located in the parking lot by the main entrance at SouthBay Pavilion on 20700 Avalon Blvd. Carson, California, 90746.
The event takes place every Thursday from 9:00 a.m. to 3:00 p.m. If you are interested in setting up your own booth, contact City Farm at (310)869-8979 or email them at infor@lactiyfarm.com for more information.
csudhbulletin