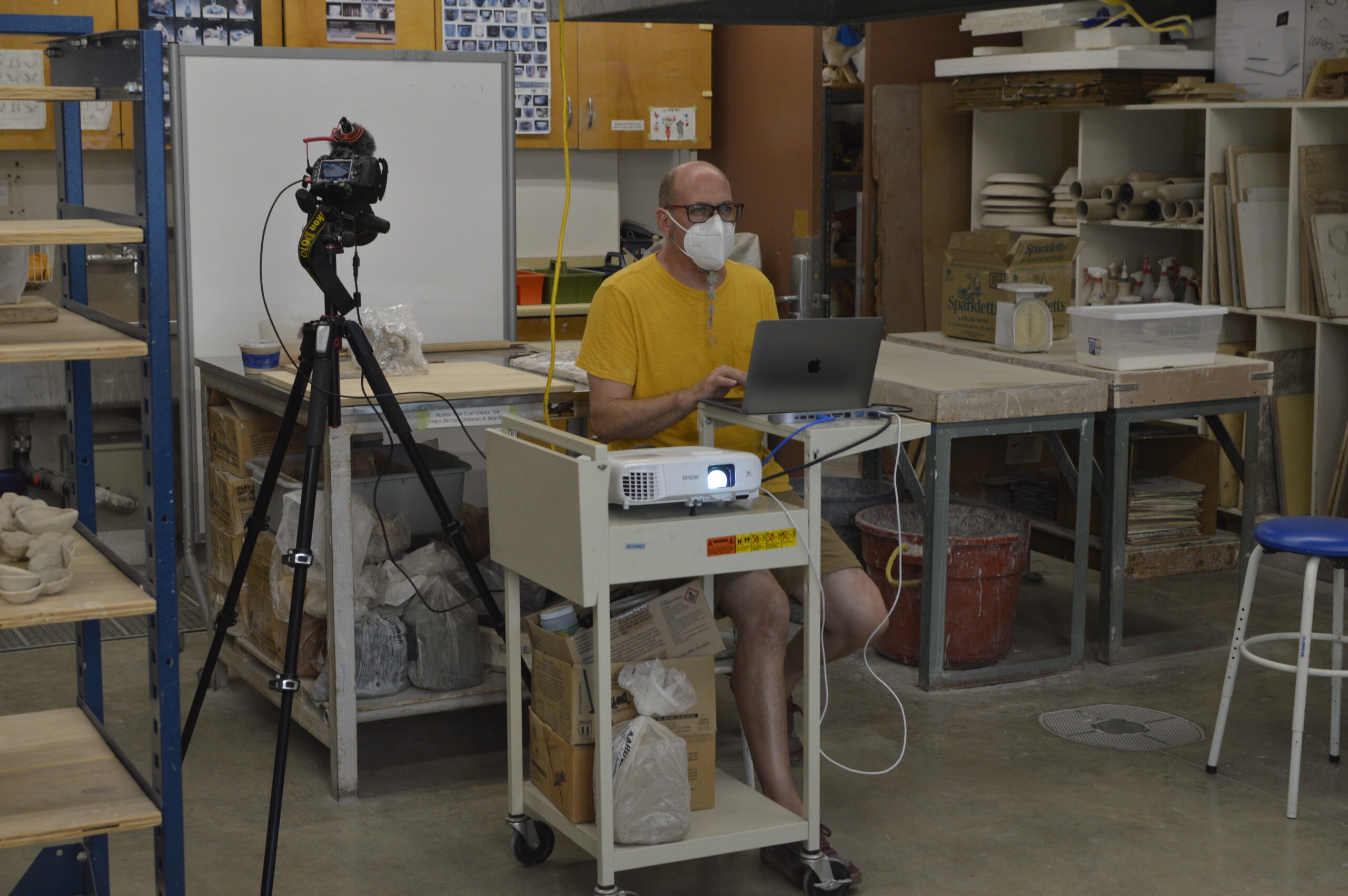 Jim Keville, associate professor and chair for the Art & Design Department conducting a lecture. Photo by Carlos Martinez
---
By Carlos Martinez, Web Editor
To protect the health of students, faculty and staff, California State University, Dominguez Hills decided most of the fall 2020 semester classes will be online. Despite providing resources for virtual learning, not all courses made the virtual transition.
Approximately 4% of classes are in-person. Each emphasizes practical and hands-on learning that would make them difficult to translate online.
Some of the classes that were given approval were from areas such as the College of Arts & Humanities and College of Health, Human Services & Nursing.
Jim Keville, associate professor and chair of the Art and Design department, currently holds his ceramics class in the studio located in LaCorte Hall where workstations are spaced out 6-feet apart and personal protective equipment (PPE) such as gloves and masks are ready for students.
"Five students are only allowed to come in physically at a time," Keville said. "So we do a full rotation about every two weeks. However, the rest [of the class] participates through Zoom that I project on the wall."
During the demonstration part of the class, Keville sets up his workspace with a digital camera connected to his laptop. The webcam is aimed right across to ensure his students have a full view. Keville added that he records all demonstrations and uploads them online to make it more accessible.
Although Keville's ceramics class are eligible for face-to-face interaction, they are not required to appear physically for all sessions for any safety or personal reasons students may have.
"We have conversations about COVID safety for when they go [out]," Kelville said. "I remind them that face-to-face classes are a privilege that can be taken away."
In order to be approved for in-person classes, courses are evaluated by the CSU Chancellor's Office. Instructors must request an application for face-to-face approval for their courses and then review through their department chairs and Academic Affairs.
Director of Internal Controls and Interim Director of Risk Management Larry Kimaara said random walkthroughs for every approved class are undertaken to ensure established safety protocols are being followed.
"For the limited classes that were approved face-to-face instruction by the Chancellor's Office, a space analysis was conducted for each class space to ensure students and faculty can remain adequately distanced during instruction," Kimaara said.
He added that these analyses are completed before sessions start. They involve things such as removing excess furniture and adding floor markings to help with distancing. Along with this, sanitizer dispensers were installed in classrooms and personal protective equipment such as face shields, masks and cleaning wipes were made available for classroom use.
"[Any] willful violations of safety protocols will be referred to student conduct for action including probation and suspension," Kimaara said. "If there was to be an outbreak in a classroom, the class would revert to virtual instruction and would end the face-to-face modality."
Students returning to campus were required to watch a training video on COVID-19 while faculty and staff were required to complete their health and safety training through CSU Learn.
Students must also complete a document called the "Student Placement Agreement Guideline During COVID-19" before they can participate in any in-person classes.
"Campus safety protocols will be updated as needed," Kimaara said, "per public health agency guidance."
csudhbulletin