Black Panther 1.0: Bobby Seale, Co-Founder of Revolutionary Party, to Speak in CSUDH Webinar Thursday
csudhbulletin
March 2, 2021
1 COMMENT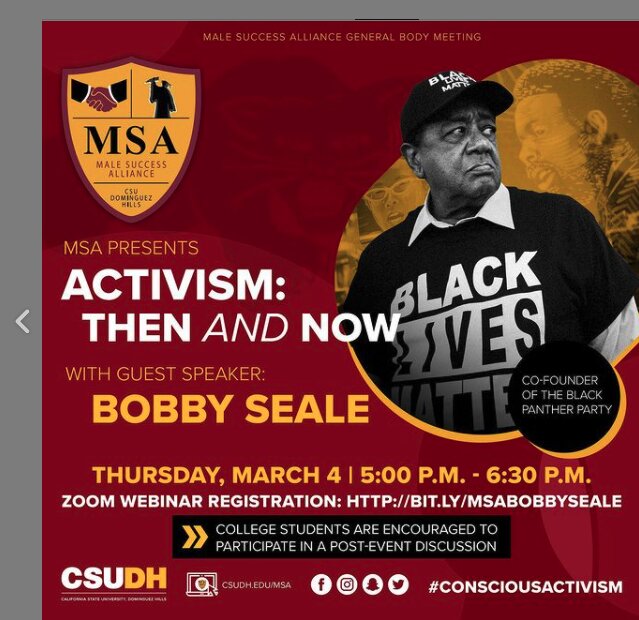 By Lafie Bradford, Staff Reporter
and Brenda Fernanda Verano, News Editor
Institutionalized racism. Police brutality on people of color. The need for progressive organizations to join in solidarity to unite forces to achieve social justice.
It may sound like the summer of 2020 and the ripple effects currently informing so much of the American conversation right now, but 55 years ago, they were issues that sparked the creation of one of the most iconic, and controversial, organizations of the tumultuous decade of the 1960s: The Black Panther Party
And Toro ears have the opportunity Thursday to hear directly from one of that group's co-founders, Bobby Seale, who will offer his perspective on a lifetime dedicated to social and racial activism in a webinar hosted by the Male Success Alliance.
Seale is the featured speaker in "Activism: Then and Now," sharing his thoughts on past and present activism approaches, said Vince Flowers, project coordinator of the MSA. Additionally, Flowers said, Seale will talk about the importance of coalition building to effect real societal change.
Photos of Seale, 1972, courtesy of Bob Fitch Photography Archive, Department of Special Collections, Stanford University Libraries
"[Seale once said] You don't fight racism with racism, the best way to fight racism is with solidarity,'" Flowers said. '"The Male Success Alliance reached out to Seale to speak to the CSUDH community because coalition building is critical to the type of sustainable societal change our organization wants to foster."
One of the MSA's main missions is to "inspire community and civic engagement," Flowers said, adding that the MSA "defines an activist as anyone who is actively involved in improving their community."
In the 90-minute webinar, which begins at 5 p.m., Seale will discuss the importance of conscious activism, as well as answer questions from attendees.
The Bulletin will have more on the webinar, and Seale, in our third e-edition of the semester, which publishes tomorrow morning. And news editor Brenda Verano is currently setting up an interview with Seale that will run later this week on the website.
If you're interested in attending the webinar, you can find information by clicking here.
(And here is a great read on the Panthers. We were even to download a PDF for free, but we won't divulge how because last time we checked, it was still good form to pay for this kind of stuff.)

This is one of Seale's books, available on his website.
Related
Issue No. 5 of spring 2021 semester of the award-winning CSUDH Bulletin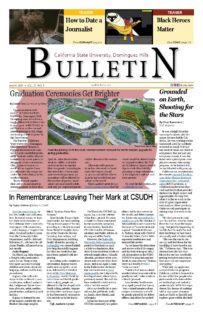 Archives
The Bulletin Sports Report
Here is our new sports podcast, brought to you by co-sports editor Jeremy Gonzalez and co-news editor Robert Rios! Available now on Apple Podcasts and Spotify, links available down below:
Special Election Issue
Sections