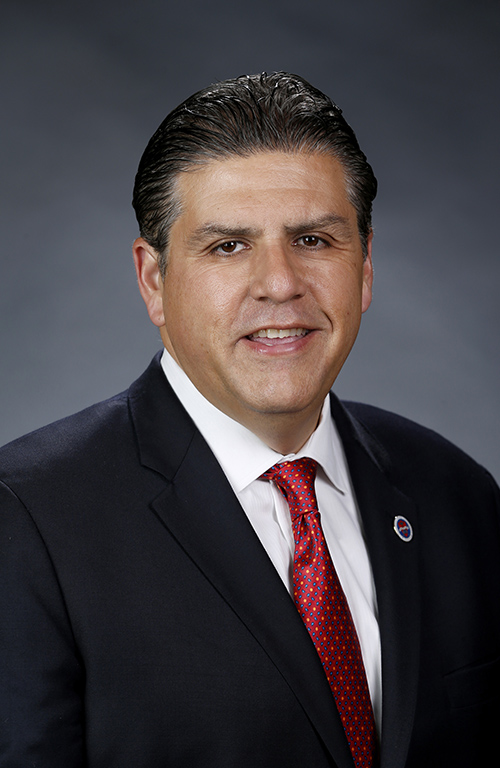 Joseph Castro chose CSUDH as the first of the 23 campuses to visit in his first year as chancellor of of the California State University
By Robert Rios and Brenda Fernanda Verano, Staff Editors
In his first virtual visit to each of the 23 California State University campuses he plans on visiting during his first year in office, new Chancellor Joseph I. Castro put in a long, but productive day at CSUDH, Friday, Feb. 19.
Castro spent the majority of the day speaking with a variety of campus groups and organizations, prior to attending a press conference and an open forum near the end of his visit. 
In the press conference and open forum, Castro shared his visions and goals for the CSU system and CSUDH, as well as hearing concerns and questions of students, faculty and staff. 
Re-Opening Plans Taking Shape
One of the first topics Castro was his plan for  reopening the 23 CSU campuses for fall 2021. He reconfirmed his commitment to push for the "majority" of classes across the CSU system to be in-person courses, but said that those plans will largely be implemented by each campus president in accordance with local public health departments and state and federal guidelines. 
"If [the pandemic changes] over time and medical and public health experts we consult indicate that our planning approach is no longer [feasible], then I promise you we will make that adjustment," Castro said.
CSUDH President Thomas A. Parham agreed that the individual CSU presidents have a large fair degree of freedom within the CSU guidelines, but also said a return to this campus will only happen if it is safe to do so.
Vaccines Will Not be Mandatory
"Health and safety have to be our north star, in particular when we are in a campus that has 64% Latinx population and about 11 or 12% African American population…one of the [groups] most vulnerable to this disease," he said.
But a return to campus does not necessarily mean vaccination will be required. Even with his concern for safety, Castro said the CSU system,"is not able to require employees and students to receive a vaccine as a condition of maintaining employment enrollment."
According to Castro the main reason remains in the fact that COVID-19 vaccines are not fully licensed by the Food and Drug Administratin (FDA), and therefore are only available through the Emergency Use Authorization.
Although this remains a reality, Castro hopes to inspire the campus communities to pursue vaccination in order to make it a lot safer to be on campus.
"It's important that we be as aggressive as possible in getting vaccinations to each of the campus communities and then try to encourage, through our close relationship to get everybody vaccinated,that will move us toward herd immunity," he said. 
Parham expressed the possibility of CSUDH being designated as a vaccination site in the near-future, and said his team has been advocating with the county to potentially be a place for vaccines distribution. .
"We want to be a resource that is not simply in this community but of this community, " he said.
If approved, the campus will join next door neighbors, Dignity Health Sports Park, which is currently assisting in the effort to get people over 65 or in a qualifying industry vaccinated.
Castro will continue to visit schools virtually but said he plans to go to campuses in person when it is safe to do so. According to Castro, he felt right at home throughout his virtual visit to CSUDH, since campus demographics are very similar to those of California State University, Fresno, where he was president before becoming chancellor.
"I can feel the energy and the excitement in every single meeting. And while I know there are challenges, I know the future is very bright," he said.
Last friday, a week after the chancellor's visit, Praham sent out a campus-wide email expressing gratitude to the CSUDH community who hosted Castro.
In the email Parham said Catro and his team reported they had enjoyed the presentations, open forum, the desires to continue transforming the campus and conversation about the challenges CSUDH confronts.
"Take a bow Toro Nation. California State University, Dominguez Hills showed very well last week," Parham wrote.
Budget
Castro shared excitement for Gov. Newsom's report on Feb.17, which announced the restoration of  the CSU system budget. The budget deal reallocated $299 million under a COVID-19 economic recovery package and had been previously reduced from the CSU's 2020-21 budget.
Castro said he expects the $299 million for all the different needs across the campuses, including those at CSUDH.
As part of his role as chancellor, Castro wants to have an equity lens connected to funding allocations. One of his priorities will be to "sustain" and "advance" funding for campuses like CSUDH, which serve a majority of part-time students. 
Tuition
Tuition will not increase for the 2021-22 academic year. According to Castro the greatly reduced revenue from things such as student housing to parking, will not result in higher tuition.
However, CSUDH will not authorize any refunds of tuition and students will not get reimbursed for any student fees they have paid for and not used due to the campus closures.
 Castro said it is those fees which have been charged and collected that help to pay for the infrastructure of the programs and services that students will use when they return to campus.
Law enforcement funding
There will be no disinvestment in CSU's law enforcement and campus police. Chancellor Castro doesn't believe CSU should "invest less" in public safety.
"I want to make sure that all of us are safe.. .I want to make sure we protect our people and our possessions that are so vitally important so I don't anticipate any significant changes in allocation to public safety across the system," he said.
Parham agreed. Although he's aware that certain police departments in the country have "huge" budgets and spaces to facilitate the use of "militarized" and "weaponized," he feels that this type of approach, "may be inappropriate for the population they police."
"What I do know about our CSU's is that we can't be fans of democratic sanity because everyone is saying 'defund the police'," Parham said.
Food and Housing Insecurity
Additional funding will be needed to tackle the food and housing insecurities students face. According to Castro, that funding will come from part of the new budget by Gov. Newsom, along with private and public funding.
However, he wants to push for students to connect to CalFresh programs, which is a federal assistant program that provides monthly food benefits to low-income individuals.
CalFresh is one of the ways he helped alleviate food insecurities at CSU Fresno.
"In the case of Fresno, we inspired a lot of food products from [agricultural] leaders," Castro said. "So it can be food, it can be funding, and I think we need to be as aggressive as possible and partner with all the different organizations that have resources in this area."
Faculty Diversity
One of Castro's top priorities is to diversify CSU faculty, he said, and he wants to strategize ways to get more CSU graduates to get their master's and doctorate degrees and return to the CSU system as faculty. 
"It's about developing strong pipelines, networks, and creating an environment where people of color and women are interested in being part of the enterprise," Castro said. "I know president Parham is creating that positive upbeat environment."
csudhbulletin