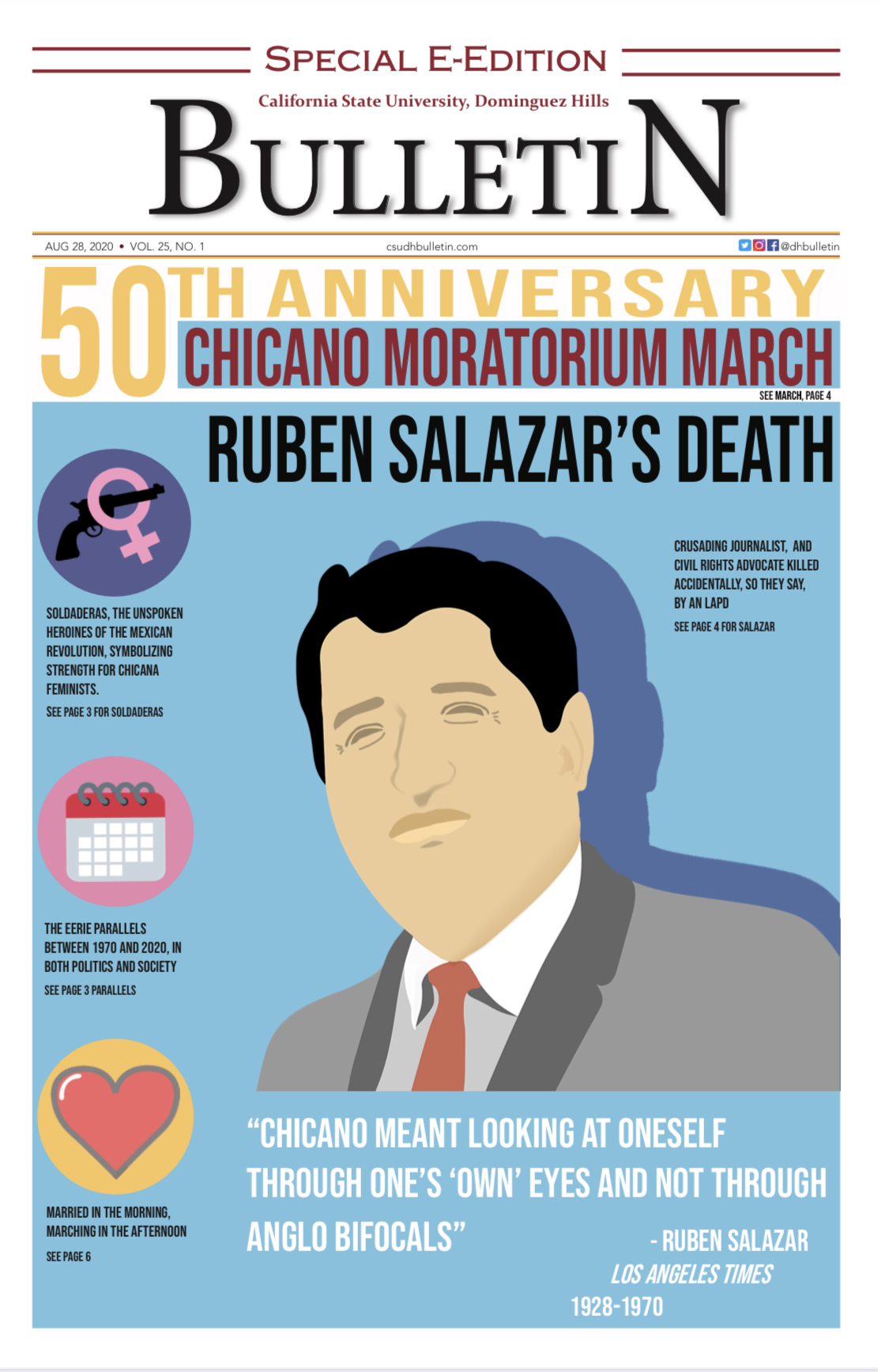 The Bulletin's Special E-edition covering the 50th anniversary of the Chicano Moratorium March won third place in the California College Media Association awards. Cover designed by Photo Editor Nova Blanco-Rico.
By Taylor Helmes, Editor-in-Chief
Over the last year, the Bulletin has produced publications outside of the newsroom– what you are reading right now is something that was typed in someone's bedroom-office workspace. Like many others, we have been working out of our makeshift offices in garages, bedrooms, cars, or living rooms. But whatever the space, the students behind the Bulletin are telling award-winning stories as last month the Bulletin received three awards from the California College Media Association, competing against private and public four-year universities across the state, including Pepperdine, Loyola Marymount University, and Claremont Colleges.
Out of the 307 winners from this year's CCMA awards, here are the Bulletin's winners, including current CSUDH students and alumni:
Awarded third place for Best Special Issue was our special e-edition on the 50th anniversary of the Chicano Moratorium on March from Aug. 28, 2020. Winners for Best Special Issue include Nova Blanco-Rico, Brenda Fernanda Verano, Iracema Navarro, Robert Rios, and Destiny Torres. This special issue included Jasmine Nguyen, previously Editor-in-Chief, and Taylor Helmes, previously Managing Editor, alumna Yeymy Garcia, and layout designer Alex Witrago. Nguyen also received second place for Best Newspaper Column for her coverage on culture, history, and AAPI violence in the United States. Lastly, for Best Breaking News Story, alumna Jordan Darling won second place in Best Breaking News story for her rapid reporting on campus closure and commencement updates during the transition to distance learning in response to the COVID-19 pandemic.
Earlier this year, the Bulletin also received a Silver Medal from the Columbia Scholastic Press Association, which judges college newspapers from across the country.
In 2020, the CCMA award ceremony was held in San Francisco, but due to the pandemic, the ceremony this year was virtual. Last year, the winners were alumni Jordan Darling, Destiny Torres, Kelsey Reichmann and Alex Graf for Best Newspaper Column, Best Arts and Entertainment Story, Best News Series and Best Headline Portfolio, respectively. Among the four, they brought home three first-place awards and one second place.
The past year has been full of trials and tribulations, but the teamwork and collaborative creation behind the Bulletin has proven that student journalism is alive and still kicking by continuing to publish throughout distance learning without missing an issue.
The Bulletin has discontinued physically printing issues since the campus suspended in-person classes last March. However, there may even be a few final copies of the last printed edition in one of the four Bulletin boxes located across campus…
csudhbulletin