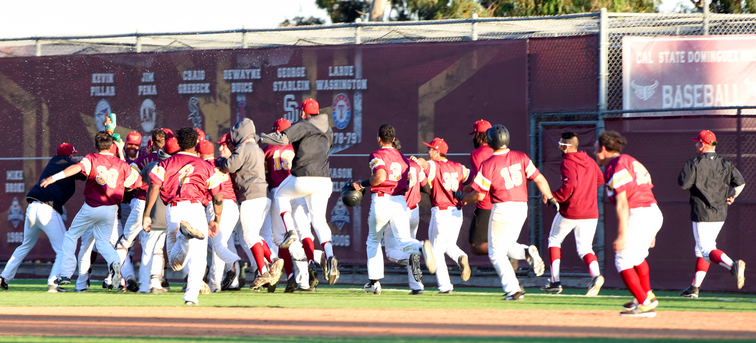 Photo credit CSUDH Athletics Department
By Christian Flores
Staff Writer
Despite a wild 5th inning, the Toro's starting pitcher Rigo Fernandez had a strong performance and the team's competitive intensity, along with its bullpen,  helped secure a 5-4 walk-off home victory Thursday over the California State Baptist Lancers at Toro Field.
The late offensive heroics were supplied by third baseman Estaban Ortega, whose bases-loaded walk brought in the winning run in the bottom of the ninth inning.
CSUDH started off well by scoring two runs in the first three innings, with outfielder Daryl Donerson's excellent base running helping provide both Toro runs.
For three innings, left-hander Fernandez seemed in control, keeping the Lancers scoreless. But in the top of the fourth, the Lancers' DH Ryan Mota homered, and in the top of the fifth, a two-run homer by Lancer catcher Bryce Macy helped give Cal Baptist a 4-2 lead.
The Toro bullpen then took over and the combination of Ian Codina, Luke Laurita,  Jacob Musial and eventual winning pitcher Nick Suniga kept the Lancers from scoring, even when they loaded the bases with no outs in the top of the eighth inning.
The Toro offense tied things up at 4-4 thanks to second baseman Jordan James' RBI single after a leadoff triple by catcher Evan Yeager.
In the bottom of the ninth, the Toros had the bases loaded and it came down to Ortega providing a quality at bat to bring in a run and secure the victory for the Toros. Ortega did just that and drew a walk which gave the Toros a walk-off victory.
The second game in the three-game opening series will be Friday, Feb. 9 at Cal Baptist, in Riverside at 6 p.m. The Toros return home Saturday in the final game of the series, which starts at 2 p.m.
csudhbulletin