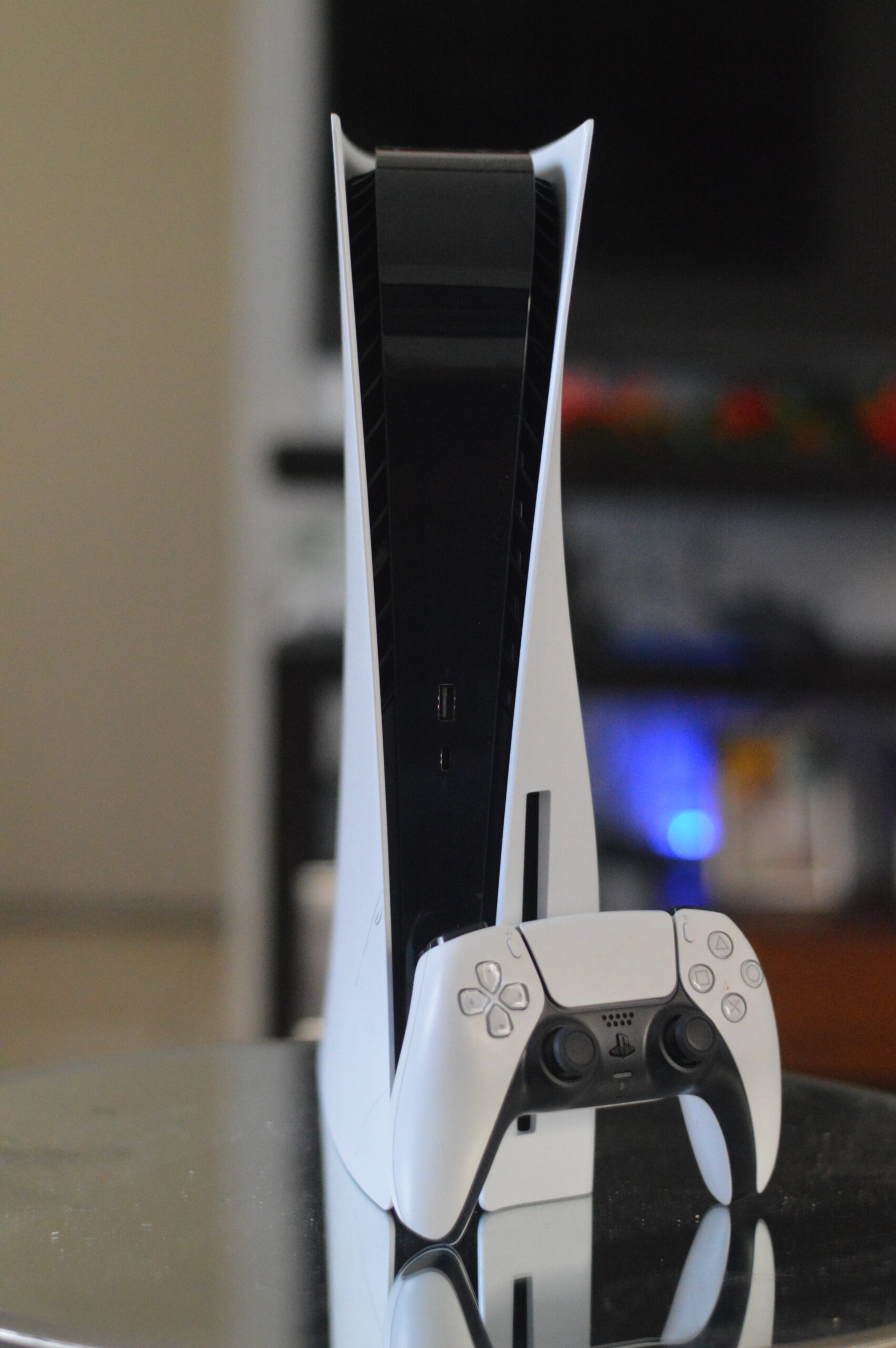 The literal towering powerhouse has cool surprises up its sleeve despite having some drawbacks. Photo by Carlos Martinez.
---
By Carlos Martinez, Web Editor
After a generation of battling Microsoft and Nintendo's consoles with the successful PlayStation 4, Sony has gone all out in next-generation gaming with the Playstation Five console that literally towers above the rest. With dimensions 15.4 inches tall, 10.24 inches deep and 4.09 inches wide and Daft Punk's electrifying "Harder, Better, Faster, Stronger" coursing through its wires and circuit boards, the excitement surrounding the PS5 is a surprising welcome back to gaming that I haven't experienced since the Playstation 3 in 2013.
From just feeling the texture pattern around the base of the console and the grip of the controller, I knew that it was going to be different from the consoles that I typically use: Microsoft's Xbox One S and the Nintendo Switch.
The PlayStation 4 has a big price tag, $800, but the biggest thing about it is its massive size. It showed up on my doorstep in a box so big I thought for sure my knees will buckle carrying it inside. While setting up the white beast on my already cluttered TV stand, it felt like I was being introduced to the Playstation all over again except one that had morphed into the size of Godzilla.
I should mention that I didn't gravitate towards the Playstation 5 because I was unhappy with the Xbox lineage; in fact, the Xbox One S is an amazing system. But my crippling loneliness started to get to me, so my sudden shift of consoles is plain and simple: I have no friends to play with online.
My cousins, coworkers and friends all game with either the Switch or PlayStation 4, leaving me out of a casual gaming experience. To get the most out of gaming in a pandemic, I opted to switch back to Sony because who really likes to game alone?
Powering it on, everything felt fluid, minimalistic, and easy to understand as I navigate through the set-up process. While providing the best resolution I've seen so far, the PlayStation 5 also makes it easy for people to flex their skills by linking accounts to social and streaming sites such as Twitter, YouTube, and Twitch with no hassle at all.
While playing "Spider-Man Remastered," it's noticeable how powerful and fast the console is when compared to my Xbox One S. Load times are nonexistent as the game transports gamers to New York in a matter of seconds. The graphics inject a new level of life and immersion that it's easy to forget that I'm gaming and get killed off in the game for being idle for too long.
---
Friendly neighborhood Spider-Man looks even more spectacular in the remastered version of Marvel's Spider-Man. Screen capture by Carlos Martinez.
---
Even though the PlayStation 5 is one of the most beautiful gaming experiences that I have tested so far, there's no rose without a thorn.
One of the key issues that I have is how monstrous the console came to be. Whenever I have to pick up the Xbox One S I can easily pick up and grip onto it with ease. The PlayStation 5 is basically a boulder.
Its towering presence doesn't leave one with a lot of options on where to keep it either. As much as I love having it sit up tall and mighty like the U.S. Bank Tower in Downtown L.A., I have to have it horizontally due to the space that I have on the TV stand.
Sony provides a puck-like stand for the console to be securely placed in whichever way you choose. Unfortunately, the instructions weren't very clear and I ended up having to look through YouTube videos on how to latch it on, taking almost a half-hour to complete.
Another issue is that the console's fans would go from a quiet hum to a jarring blare of a jet turbine on a few occasions such as leaving a game on pause for a little longer than five minutes. Honestly, this only lasts for about 10-20 seconds before it slowly goes back to a hum so it's not as distracting as one would expect.
Lastly, the console storage is lower than the Xbox One Series. Although I typically only have four games on a console at a time and would have no issue with space, gamers who want more than 10 games saved at a time might have to make choices on what stays and what goes.
Despite some challenges, the Playstation 5 is still a pretty spectacular experience with a great lineup of first-party games coming up. Seeing how fast the games load and how powerful the console, it's a great investment towards the next generation of gaming; if you can get your hands on one that is.
Be sure to check out our review on the Xbox Series X as well as our unboxing on both consoles on our Instagram account embedded below.
csudhbulletin