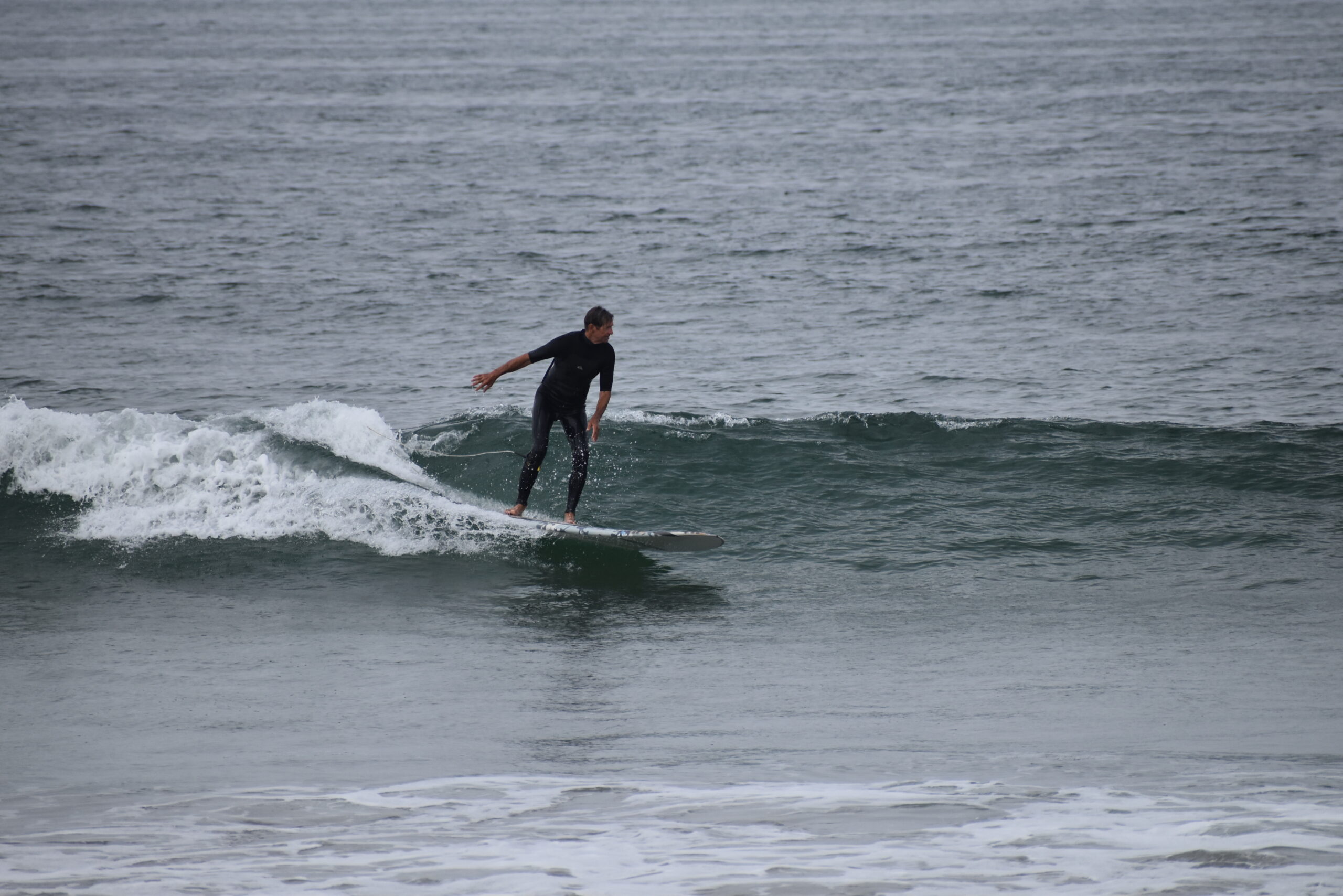 Local surfer George Wilson, uncle to Ian Leon, catching a wave and riding down the face at Bolsa Chica State Beach in Orange County. Photo by Christopher Martinez.
---
By Christopher Martinez, Staff Reporter
"The first thing I think of when it comes to SoCal (Southern California) surf, is the nice weather," Ian Leon said, a local surfer and University of California, Irvine alumni. "The surf is here all year round and the weather is decent for the most part. I know it gets cold in the winter, but isn't that why they invented wetsuits?"
Southern California is known to many as the surf capital or the birthplace of surf culture. CSUDH is surrounded by many famous and popular places to surf, many of which are not seen as a surf sport to the average person but to people in love with finding good surf, it is one of best in Southern California.
Just 10 miles away from CSUDH is Manhattan Beach which offers the perfect mixture of combo swells and defined sandbars. Leon mentioned at Manhattan Beach pier, there are some of the all round waves to ride and to have fun.
---
GoPro footage from Local surfer Ian Leon surfing at Sunset Beach in Orange County.
---
Fellow Toro Beau Lawrie, majoring in advertising and public relations within the communications department, gave his recommendations for surfing near CSUDH.
"The best spots that I know of to surf just west of campus is Manhattan Beach," Lawrie said. "I plan to surf some more over there next semester."
Just 19.5 miles away from campus is one of the most legendary and more popular surf spots in Los Angeles County: Venice Beach. Known mostly for cultivating the culture of sun, sand and surf, Venice is also known for its famous boardwalk. The mellow waves occupying the waters are ideal for beginners or those seeking a relaxed ride.
Other beach breaks in the South Bay area that extend to beginner to advanced surfers are Cabrillo Beach, Lunada Bay, Palos Verdes Cove, Haggerty's and Sapphire Street in Redondo Beach.
Stepping just outside of LA County into Orange County you'll find some of the most famous surf breaks in the world.
"Personally I love to surf in Orange County," Leon said. "Some of the most iconic breaks can be found there. From the freak of nature Wedge in Newport to the smooth cruising waves of San Onofre."
Some of the most beautiful and best beach breaks around LA County are right in CSUDH's backyard. All you have to do is chase the waves.
csudhbulletin