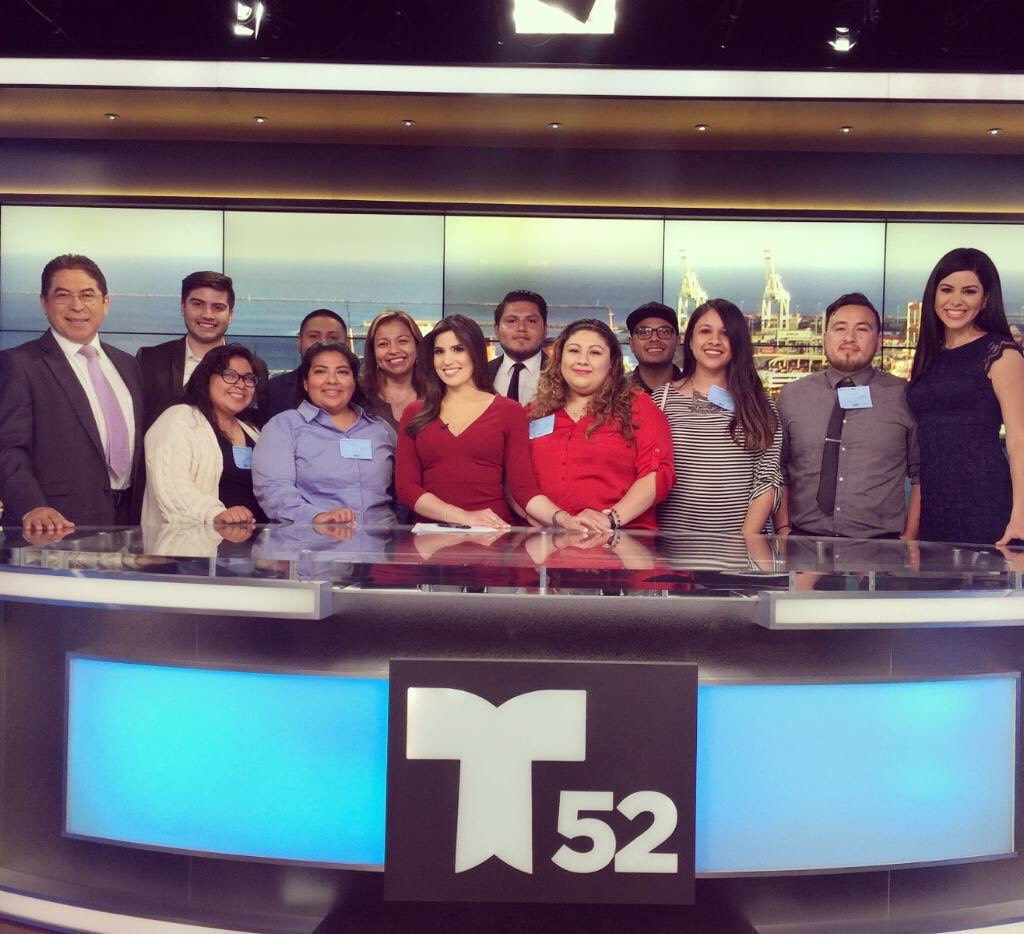 By Fernanda M. Tovar
Editor-In-Chief
Members of the Cal State Dominguez Hills chapter of the Society of Independent Student Journalists took a tour of Telemundo Studios, a Spanish-language TV station, in Los Angeles on April 29.
"We had an opportunity to see a live newscast and were able to see how news is formed right on the spot," said Christian Mosqueda, a communications student who is president of SISJ. "From the control room to the green room, we were able to see how the Telemundo talent works together to bring the news to our very living rooms."
Dominguez Hills alumna Sofia Pop, a news assignment editor for Telemundo, helped coordinate the tour with SISJ members.
During the tour, students met weekend anchor Alejandra Ortiz Chagin, sports reporter Saul Rodriguez, assignment desk editor Belldis Rivera and other reporters, producers and behind-the-scenes employees.
During the tour, there was a live shot on the screens showing the aftermath of shooting in the Whittier-Norwalk area.
Esther Cruz, a member of SISJ, said she was in awe throughout the duration of the tour.
"It was an honor being there," Cruz said. "It makes me want to push harder and work harder."
This opportunity also gave students a look inside the professional world of broadcast journalism, especially Spanish-language journalism.
"A message that resounded across all the professionals at Telemundo was the importance of being fluent in Spanish," Mosqueda said. "Whether it is reading, writing or speaking in Spanish, one's Spanish has to be excellent, if one hopes to make it in the industry."
Telemundo workers gave students advice to keep in mind when they graduate and enter the journalism industry.
Rivera said one piece of advice she wished someone had shared with her while interning was: "You will not have time for a social life, be prepared to work holidays, birthdays and weekends."
Pop told students to have a passion for what they do. This experience also served as motivation for students.
"If she can do it, so can we," Cruz said.
csudhbulletin