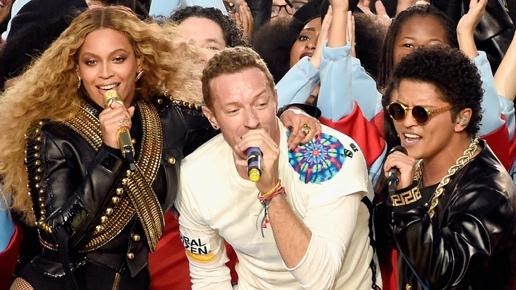 Beyoncé, Coldplay and Bruno Mars performing the Super Bowl 50 Halftime show at Levi's Stadium in Santa Clara, Calif. Photo courtesy YouTube.
By Anthony Garza, Staff Reporter
Super Bowl LV is right around with corner with Canadian singer The Weeknd set to perform at this year's halftime show. Promising to keep the performance 'PG' for families according to Variety, The Weeknd will no doubt make this year memorable as it's already breaking the tradition of fans crowding the stage due to the ongoing pandemic.
As we wait for The Weeknd to hit the stage on screens worldwide in a matter of hours, it's only fair to recount the five most memorable Super Bowl halftime shows to have graced on our screens and onto the center field.
5.Coldplay with Beyoncé and Bruno Mars
This trio lit up the Super Bowl stage in 2016.
From hit songs like "Grenade" and "Viva la Vida" to "Halo", there was no doubt that history was going to be made. And it was, a whopping 115.5 million people tuned into the performance. It all ended with an "Uptown funk" remix that shook the world.
4.Katy Perry with Lenny Kravitz and Missy Elliot
Who can forget the infamous 16-foot lion that Katy Perry made her grand entrance in?
Singing "Roar" at the top of her lungs added to the dramatic setting in Arizona. Along with Missy Elliot and Lenny Kravitz, it was sure to be a "Firework". We also can't forget to give an honorable mention to the dancing sharks as well.
3. Lady Gaga
Is it a bird…a plane….no, it's Lady Gaga!
Jumping off the roof in 2017 encompassed her one-of-a-kind show. With her chart-topping songs like "Poker Face" and "Just Dance", it is safe to say that her halftime show lived up to the hype.
2.Michael Jackson
The king of pop made sure not to let us down with his performance in 1993 at a packed Rose Bowl in Pasadena, Calif.
To open up the show, he stood motionless for one and a half minutes after being thrust into the air on stage. He then elegantly broke into a song, performing "Billie Jean" making for one of the most unforgettable halftime shows.
1.Prince
Prince, a legend that graced the halftime show with a one-of-a-kind performance in 2007.
The finale, however, will be talked about for generations. He played "Purple Rain" with his purple guitar as gracefully as one could, ironically, during a downpour.
Super Bowl LV will air on CBS on Feb. 7, kickoff time is at approximately 3 :30 p.m. PST.
csudhbulletin