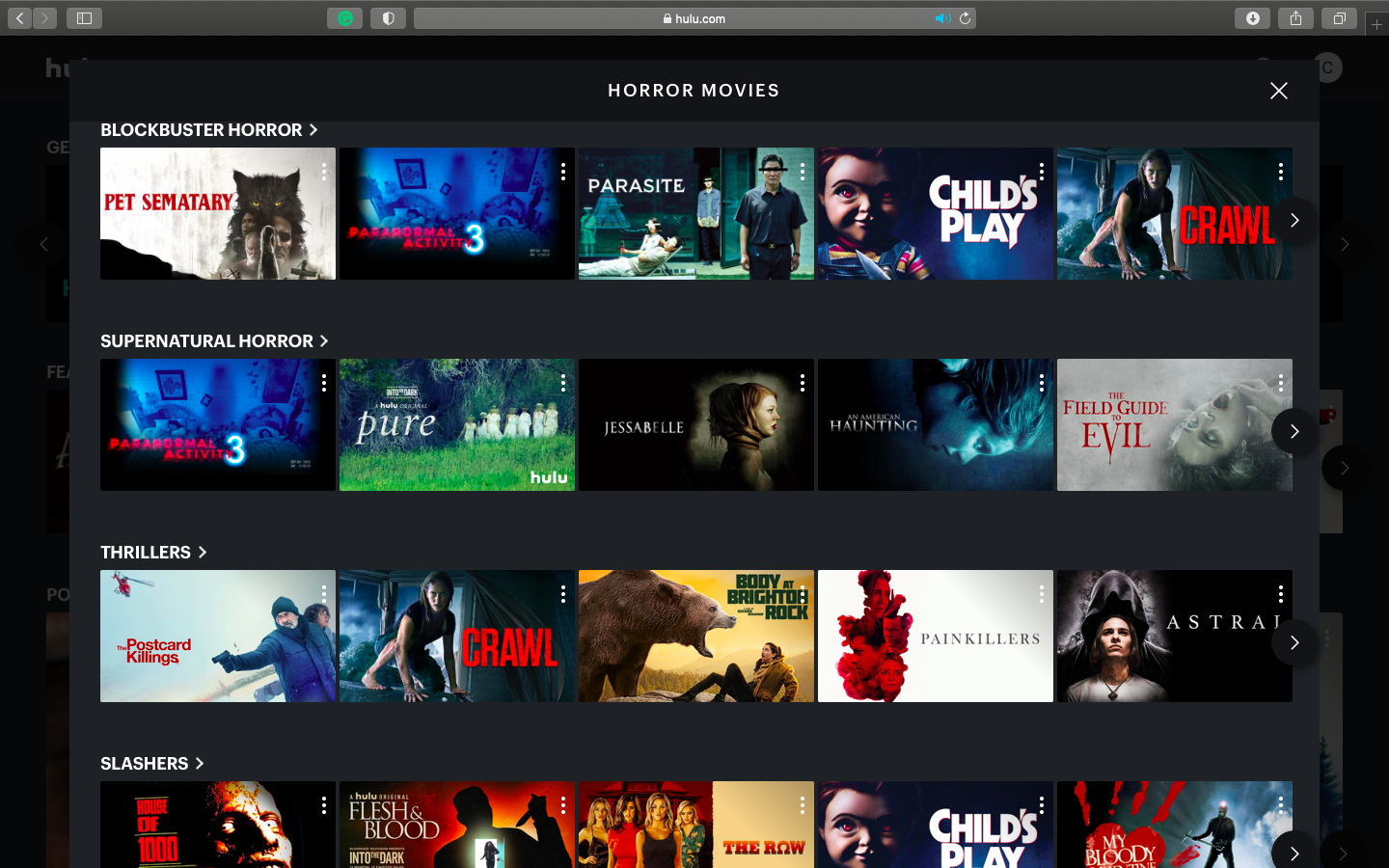 Hulu's selection of Blockbuster, supernatural, thrillers, and slashers horror movie selections.
---
By Cindy Canas, Staff Writer
While we are still in a pandemic and Halloween is just right around the corner, it is the perfect time to get into the spooky spirits. Apps such as Skype, Zoom, Discord, Houseparty, Disney Plus' GroupWatch, and Netflix Party have made it incredibly easy to stay within the guidelines for social distancing. Luckily for you, I have concocted the perfect list of 31 movies for your Halloween virtual viewing party.
These movies are for sure going to get anyone into the Halloween mood, instead of the delusional past six months. Of the 31 movies mentioned, I highly recommend these three "Parasite", "Circle", and live-action"The Addams Family" as each one gives a different level of spookiness.
If there is any movie that is too scary, a great alternative would be Halloween episodes from television shows. Some television shows that have Halloween specials, I mean literally, all of their episodes, individually, are called "Halloween" is: "Malcolm in the Middle" season 7 episode 4, "The Office" season 2 episode 5, and "New Girl" season 2 episode 6.
However, if you are looking for some more suggestions, Netflix just premiered a new horror-lite Ryan Murphy show "Ratched" based off of Milos Forman's iconic drama "One Flew Over the Cuckoo's Nest". Or if you're looking for something scarier, the highly anticipated sequel to 2018's "The Haunting of Hill House," "The Haunting of Bly Manor" drops Oct. 9. No list of mine is complete without an honorable mention of the 2013 series "Bates Motel." There are a lot of television series on Netflix and Hulu that also focus on horror, mind games, and give off Halloween-y vibes to them.
Also, a great alternative to any movie on this list that isn't your thing would be documentaries of the unknown, further beyond, murders, and so on. "Making a Murder", "The Staircase", conspiracy theory, and so on are great neutrals with haunting chills.
Let's begin the movie marathon to get into the spooky mood for Halloween.
October 2020
Sunday
Monday
Tuesday
Wednesday
Thursday
Friday
Saturday
1. "The Addams Family" (Animated)
– Hulu
2. "The Remains"
– Hulu
3. "The Autopsy of Jane Doe"
– Netflix
4. "Cabin Fever"- Netflix
5. "The Boy"- Netflix
6. "The Roommate"- Netflix
7. "Hush"- Netflix
8. "Death Note"- Netflix
9. "Sinister"- Netflix
10. "Would You Rather"- Netflix
11. "Wrinkles The Clown"- Hulu
12. "Before I Wake"-Netflix
13. "Sleepy Hollow"- Netflix
14. "Silence of the Lamb"- Netflix
15. "The Last House on the Left"- Hulu
16. "Interview with a Serial Killer"- Netflix
17. "Poltergeist"- Netflix
18. "The Cabin in the Woods"- Hulu
19. "Behind You"- Hulu
20. "31 aka Thirty-One"- Hulu
21. "Goosebumps 2"- Netflix
22. "The Lodge"- Hulu
23. "Texas Chainsaw"- Hulu
24. "The Omen"- Hulu
25. "Circle"- Netflix
26. Pet "Sematary"- Hulu
27. "Oculus"- Hulu
28. "The Witches"- Netflix
29. "BirdBox"- Netflix
30. "The Addams Family"- Netflix
31. "Parasite"- Hulu
csudhbulletin