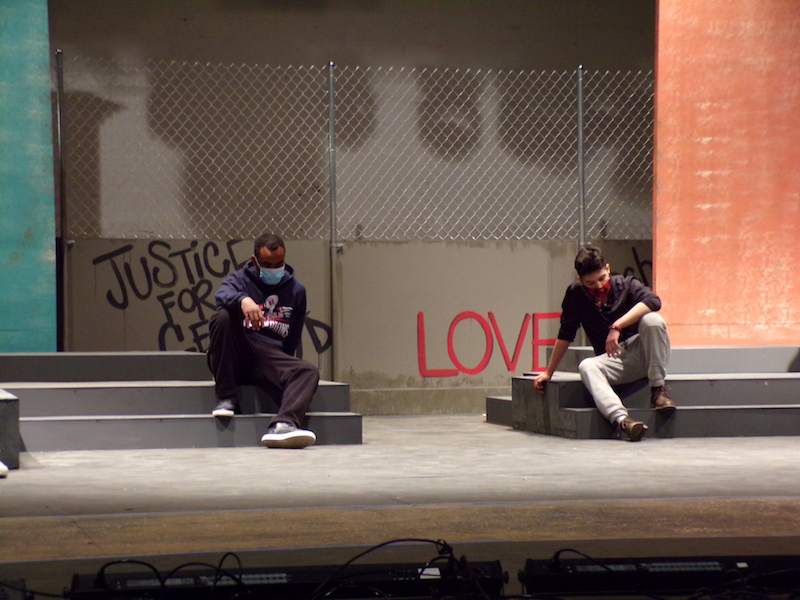 Kendall Bryant (left) and Alex Serrano (right) during a rehearsal for the virtual performance of "A Surge of Power," a new play inspired by the BLM protests of last summer. It opens May 11. Photo by Andrea Espinoza.
By Andrea Espinoza, Staff Reporter
Although "Surge of Power" is a new play inspired by, and set within, The Black Lives Matter protest of last summer and its tremendous aftershocks, director Shaunte' Caraballo emphasizes that this play is not just about race.
"It's not a black story," Caraballo, an assistant professor of theatre arts, said. "It's an injustice story. And about how everyone needs to fight against injustice period. I would like everyone to approach it with an open mind and just come willing to observe, to hear, and to learn." 
Though the play isn't solely about race, the reason it exists definitely connects to race. It is one result of the pledge from the Department of Theatre and Dance, to support the Black Lives Matter movement. One way a department with theater in its title can do is to tell stories that denounce racism and bigotry, and foster empathy for all people.
"[Theater] is a much more powerful tool often, than just someone speaking out. Because theatre makes us empathetic. It forces us to listen to and be a part of someone else's story,"," Caraballo said.
Caraballo used her talent to highlight topics she feels need to be addressed such as social injustice affecting us all, the relevance of BLM reaching a level where it cannot be ignored, and that silence is complicit. She also said she emphasized the importance of fixing things for those who are suffering the most and when that is improved, then that bubbles up and affects everyone.
Written and directed by Caraballo, the play dives into the theme of social equality and how it can affect everyone. It also shows the importance of standing up and lending your voice when social injustice occurs.
Set in contemporary America, the play doesn't have a specific location other than an unnamed urban boulevard where four characters of mixed races meet during a BLM protest. Over the course of the play, they share with each other who they are and why they are there.
The cast includes current California State University, Dominguez Hills students who also had a hand in developing the play. The script is a mix of spoken words, poetry, and audio from Black Lives Matter movement interviews.
And even though Caraballo's name is on the playbill as a writer, she had plenty of help from the cast.
"I started the process every week of giving them a word or a question or an idea," Caraballo said of her cast. "They would have to come back the next week at rehearsal with what that meant to them or their response or how they felt.  After what they wrote was already established, then I came in and added to what I had [written] for the play."
The play is being held in the University Theatre under COVID-19 protocols, meaning social distancing on stage and no live audience. Instead, the play will be live-streamed, and the camera crew will be wearing masks as well. Reducing the cast down to four members to create social distance and making masks a part of the characters'' costumes were some things she planned ahead for. 
Since the COVID-19 case numbers were so high, for the first two weeks of the semester, rehearsals took place on Zoom.
But though this has not been a traditional theater process in terms of rehearsal and the actors will be playing before a virtual house, Caraballo says it's still live theater and a new play. And the cast, even socially distant and wearing masks, have bonded.
"From its conception, A Surge of Power was a labor of love," she said. "Months of research and development served as both hammer and chisel, aiding the cast in shaping and molding this work into its current version. We learned many things through this journey, but mostly, we learned to listen to each other. And I think, more than anything, we, as a country, as a people, need to listen. Listening is the beginning of empathy, and compassion and these things are necessary for us to make real change."
And while asking the question of "what do you hope the audience gets from this play," is sometimes difficult for those who have invested so much of their heart and souls into the work, giving them a kind of tunnel-vision in the sense they are so focused on their specific roles that it can be hard during rehearsal to look at the play as a whole, Caraballo does not hesitate to answer.
"It is our hope that you listen to this show with more than just your ears," she said. "Listen with the entirety of who you are. We hope that you will be moved to act, to do your part to make a change in your families, your communities, your country, and the world. It starts with you. Your voice matters. Your voice is needed. We are the surge of power the world needs."
The play will also be holding "talk-back" where the cast will be interacting with the audience beginning March 11th – 13th.
"A Surge of Power," University Theatre via live stream. It opens Thurs., March 11. Fri.-Sat., 7 p.m.; Closes March 16. $5 For information, click here. Also, there will be talkbacks on March 11-13 where the cast will answer audiences from the audience about the play and the process.
Related
***Check FALL 2021 Issue 2!
Archives
The Bulletin Sports Report
Here is our new sports podcast, brought to you by co-sports editor Jeremy Gonzalez and co-news editor Robert Rios! Available now on Apple Podcasts and Spotify, links available down below:
Special Election Issue
Sections