Abilities Outweigh Disabilities: Special Education Thriving Amid Pandemic
csudhbulletin
November 30, 2020
0 COMMENTS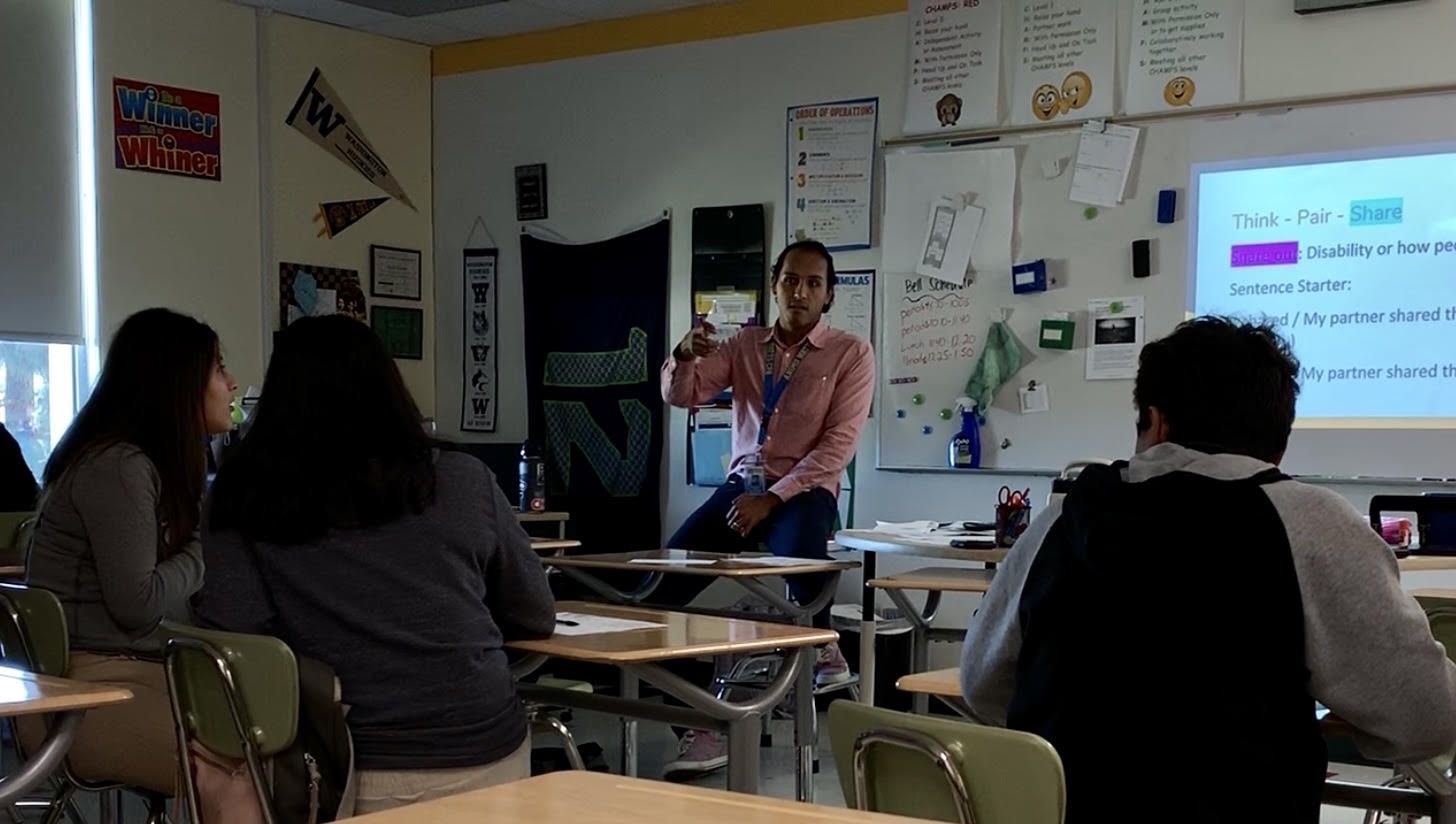 Ismael Soria, who is pursuing a master's degree at CSUDH, teaching an 11th grade special education class at a charter school in Watts. Photo courtesy of Ismael Soria.
---
By Matt Barrero, Assistant Sports Editor
It's no mystery that the COVID-19 pandemic has affected educational systems across the globe. When the new school year began, the reality of teaching virtually seemed dismaying. Since then, educators have continued to find new ways to be more creative, in an effort to hold their students' attention.
One question many educators are asking is whether or not these students are fully absorbing the information being fed to them through the screen of a computer.
In special education programs, the forced new methods and learning environment have created more challenges for teachers and students than traditional schooling.
"I have yet to meet a teacher who isn't giving 110%," Dr. Kate Esposito, Special Education Department chair at California State University Dominguez Hills, said. "Teachers had to really quickly pivot to online instruction, and they had to come up to speed on the best strategies to use to engage students. In special education, the majority of us would agree that delivering in-person instruction is more effective than online."
With more than 20 years of teaching experience, Esposito now focuses her attention on providing guidance to students who are earning their master's degrees in special education.
Ismael Soria, who earned a Bachelor of Arts in Psychology, is currently completing his master's degree in the Special Education program at CSUDH. Additionally, Soria works as an 11th grade special education teacher for Green Dot Public Schools, a charter school overseen by the Los Angeles Unified School District, in Watts.
"In the five periods out of a six-period day, I am co-teaching or pushing in," Soria said. "That involves me checking in on students and progress monitoring. I can also pull students out and re-deliver a part of the lesson that they may not have understood. Most of the time, I am just recovering things they have been taught in their general education classes."
As a teacher candidate, Soria is evaluated based on his performance within a functioning classroom setting. Esposito emphasized how hard these students are working with so many outside elements factoring into their preparation.
"Our [future] teachers are incredibly stressed," Esposito said. "They are juggling instructing their classrooms online, working towards their master's and on top of all of that, they are trying to navigate through life much like the rest of us are trying to do."
While Soria was not prepared for all-virtual instruction prior to the pandemic hitting, he feels the students suffered greatly above anyone else.
"From a technological standpoint, a lot of them were not ready when we started the online learning and some of them are still having trouble," Soria said. "For us [teachers] we were trained prior to starting the semester, but students never received a tutorial on how to work solely online. I do what I can to instruct them on how to navigate their online resources."
Working in education runs through Soria's blood, quite literally. Of his 10 aunts and uncles, six of them are involved in education. Plus, both of Soria's parents have been special education assistants for more than 25 years.
"Growing up, my parents worked where I went to school," Soria said. "When I saw my parents, I would always see them working with the special education students and as I continued to go further in my education, they got me to work as a special education assistant, as well. That's really what instilled that passion. I enjoyed it and I thought I could do a good service seeing how well my parents did."
Soria will have to wait until May 2021 to complete his master's program and be able to teach a class of his own.
Sharing Soria's passion for teaching, Karlie Buller has been a mild to moderate education specialist in special education (SPED) for the last four years and currently works for the Arcadia Unified School District as a first and second grade Special Day Class (SDC) teacher.
Buller graduated from Azusa Pacific University with a bachelor's degree in liberal studies and a master's degree in special education.
Compared to Soria, who works with 11th graders, Buller works with a small group of 6 and 7-year-olds. Buller explains how difficult school days can be without the hands-on experience of having her students in the classroom.
"Our six and seven-year-olds are having a really hard time sitting behind a computer screen for five hours, but we do four group calls throughout the day which implements breaks for them," Buller said. "I have done some one-on-one calls with some of the students based on their needs."
Buller emphasized that one of the challenges with her young students is knowing how much information is being absorbed, since each student must have a parent/guardian next to them during an entire class period.
"It's very hard to gauge what the student is actually doing, versus what the parent/guardian is doing," Buller said.
One aspect many people may forget is that school is more than just about learning a new subject and flexing the brain muscles.
"School isn't just academics. School is a safe place for our students," Esposito said. "It is where they receive their nutrition. It is security and it is predictability. It's their family away from family and students lost all of that when we went to online learning."
While many schools remain online only until the number of COVID-19 cases drops significantly, the stress levels can be at an all-time high for students right now. Educators like Buller, Soria and Esposito prove that despite the circumstances, they strive to continue teaching the children well, even while their teaching environment is virtual.
csudhbulletin