American Heart Association grants clinical science major a generous stipend
csudhbulletin
October 20, 2021
0 COMMENTS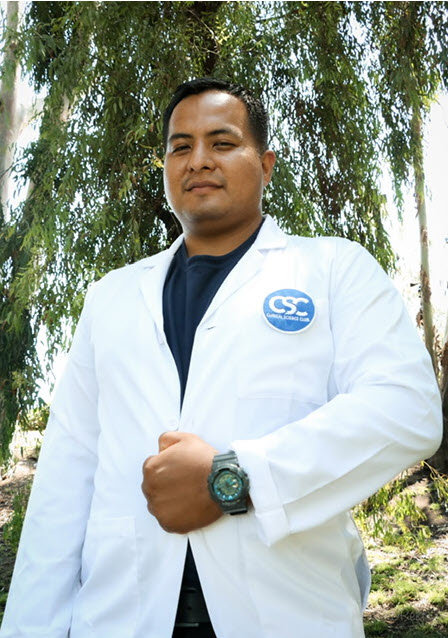 Senior clinical science major Alex Camarillo with a bright future ahead. Photo Credits: Derrick Nguyen, CSC Historian 
By Richard Ricardo Jr., Staff Writer
In September, CSUDH senior clinical science major, Alex Camarillo was awarded the Hispanic Serving Institutions (HSI) Scholars Program sponsored by the American Heart Association. This prestigious award is only given to 30 students within six different regions of Los Angeles, Chicago, New York, Houston, Florida, and Puerto Rico to receive a stipend that in his case is $7,000.
In the City of Pacoima in the San Fernando Valley, a predominantly lower class Latinx neighborhood, Camarillo was the main provider for his family at a young age.
Early in life, he was intrigued by computers. 
"I always knew I was savvy with computers being the sort of person in charge of everything at home, I was the one who knew how to fix things including computers, I knew how to update and troubleshoot them," said Camarillo.
After graduating high school he attended Los Angeles Mission College (LAMC) for a couple of years and he began his first job at Six Flags Magic Mountain. He took the city bus near his home on a regular basis, trekking close to 20 miles each way to and from work. As this became a routine for him, Camarillo started to recognize the regulars on the bus.
One day hearing random conversations, a particular dialogue stood out to him. He overheard a woman talking about a computer job, which caught his attention.
"I eventually got the nerve to approach her and said, "I heard about this role where you work with computers, would you mind if I applied. [After applying and interviewing], I got the job and started working," said Camarillo. "I thought I was going to be working with computers. I was working for a company called Quest Diagnostics, a field I didn't know existed. It was crazy to me at the time because I had no background with this, I'm handling samples for patients who need to get their medicine adjusted every month for HIV." 
Camarillo knew that he had an interest in the area of science and wanted to go further in that field.
"I was just happy with the idea that I can provide some sort of structure at home, the fact that I am fully employed is one less stress my family has to deal with," said Camarillo.
About seven years after taking a break from community college, Camarillo returned to LAMC to pursue his new passion for science.
"It is difficult in the early stages to really convince your family on what you are doing because there is no bread on the table […] immediately, to say this is why I am going back to school," said Camarillo. "I need your support through the turbulence and this is an investment for me to really move up and help come back and provide for the family."
Working in the Quest Diagnostics environment gave him exposure to clinical sciences, Camarillo's true passion. It made him realize that it was a feasible career path to pursue.
The Quest Diagnostic office he was working at was one of the training sites the clinical laboratory science (CLS) internship program at Dominguez Hills uses. He then applied for the clinical science program at CSUDH where he was accepted. While in the program he joined the Clinical Science Club, sitting on the board as the treasurer, where Professor Payman Nasr is the faculty advisor and Nasr recommended him for this prestigious award.
The award that was given out by the AHA had some stipulations, the candidate needed to be of Hispanic heritage, a minimum cumulative GPA of 3.0, submit a personal statement, provide your science GPA (different than the cumulative GPA). 
Camarillo, meeting all the qualifications with a cumulative GPA of 3.128 and a science GPA of 3.12 for the Hispanic Scholars Program, afforded him this honorable opportunity. 
"This stipend is to provide me with some sort of resource so that I can commit myself to doing research at the lab. I would not have to depend on getting part-time work to provide while I'm contributing to the research," said Camarillo.
The stipend will alleviate some of Camarillo's financial concerns while focusing on his research at the Cardiovascular Disease lab at UCLA Medical School.
csudhbulletin