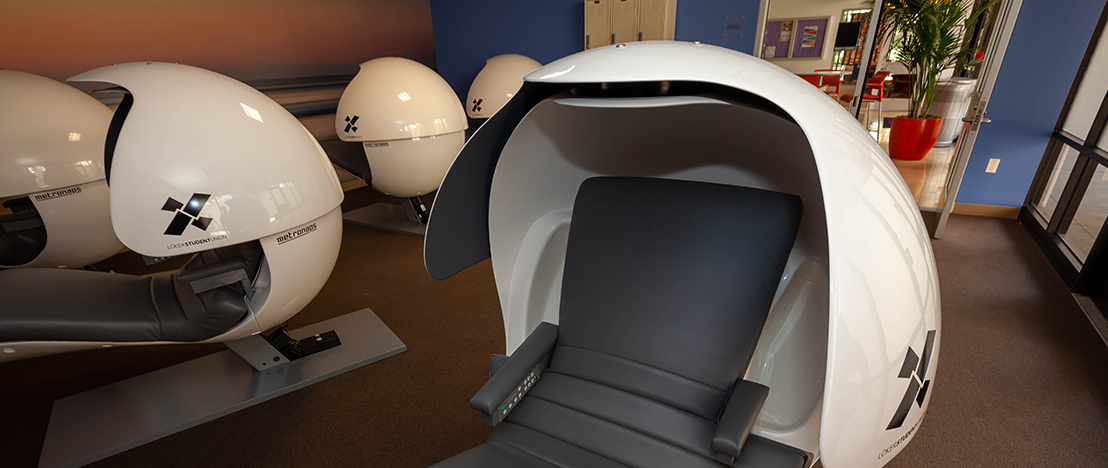 By Liliana Ulloa
Opinions Editor
Regardless of the new $64,000 nap room that opened this semester on the lower level of the Loker Student Union, many CSUDH students are opting to keep their usual napping places around campus. 
At first glance, the five nap pods resemble the iconic egg-shaped chairs that James- not yet Agent J- sits on while taking his test to join the Men in Black organization.
However, when you get a closer look at the snooze sanctuaries, it is inevitable not to be impressed by the zero-gravity napping positions offered by the pods, which "relieve the cardiac system by lowering the chest and elevating legs," according to a sign hanging outside the nap room.
The pods are equipped with a sound system and headphone jack, and once situated inside, you can adjust music volume, vibrations, lighting and recline options conveniently at the touch of a few buttons.
But even with the customizable experience and optional privacy visors that help block light and sound for a more soothing environment, the multiple times I've passed by, it resembles an abandoned theme park, while students catching a quick winks in the library and other parts of campus are everywhere.
Maybe it's the time factor. The nap room seemed promising for students who, because of class schedule issues, have a significant amount of time in between classes. However, with maximum usage time of 20 minutes and five-minute periods to get in and out of the pod before and after your "nap," the experience sounds more rushed than relaxing.
"I almost signed up until they told me the maximum nap time was only 20 minutes," said Andrea Rodriguez, a business major. "By the time I settle in and start falling asleep my time will be up."
However, 20 minutes may be an ideal napping time. According to an April 29, 2011 article on bbc.com, Jim Horne, director of the Sleep Research Council in the UK, recommended nap times 20 minutes in duration. A 20-minute power nap will help get students back to alertness right away because this amount of sleep never reaches the deeper states of a sleep cycle.
"Once you get beyond 20 minutes, you risk a deep sleep, and you can be much groggier when you wake up," Horne told BBC News.
But, according to an online article published June 24, 2016 on Forbes.com "Science Says This Is Exactly How to Nap to Be at Your Best," an ideal nap is 90 minutes, as that provides all stages of one full sleep cycle and improves procedural and emotional memory which can also significantly boost student's creativity.
Regardless of what the "best" nap time is, it seems clear that many students could use one.
According to the 801 respondents to the 2017 CSUDH Campus Activities & Events Survey, 85 percent of students reported not getting the recommended seven to nine hours of sleep per night. Sixty percent of students also said their lack of sleep negatively impacted their academic performance.
While 80 percent of the surveyed students indicated they would utilize a napping facility if made available on campus, the numbers don't reflect actual demand. At least not yet.
"Only being able to nap 20 minutes defeats the purpose of a nap," said Gabriel Garcia, a political science major. "I wouldn't bother going; I just nap anywhere, I just sit on a chair I think is comfortable."
It only takes a single walk down the LSU's third floor and upper library floors to see a significant number of students knocked out and sometimes drooling on the chairs and even on the corridor floors.
Other favorite napping locations include the LSU student lounge couches, the large cushions across from the bookstore, and the big study tables located by 1910 Cafe.
"You can pretty much sleep anywhere on campus, really," said computer science major, Jermon Humphrey. "Go to the library. It's completely quiet and no one will disturb you."
Other students said they were turned off by the application process, which requires them to fill out a form which will take about three days to be reviewed and approved. Others were disappointed the nap room doesn't permit consecutive bookings.
The nap room can be a fantastic option for those who usually get a good night's rest consistently and only require a power nap to recharge, or for those who want a harmonious place to relax.
However, for the rest of the dark under-eye circle sporting sleep-deprived, zombie-like students with abundant time to nap in-between classes, decorating the LSU and library top floors with your mouths open deep in slumber will continue to be a necessity.
Reservations work on a -first-come-first-serve basis during LSU facility hours, but appointments are available for booking up to 24-hours in advance by signing up at LSU 112 or by calling (310) 243-3713.243-3713.
csudhbulletin