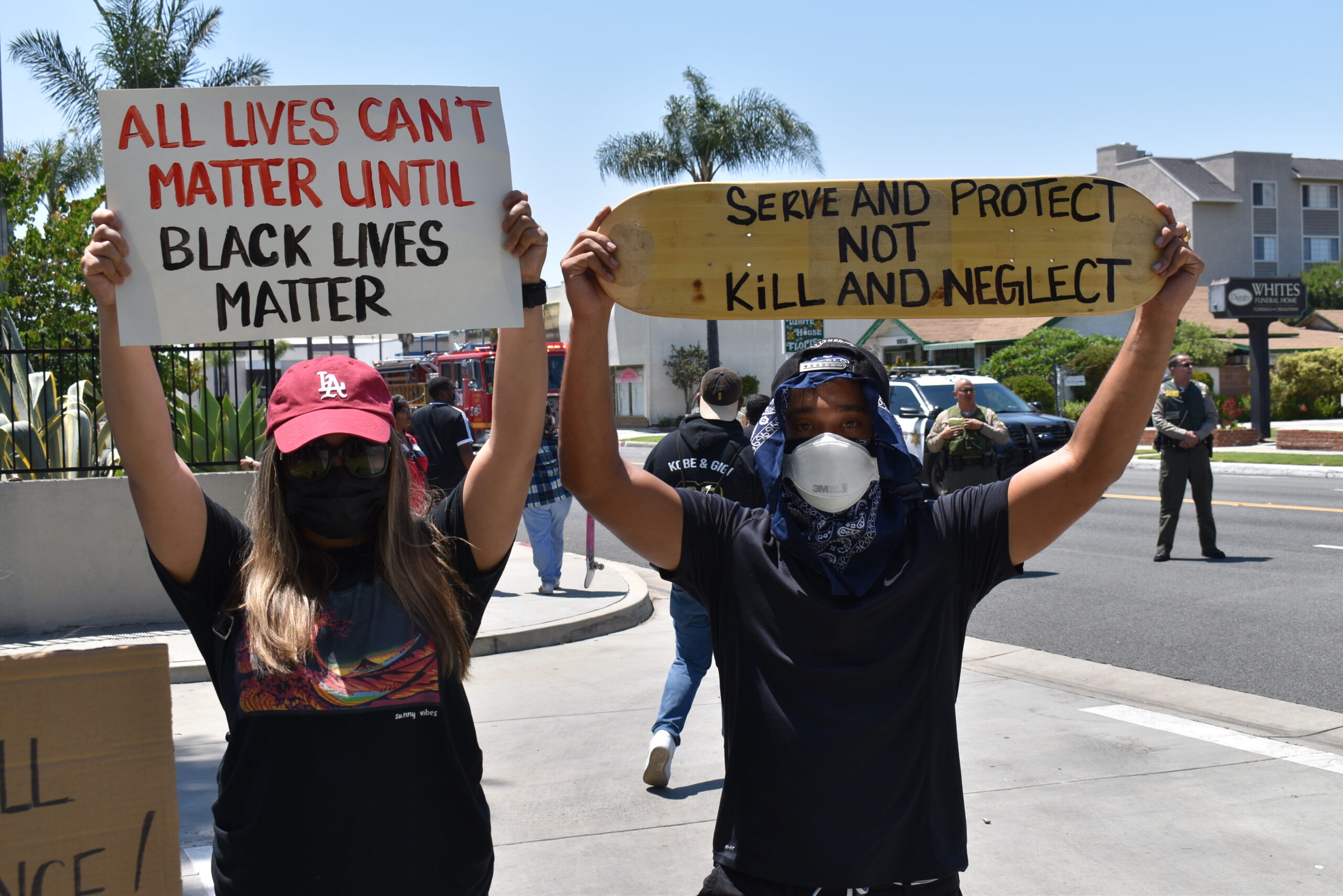 Black Lives Matter protesters walking down Bellflower Boulevard in Bellflower this summer. Photos by Christopher Martinez.
---
By Christopher Martinez, Staff Reporter
When people hear the term "woke" in a socially aware context, they may think of people who do not live in a community where social injustice and racism are a fact of life. But in the new Hulu original "Woke," the person who is awakened to that reality is someone from that community.
A Hulu original that premiered Sept. 9, "Woke" follows comic sketch artist Keef Knight (Lamorne Morris) as he is enlightened on what it is to be Black in the United States and forced to change his perspective on everyday life. The show has Knight 'Woke' as he comes to a realization about police brutality, social issues, and the experience of being Black in America.
"Woke" is an original series that incorporates serious topics into a comedic tale about how one incident changes Knight's life: going from a cartoonist on the rise to stardom to being falsely identified as a mugger just for being Black. This sends Knight into a spiral and an Awakening that being Black is a crime in itself and that he will always be a target.
In the show, Knight's run-in with the law forces him to confront his inner self, as inanimate objects come to life and talk to him. Knight has two roommates in the show Gunther (Blake Anderson) and Clovis (T. Murph).
This show is based loosely on the real-life experiences of Keith Knight, its creator, who is also a cartoonist whose work has been featured in The New Yorker and Mad Magazine. With over 20 years of experience in the business.
This show seems to have a message of, what can an average person do to help a movement?
In the final episode of the first season, we get the answer: self-empowerment.
The show addresses how much power even the most ordinary seeming person has.
For example, if George Floyd's death had never been recorded by a bystander, teenager Darnella Frazier, we would have never witnessed the horrible event that led up to his death. But we did and that one video recording sparked months of protest and, perhaps, America's long-overdue racial reckoning.
"By using Keith as their protagonist, 'Woke' sends a positive message that being passive to social injustice does not make it disappear, but that it is never too late to open your eyes and make a difference and stand up," Noemy Carrillo, a California State Polytechnic University, Pomona alumni, said.
At least one member of the show's cast, Blake Anderson, who plays Gunther, is committed to the idea of the series trying to effect change in society. As he told Screenrant.com:
"I just always want to encourage the audience to keep an open mind. If you are watching something that is making you feel uncomfortable, maybe that's all the more reason to approach it and really analyze why it makes you feel that way.
"It's all just about keeping an open mind, and listening, and being part of the human race, as opposed to protecting yourself from it because it might make you uncomfortable."
Related
***Check FALL 2021 Issue 2!
Archives
The Bulletin Sports Report
Here is our new sports podcast, brought to you by co-sports editor Jeremy Gonzalez and co-news editor Robert Rios! Available now on Apple Podcasts and Spotify, links available down below:
Special Election Issue
Sections