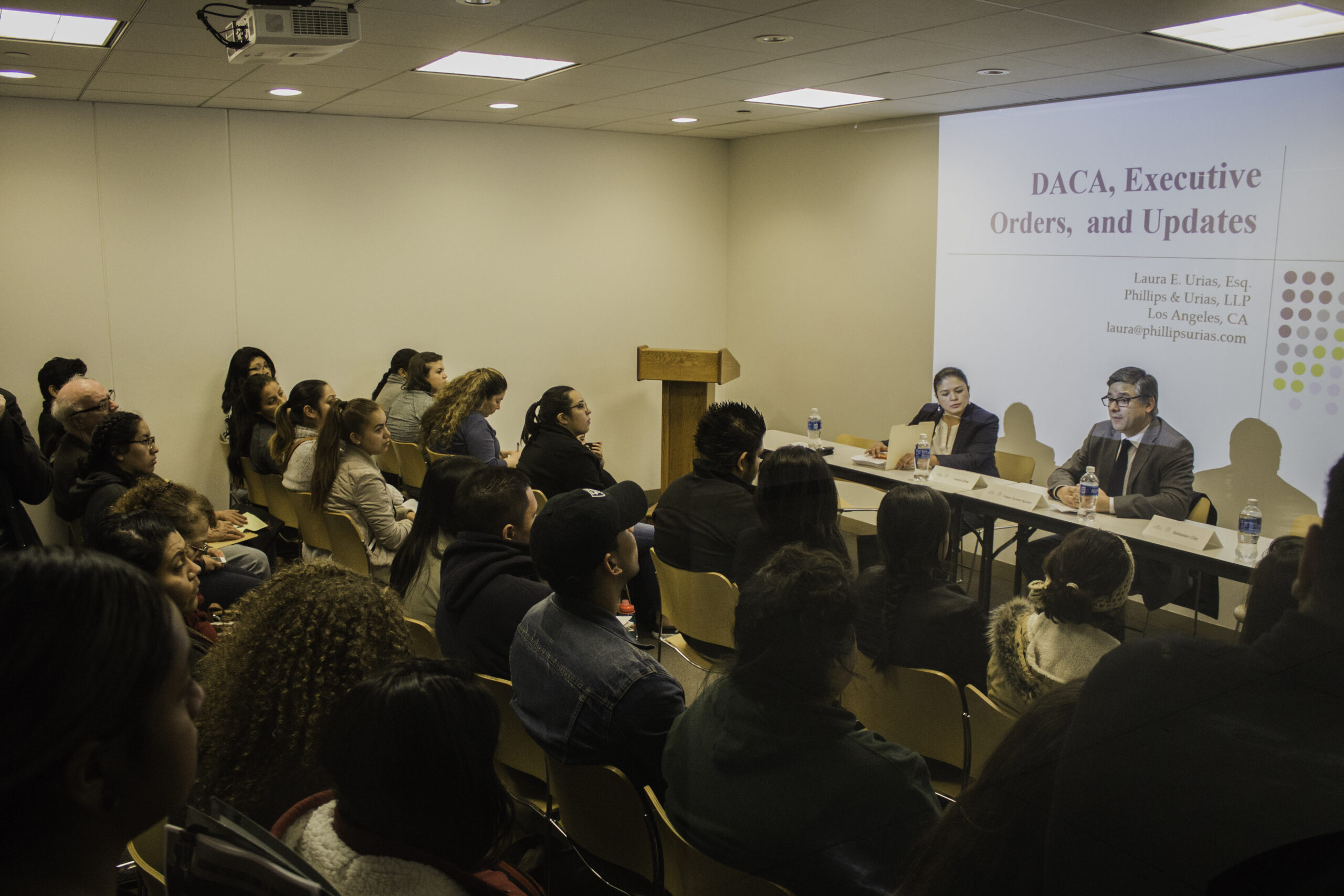 Photo Credit: Zack Hailey
Immigration attorney Laura E. Urias and Felipe Carrera Aguayo, of the Mexican Consulate, offer immigration advice to students.
By Pedro Cruz
La póliza inmigratoria de el Presidente Donald Trump es un testimonio de su punto de vista radical que elabora una sociedad utópica. Donald Trump propone un país sin inmigrantes y criminales. Un país prosperado, sublime, y admirable. En otras palabras, el quiere "Hacer América Grande Otra Vez."
Aunque la idea es atractiva, la realidad es espantosa. El mundo a empezado una nueva era de catástrofe. La orden inmigratoria ejecutiva de Trump creara mas problemas que soluciones para los Estadunidenses. Es fácil castigar y culpar a toda una comunidad por los crímenes de pocos, pero eso no es justo. Habrá muchas vidas inocentes afectadas.
En esta situación, es importante entender como el Presidente Trump piensa. No hay que olvidar que el jamás a sido un político en su vida. El nunca a servido como un concejal, o alcalde, ni en el congreso, y tampoco como senador. A pesar de su experiencia mediocre, el se a convertido en el Presidente de Los Estados Unidos.
El es un hombre de negocios con estrategias para provocar a la gente que estén de acuerdo con lo que dice. Nos tiene exactamente donde el quiere: dándole toda nuestra atención y no solo en el país si no de todo el mundo. Estoy seguro de una cosa: El Presidente Trump perderá el negocio que esta haciendo con Los Estados Unidos.
Como un DREAMER, en primer lugar, yo se lo difícil que es ser un indocumentado. Los inmigrantes siempre han sido y continuaran siendo esenciales para superar este país.
Yo nunca le e quitado el trabajo a nadie. Mis padres jamás han robado el trabajo de los Americanos. Hay muchos trabajos que pagan el mínimo como lo son los lavadores de platos, jardineros, criadas, y trabajadores de campo que ganan menos de 8 dólares la hora.
No le tenemos miedo al trabajo ni tampoco nos quejamos por pagos miserables porque sabemos que en nuestros países 8 dólares es una fortuna.
Yo no soy un criminal. Mi padre y mis hermanos no son "violadores" como nos dijo Trump. Los musulmanes tampoco son unas "terroristas." Como un DREAMER, a la edad de 8 años,  tuve la oportunidad de una vida mejor. También soy tu amigo, tu compañero de clase, tu estudiante y empleado. Yo considero este país mi hogar igual que tu.
Hoy escribo estas palabras porque mis padres han sacrificado demasiado para que yo continué mis estudios. En estos momentos ya los números y estadísticas son irrelevantes. Estamos viviendo la cruel realidad de nuestras vidas. No le temo a lo que pueda suceder porque se que los lideres tiranos nunca prevalecerán.
csudhbulletin