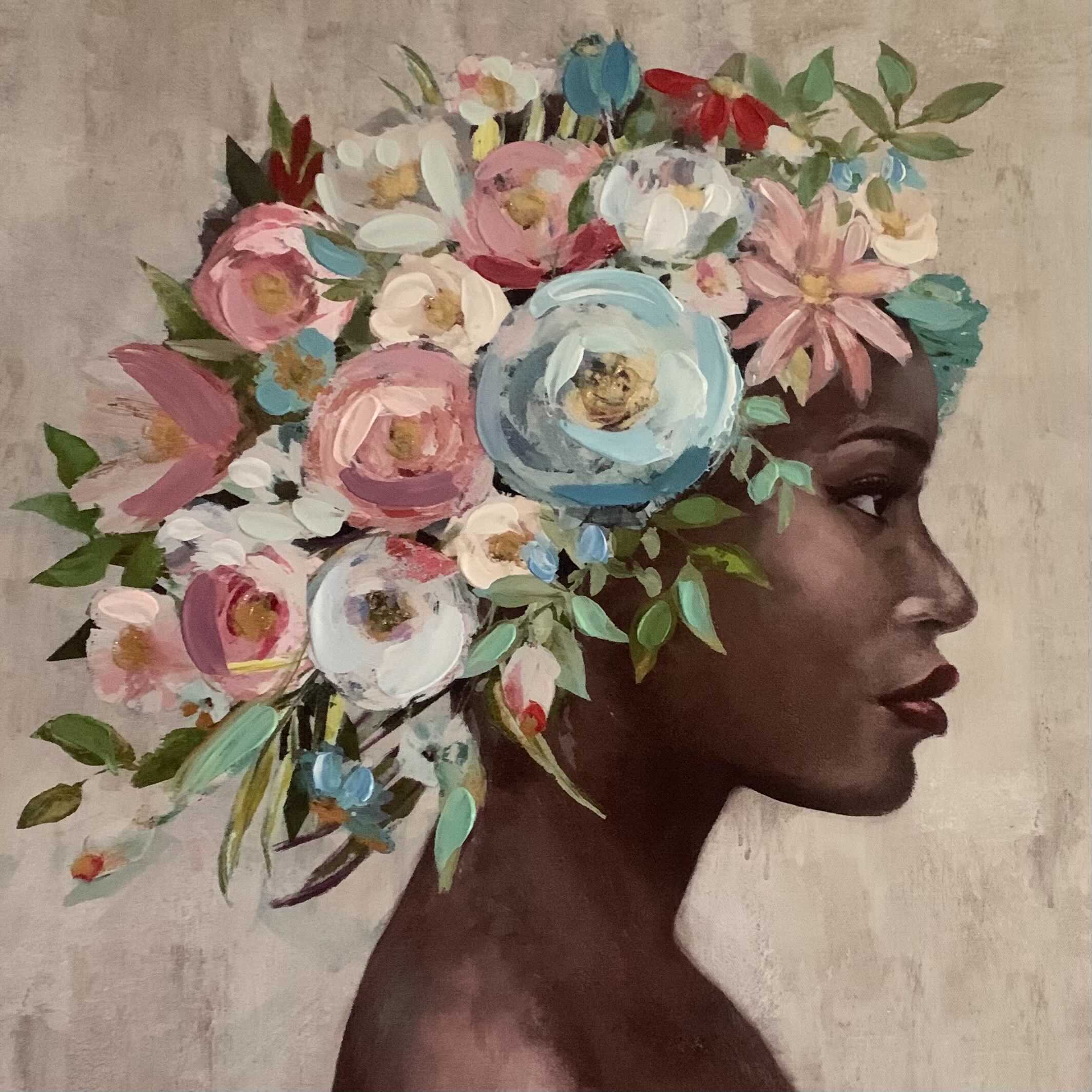 "Grand Rising Queens." Painting can ease your mind and uplift your spirit to a higher level. Art by Lafie Bradford.
By: Lafie Bradford, Staff Reporter
Editor's note: This interview has been edited and condensed for clarity.
During these hard times, the pandemic has kept us down and indoors, shunned from the world. Quarantine has kept us from exploring the outside world, but glued to our phones and televisions flooded with nonstop news. News about suffering from job losses, inadequate amounts of cleaning supplies, rising unemployment, and evictions.
To sum everything together, it hasn't been an easy year for us all and it doesn't seem like it's going to get better any time soon. Right now, it's very important that we stick together and do the right thing to survive. There is so much time spent at home that we are forced to make self-improvements to pass the time. For example, making home improvements, getting extra rest, practicing yoga or journaling for stress, working out, or just helping out and giving back to the community. 
In an interview for California State University, Dominguez Hills' campus newspaper, The Bulletin, I spoke with two magical Black women, Imani Edmond, a member of the Delta Sigma Theta sorority and Assistant Professor of Theatre Shaunte' Caraballo, about their mental health and improvements they've made on campus while being in quarantine.
Bulletin: As a member of the Delta Sigma Theta Sorority, how do you think the campus "benefits" from keeping Delta Sigma Theta sorority intact?
Edmond: I am a member of Delta Sigma Theta Sorority Incorporated. We benefit the campus through our community service efforts. The thing that makes us special is our commitment to the constructive development of our members and uplifting the African American community.
Bulletin: Describe what it's like being in a sorority during the pandemic? How do you keep your spirit?
Edmond: Being in a sorority during a pandemic has enabled me to remain connected with like-minded women who have a shared mission to better ourselves and others. I keep my spirits up by networking with others via Zoom, social media and phone contact.
Bulletin: What have you been doing to keep yourself happy during the pandemic?
Edmond: I have remained positive and maintained camaraderie with my sorority sisters, family and friends. I also maintain my mental health by regularly exercising.
Bulletin: Can you explain some self-improvement or any impacts your sorority has made during the pandemic?
Edmond: During the quarantine, my chapter participated in charitable efforts such as the Spark of Love [Toy Drive]. We partnered with a local fire station and donated over 200 toys to Spark of Love Toy Drive to [aid] underprivileged families.
Bulletin: I understand that this is the first year back for Delta's at CSUDH. How have they affected the campus community?
Edmond: Pi Chi chapter recently held an event via Zoom that was geared towards helping students to prepare for the semester. This included a faculty member who provided information on how students can successfully navigate through online learning during the current circumstances.
I also interviewed Shaunte' Caraballo,who is an Assistant Professor at Cal State Dominguez Hills University. She is known for being the director of "Surge and Power," and the coach of the "Speech and Debate Team," on campus. She also is speaker, professor, actress, spoken-word artist, and hula dancer. She loves hula dancing and has been a hula dancer for 15 years. She thrives off of seeing students grow and excel and she has a great passion for creating and devising theatrical works about social justice.
Bulletin: How does your involvement as a professor impact students and the university during this time?
Caraballo: I think the major way I am involved in the university is through my work as the Speech Coordinator. This allows me to serve as the coach for the Speech & Debate team, but also to help students with their presentations for Student Research Day and help our student commencement speakers with their speeches. I love being able to help others, especially students, reveal the great speaker inside them.

Bulletin: How is it being in the theater department and the coach of the forensics teams and director of the school's plays during the pandemic? How do you keep your spirit?
Caraballo: It is tough because I am used to being able to work with students face-to-face and Zoom doesn't really provide the same experience. But I am grateful that we are still able to meet, even virtually. Coaching the team has remained mostly the same. But, directing a play was tough initially but I am grateful that we have the opportunity to still develop art and to be able to share it with others.
Bulletin: What have you been doing to keep yourself happy during the pandemic?
Caraballo: I have been finding ways to spend more time outside. I go for bike rides, I dance hula in my backyard and we find ways to have family meals in our backyard.

Bulletin: Can you explain some self-improvements or any impacts you've made during the pandemic?
Caraballo: Because everything is virtual, I have been able to attend training, meetings, plays, and conferences all over the world. I have actually been busier than I ever have with requests for speaking and training. Now that we don't have to travel, we can learn and interact with more people. One of my favorite things has been being able to collaborate with other BIPOC speech & debate coaches and other BIPOC artists all over the country on various projects.
Bulletin: I understand due to Covid-19 there are a lot of limitations with what can and cannot be done. How have you been affected? How have the new rules affected the campus community for the department?
Caraballo: It is so much more work. I spend more time working on building community with my students. I have to spend twice as much time to make sure students have a similar experience to being face-to-face. But, knowing that my students are still learning, connecting and enjoying my classes is worth it. We have adapted our plays and dance performances to be able to be live-streamed from the University Theatre so that we can still have an audience but not in the building with us, we are making dance films, we are creating ways to still create and share our art. We are artists. We adapt and change with flair—it's just who we are.
csudhbulletin