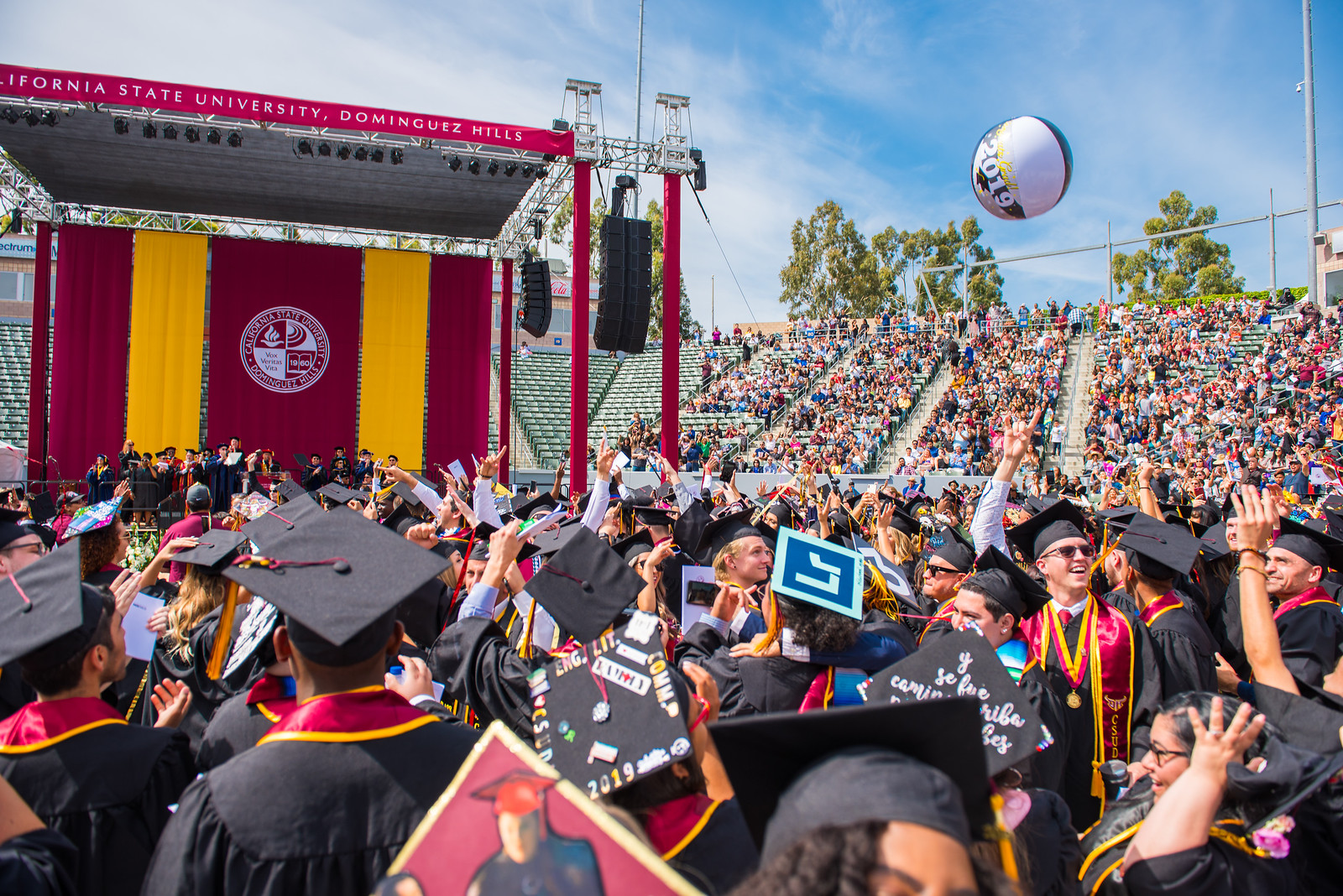 Although with no in-person audience, commencement ceremonies will still go on. Photo by CSUDH Smugmug
By Daniel Tom, Contributing Writer
Updated at 6:15 p.m.
This year's spring commencement ceremony was already going to have a different look and feel for students and families, but now things are looking a little brighter for the Toro Nation as graduation nears.
On Monday, California State University, Dominguez Hills President Thomas A. Parham announced in a university-wide email that this year's venue for commencement ceremonies for the classes of 2020 and 2021, has been shifted from Parking Lot 6 on the CSUDH campus to its traditional venue, the Tennis Stadium at Dignity Health Sports Park.
This news brings pomp and positivity back to what was already a scaled-back ceremony in response to strict health and safety guidelines. However, the scheduled May 24-27 ceremonies still remain closed to families and friends, and only graduating students and administrators will be able to attend the ceremony in-person. The hybrid event will be available via live stream for the remainder of the public.
Parham did mention if Los Angeles County saw a climb in COVID-19 cases, the school would be forced to modify its intended plans to celebrate both classes.
Many students were unhappy with the decision to end their days as a Toro in a parking lot on campus, and the university made note of student reactions. According to a public release on March 26, the university is evaluating all of its information and making decisions based on stats from the California Department of Public Health (CDPH).
With new guidelines released, officials made the decision to reserve and ultimately move the ceremonies to their traditional location. Due to scheduling conflicts with the neighboring Los Angeles Galaxy, the 27,000-seat stadium was unavailable for use.
According to Parham, "Graduating students will be spread out throughout the stadium, and, if possible, they will be able to cross the stage when their names are called. The current guidelines mandate the use of permanent seating only; therefore, we cannot seat students on the floor of the stadium, as has been done in the past."
For the most up-to-date information regarding the 2020 and 2021 commencement ceremonies, visit www.csudh.edu/commencement.
csudhbulletin