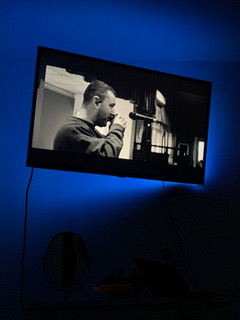 The ongoing pandemic has brought concerts to the comfort of one's own home. Photo by Carina Noyola.
---
By Carina Noyola, Staff Reporter
Concert viewing experiences have changed forever. COVID-19 brought an increased awareness for the need of social distancing, making it impossible to form large crowds for concerts, movies, or even social gatherings. The fact of the matter is, many of us have not been in an area with more than 10 people in a single space in eight months.
With concert and movie theater venues closed, limited shopping experiences for the holidays, and no large gatherings being allowed, the question is, how do we stay sane in this case? Celebrities, artists, and musicians have found a way to not only use their platform to showcase their work but also promote the health and safety of the overall public. Artists like Bad Bunny, Erykah Badu, and most recently Sam Smith have made their way to the virtual world with concerts.
On Oct. 30 Sam Smith held a one hour virtual experience for fans to enjoy in the comfort of our own homes. By purchasing a physical copy of the album it included a link to enjoy the concert. A friend of mine purchased a hard copy of Smith's newly released album to watch Smith perform live from Abbey Studios, in London, England.
Needless to say, great minds think alike. Throughout the experience, Smith was sure to encourage fans to promote the safety of their socially distant enjoyment. While they performed a beautifully put together set list that included their newly released album, "Love Goes." Smith encouraged viewers to enjoy the show with a glass of wine among friends and family from the comfort of their own homes.
Much like Smith suggested, with my two closest friends and my sister, we cuddled with a bottle of wine and Italian take out to enjoy Smith's' performance. It was easy to get comfortable in PJ's with all of the garlic knots you could eat.
"I don't think I'll ever need to return back to normal concerts," said Yulisaa Arevalo, my friend who watched alongside me. And to that, she has a point – the virtual experience of a concert that came with the COVID-19 pandemic may be something I might not want to get rid of after the quarantine stage of the pandemic has passed.
The beauty and comfort of a concert at home is something that had a silver lining. No pushing or shoving, traffic to and from the auditoriums, and the perks of having as many glasses of wine you'd like without having to worry about the costly rideshare options at the end of the shows.
Although the comfort of my home was surely favored among myself and my friends, the effects of COVID-19 were clearly present in Smith's' performance. Live from Abbey Studios showed a prominent space between Smith and their background singers, as well as musicians. At the end of a set, Smith was saddened by the lack of physical comfort between them, and the vocalist said," we can't even hug."
"Different but just as beautiful," said Smith in reference to the "new" concert venue that is being virtual instead of an in-person location. And that it was, beautiful. The hour performance included many behind the scenes footage of rehearsals and an insight to who Smith is prior to a performance. One perk of a virtual concert that can be appreciated is that viewers get to see specs of a performance they would not normally get to see at a live in-person concert.
Amid the pandemic, it was an overarching question on whether or not people would be able to enjoy the culture that is music and live performances. Over the last few months, it seemed as though different artists have attempted to with trial and error, find ways in which the music industry can co-exist in a world that is surviving with the least amount of physical contact in efforts to avoid the spread of the coronavirus. For the time being, you don't have to worry about not being able to see over everyone pushing and shoving their way to the front at a show. However, hopefully someday soon we will be able to return to the enjoyment that is, live music in live concert venues. For now, stay safe, entertained, and enjoy the show.
csudhbulletin