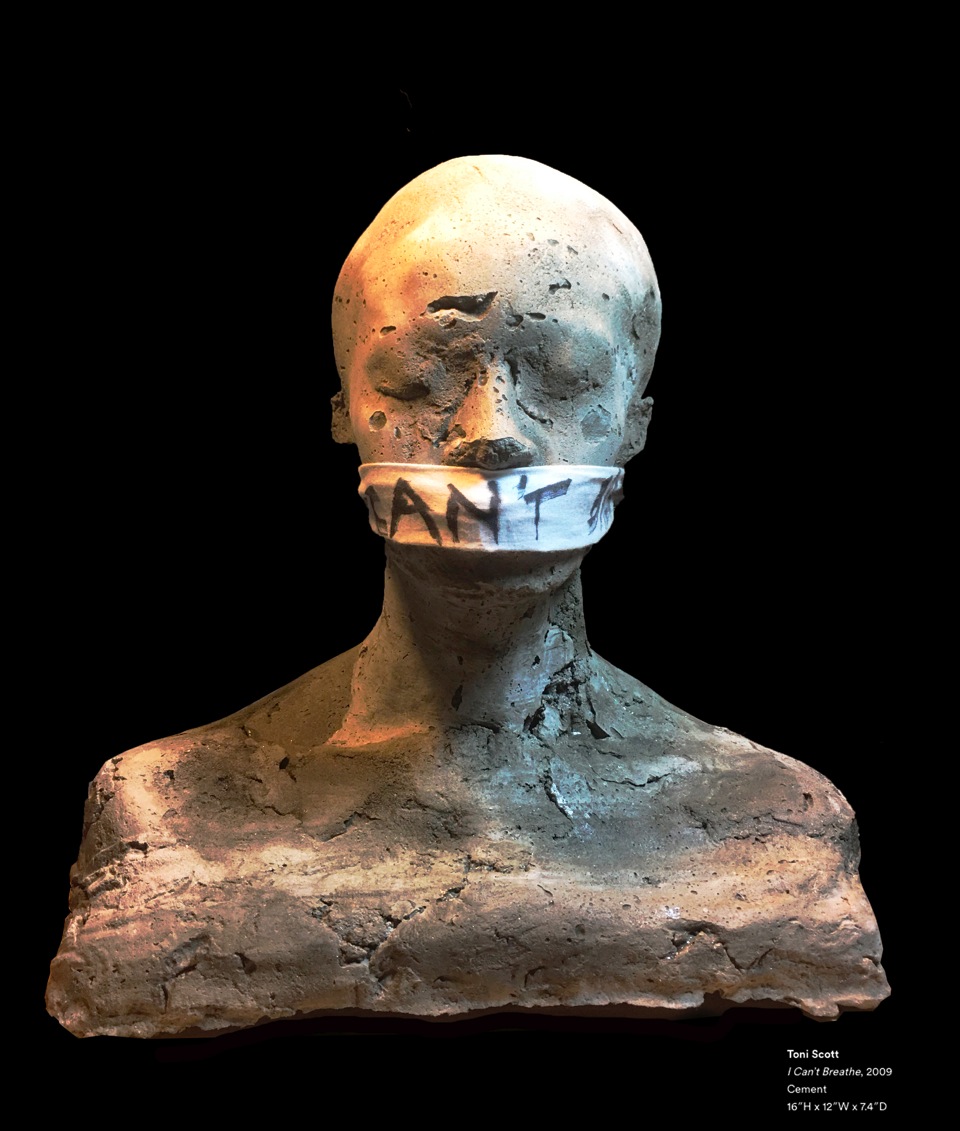 In an artistic approach, Toni Scott creates artwork that parallels a historical past and the unfortunate current state of society. Photo courtesy of Toni Scott.
---
By Darlene Maes, Staff Writer
Despite the ongoing pandemic, exposure to mixed media artwork is currently limited. With the ongoing climate, museums and art galleries remain closed or operating at a controlled capacity. With many working under socially-distant guidelines, appreciating artwork in person is another activity put on hold. However, to promote creative engagement across to students and the campus, a visual presentation was provided to commemorate the work of a South Central Los Angeles native and her future partnership with CSUDH.
"Consequential Conversations: A Dialogue with Toni Scott," was hosted on November 18th at 4 p.m. with University President Thomas A. Parham. The discussion, open to the CSUDH community, was created to introduce Toni Scott, a mixed-media artist and her background, artistic influences, and future upcoming projects. In addition to her artwork being showcased, both Parham and Scott discussed the upcoming potential project ideas to promote artwork creation from students with influences of historical and cultural themes.
The collaboration announced in October, detailed that the united effort of both CSUDH and Scott is to benefit both the community, university, and aspiring student artists. With her experience, Scott will pursue educating students and creating roadwork of examinations of social and historical subject matter that remains relatable to the present. Projects mentioned within the conversation detailed potential live streams of events to showcase installations of Scott's work, a developing student involved exhibition, and a potential live painting with accompanied music performed by a local orchestra.
Artwork created by Scott illustrates influences from her African American, Native American, and European heritage. As a result, symbolism and historical context are strikingly evident in her work. An installation praised by Scott entitled, "Bloodlines," provides visual storytelling of American Slavery which debuted in 2009 at the California African American Museum. With ongoing praise, the installation made its way to exhibits and venues overseas. Additional exhibitions such as "The Family of Mankind," "American History 101," and "Indigenous" provide a range of historical references to social injustices as well as tributes to those who lived during these periods of time.
At the beginning of the event, Dean of the University Library Dr. Stephanie Brasley provided an introduction and background information on the premise of the conversation and how the overall event would be taking place. She also provided her perspective to Scott's artwork. "It compels us to explore and deepen our understanding of cultural history and its impact on occurrences of today." Following the introduction, two five-minute visual presentations which included images, video and narration by both Scott and Brasley was shown.
During the dialogue, a Q&A was offered to the audience to ask any questions to Scott and her overall creative process. One question that was asked was, "What emotions did you feel when "Bloodline" was exhibited in North Carolina? And do you fear backlash or people's reaction to it?" Scott's response added to the emotional connection the artistic process has when creating pieces for the exhibition mentioned. "Each time I added to the overall body of the installation, I explored narratives. I was always sadly exposed to the horror beyond belief. It was just layer, after layer, after layer. There were points where I didn't think I could push on because it was such a personal and emotional experience. I have the faces of 12 of my ancestors who were slaves and names of 21 who were slaves."
Parham ended the dialogue by thanking not only Toni Scott but also the faculty and staff who assisted with coordinating the event. Parham also mentioned future functions to be held in the upcoming semester showcasing Scott's work.
"We look forward to displaying some of your work that you'll decide that you want to have us curate here," Parham said. "When it is safe to do so or if we have to do it virtually, we will figure that out."
He also added the developing events that students can look forward to in the spring semester.
"We want to invite you to stay tuned for what we have in store in the future. Coming in January, you will see an announcement… about something special we are about to do," Parham said. "We'll turn that one into a Presidential Distinguished Lecture featuring the magnificent genius and artistry of the artist, the one and only, Toni Scott."
For more information about Artist Toni Scott and the Presidential Distinguished Lecture series please visit Scott's webpage or the lecture series page.
csudhbulletin