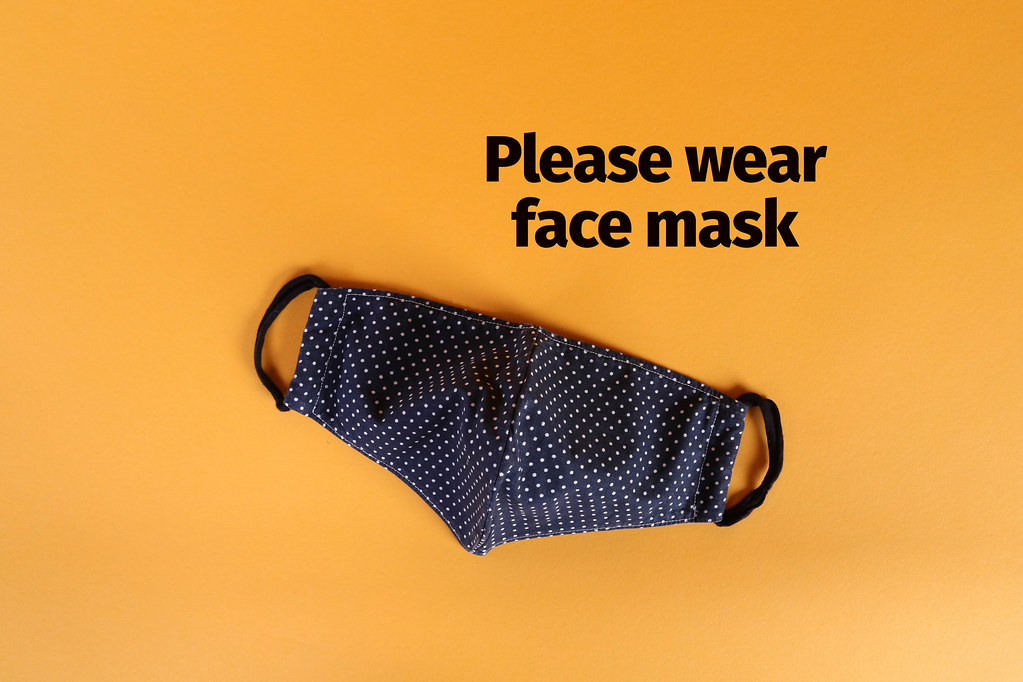 You never know who you know around you can get COVID-19. SO please wear your masks. Photo by wuestenigel is licensed under CC BY 2.0
---
By Melany Ruiz, Staff Reporter
For the past two weeks, my house smelled like bleach.
My nose would burn from the stench of it all over the house, my absolute nightmare became a reality. My grandma tested positive for COVID-19.
It's been something I've dreaded since the start of the pandemic. Eight months ago I remember being on the phone with her, weeping, telling her to go back home and to leave the supermarket instantly. I was on my way to work when we were told to turn back and start reporting from home. I knew things were getting serious and my grandma, who is diabetic and has low blood pressure, I knew the virus was going to affect her more.
Flash forward to now, an innocent cough turned into a fever, resulting in the infamous COVID-19. I am the only one who works from home, I had to notify my family to come home and figure out our new living situation.
In a blink of an eye, all surfaces, furniture, sheets were cleaned. My grandpa who is at the highest risk from the virus was sent to live with my uncle, my mom moved into my grandpa's room, and masks, face shields, and hand sanitizers were in every corner of our house. Everyone else got tested, including me two weeks after my grandma's COVID test, everyone was negative. WE think my grandma might have contracted COVID-19 at a quick supermarket run.
I felt this great remorse for my grandma as she coughed, sneezed, threw up, and suffered from high fevers. Due to her pre-existing conditions, she was sent to the hospital to ensure her vitals were strong enough.
It's times like these where you want to hug and keep close to the ones you love, but unfortunately, that was all taken from me. I wasn't able to see her or check up on her for almost three weeks, the amount of work that my job and school demanded made it impossible for me to check in on my grandma, I was forced to stay strapped to my desk and work away
The place where I was supposed to feel the safest, was now infested with COVID-19. My home's walls are crawling with the virus.
Everyone had to be isolated in their own room, only leave if they needed food or to use the restroom, all while wearing a mask and sanitizing everything you use/touch with bleach.
For 14 days it was just my cat, me, and my room. If being stuck at home sucks, now imagine being stuck in your room, not even being able to freely roam around your own house.
It sucked.
This affected my productivity and mood. Even my cat wanted to run around the house besides my tiny room. My anxiety was blasting through the roof as I wanted to know how my grandma was doing. I wanted to make sure she could breathe, I wanted to make sure that the rest of my family weren't infected, that I wasn't infected. My anxiety filled up in my chest and into my mind, I couldn't relax with the worry of my grandma's health and the worry of my job and school workload. To top it off, the world's longest election was happening during this time, I had to be anxious about who will be in charge of running the country for the next four years. My anxiety was booming.
I always heard of people being affected by Covid-19 and knew how tragic it was based on what you hear on the news, but I got to see the reality of it through my grandma's own battle with it.
After hearing so many cases of people dying and not being able to breathe I caught myself yelling through the wall every few minutes, hoping my voice echoed to her room, asking her if she could breathe.
It's been a month since she tested positive and I am thankful that she is alive and slowly recovering. It is really unfortunate that not every person had the same luck as my grandma, especially with having pre existing conditions.
I can now confess that I truly didn't take Covid-19 seriously until it hit my home. I didn't understand the severity and the physical, mental, and emotional toll it takes on you and your family. It's been a month and we are still being affected. We're constantly getting tested and we are trying to keep up with purchasing masks, hand sanitizer, and disinfecting supplies all while the second wave of COVID-19 is on the rise.
Let this serve as a reminder to please wear your mask, stay six feet apart, and stay home.
Related
Current issue
Archives
The Bulletin Sports Report
Here is our new sports podcast, brought to you by co-sports editor Jeremy Gonzalez and co-news editor Robert Rios! Available now on Apple Podcasts and Spotify, links available down below:
Special commemorative issue remembering 50th anniversary of Chicano Moratorium March
Special Election Issue
Sections