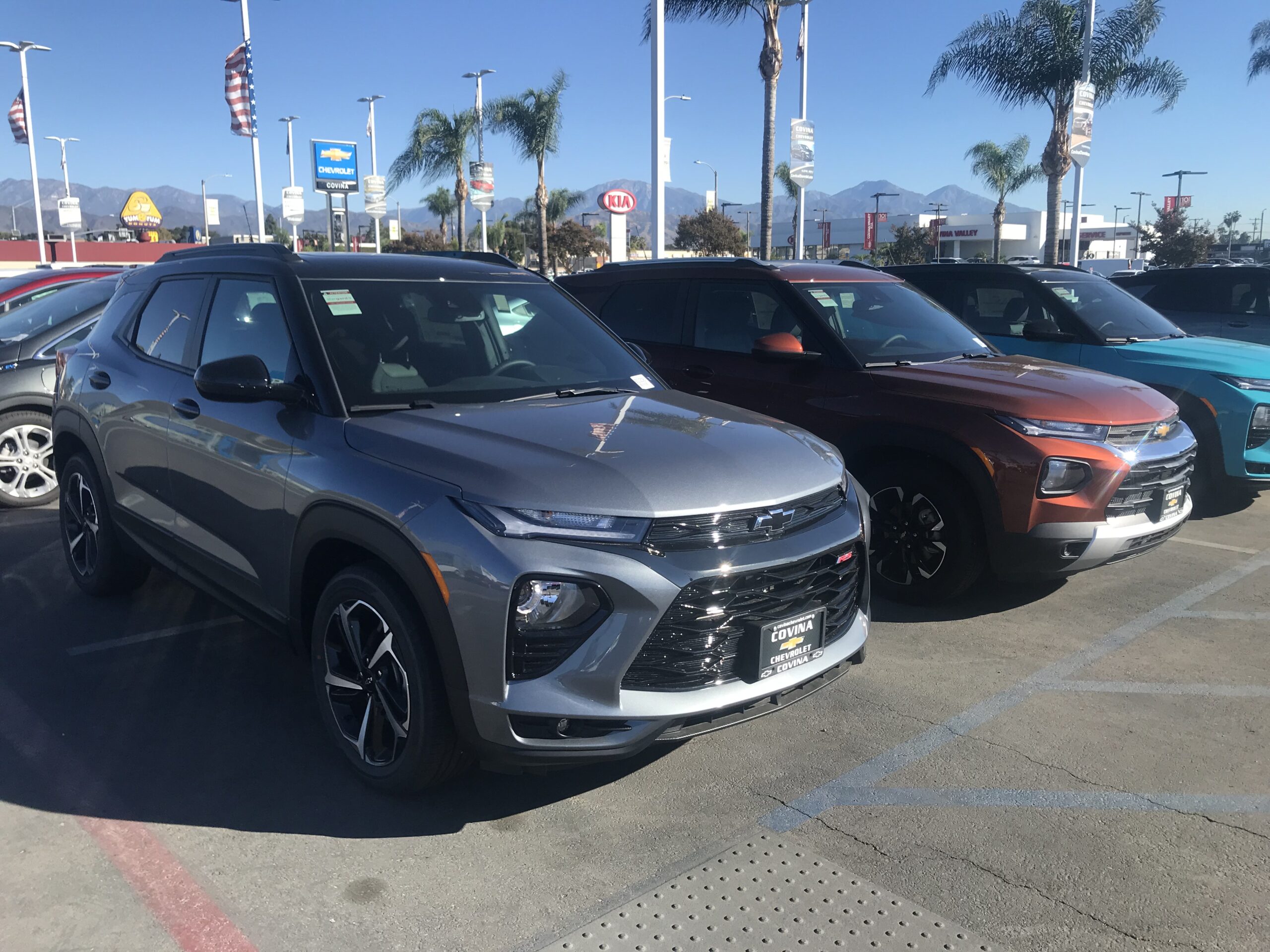 The Chevy Trailblazer is a small SUV that is bold, spacious and gets an estimated 29 mpg in the city and 33 on the highway. Photo by Taylor Ogata.
---
By Taylor Ogata, Staff Reporter
A lot of students at California State University, Dominguez Hills have cars whether they live on or off campus especially since this is the traffic-riddled Los Angeles area. Before the pandemic hit, there was a lot of traffic which caused me to take some extra time to get to school, but thanks to the pandemic, there has not been a lot of traffic on the roads and freeways recently.
Many cars have a lot of great features like technology and safety, but there are also some things that people do not want or need in a car. For someone like me who is considering getting a new car when I get married, I like to look at bigger cars like midsize sedans and crossover SUVs. I am also among those students who is looking for some kind of car to retain its value and is bigger for the rest of my family.
I currently have a 2017 Chevrolet Cruze, which is a compact sedan, although it was also offered in a hatchback model. It was discontinued in March 2019 due to its declining sales, so now, I have a lot of other options to look at when I am ready to trade it in for a bigger car. The features I like to look at in a car are whether it has a sunroof, technology, convenience and safety. Here are five cars to consider:

Chevrolet Trailblazer
Back and better than ever, the Chevy Trailblazer is a small SUV that is bold, spacious and is loaded with features and capability that can get you anywhere.
Trailblazer seats up to five people and offers up to 54.4 cubic feet of cargo room and all-wheel drive. Its 10 standard airbags make it safe for everyone in the event of a violent collision.
There are five trim levels for the Trailblazer: L, LS, LT, RS and ACTIV. The entry level L trim is the cheapest, but it does not have a lot of the good stuff that the higher trims have. I would personally go with the RS trim. It offers a lot of great features like a panoramic dual-pane sunroof, a Bose premium sound system, wireless phone charging, wireless Apple CarPlay/Android Auto and more.
In terms of fuel efficiency, the Trailblazer gets an EPA estimated 29 MPG in the city and 33 on the highway for an overall rating of 32 MPG. For a small SUV, that is not bad but given the fact that it is a higher profile vehicle than my Cruze, I would expect mileage to be not as great. As for engine sizes, you have the choice of either a 1.2 or 1.3 liter turbocharged engine.
For pricing, the entry level L trim of the Trailblazer costs around $19,000. The RS trim that I would consider getting starts at $26,495, but if I added in all the optional features that I want like the sunroof, technology, etc. the price would increase significantly.
Chevrolet Equinox
A step up from the Trailblazer, the Chevy Equinox is a crossover that has it all. Roomy, tech savvy, safe and fun-to-drive, all these features are offered in this vehicle.
Like the Trailblazer, Equinox offers all-wheel drive and seats up to five people, but unlike the Trailblazer, offers up to 63.9 cubic feet of cargo room. Equinox is also capable of towing up to 3,500 pounds.
Trims offered are L and LS, like on the Trailblazer, but there are two options for LT as well as the high-end Premier trim. Both the LT and Premier trims give you the option of having the standard 1.5 liter or the bigger and more powerful 2.0 liter turbo engine. While the sunroof is available starting on the LT trims, not every feature I want is available on the Equinox. For example, there is no wireless phone charging or wireless Apple CarPlay/Android Auto on the LT trim.
Equinox gets 26 MPG in the city and 31 on the highway for an overall score of 28 MPG. Since it is bigger than the Trailblazer, expect worse mileage.
The starting MSRP of the Equinox is $23,800. The LT starts at $28,695 before you add in the options.
Toyota RAV4 Hybrid
A more fuel efficient crossover that comes in either a gas or hybrid model, the Toyota RAV4 has become a very popular vehicle among families. My girlfriend has a 2017 RAV4, but it only runs on gas. The hybrid model is the one I will be highlighting here.
Both RAV4 models seat up to five people and all-wheel drive comes standard. The maximum cargo space of the RAV4 is about the same as the Chevy Equinox. With the rear seats up, there is only 37.6 cubic feet available, but there is obviously a lot more with the rear seats folded down.
RAV4 Hybrid comes in five trim levels: LE, XLE, XLE Premium, XSE and Limited. I would probably go with the XLE Premium trim because it has a standard sunroof on it. Apple CarPlay and Android Auto capability is standard on all trims. In an option package on the XLE Premium and XSE, a JBL premium sound system is included as well, and I really like premium sound systems.
Obviously, the RAV4 Hybrid gets better mileage than the gas-powered RAV4. The hybrid model gets 41 MPG in the city and 38 on the highway for an estimated combined score of 40 MPG.
RAV4 Hybrid starts at $28,500. The basic XLE Premium model sells for $32,500. Adding options will raise the price.
Honda CR-V Hybrid
Another fuel efficient crossover available in gas or hybrid, the Honda CR-V is also selling great.
It seats up to five people and you have the choice of either front-wheel drive or all-wheel drive. Cargo room starts at 33.2 cubic feet with the rear seats up and 68.7 cubic feet with them folded. These numbers are lower than the gas-powered CR-V because the hybrid model is smaller.
The CR-V Hybrid has only three trim levels: EX, EX-L and Touring. The EX trim is what I would personally go with since it has all the basics that I want like a sunroof, Apple CarPlay and Android Auto integration, dual zone climate control and a lot more.
For gas mileage, CR-V Hybrid gets 40 MPG in the city and 35 on the highway for an overall score of 38 MPG. Those numbers are not quite as good as the Toyota RAV4 Hybrid, but it is still acceptable.
MSRP for the CR-V Hybrid starts at $30,560, which is for the entry level EX trim. It is a little more expensive than the gas model, but of course there are more trim options for the gas model.
Chevrolet Malibu
One step up from the Cruze that I currently have, the Chevy Malibu is the mid-size sedan that is competing with the Toyota Camry, Honda Accord, Nissan Altima and Hyundai Sonata. It also has most of the same features that the Cruze has.
Like many cars, Malibu seats five people and only comes with front-wheel drive. The maximum cargo volume is 15.7 cubic feet, and you have a 1.5 liter turbo engine that gives 160 horsepower at 5700 RPM. However, if you had the top of the line trim, the engine is a 2.0 liter turbo with 250 horsepower at 5300 RPM.
The Malibu comes in five trim levels: L, LS, RS, LT and Premier. L of course is the entry level trim, but I would personally take the LT since it offers a dual-pane power sunroof and a lot of other cool features. The top of the line Premier trim meanwhile has everything, but at the same time, it has standard leather seats, which I am not really a fan of.
The gas mileage scores for the Malibu are not quite as good as my Cruze. While my Cruze gets 30 MPG in the city and 40 on the highway for an overall score of 34, the Malibu gets 29 in the city and 36 on the highway for an overall score of 31.
The cost of the Malibu starts at $22,095. The LT model I would prefer starts at $26,620 before you add in the options. It would probably be a little more expensive for me.
All these cars are great options, but I still have a long way to go before it is time for me to decide which car I want for when my girlfriend and I get married.
Related
New e-edition Fall 2021 – Issue 7
Archives
The Bulletin Sports Report
Here is our new sports podcast, brought to you by co-sports editor Jeremy Gonzalez and co-news editor Robert Rios! Available now on Apple Podcasts and Spotify, links available down below: