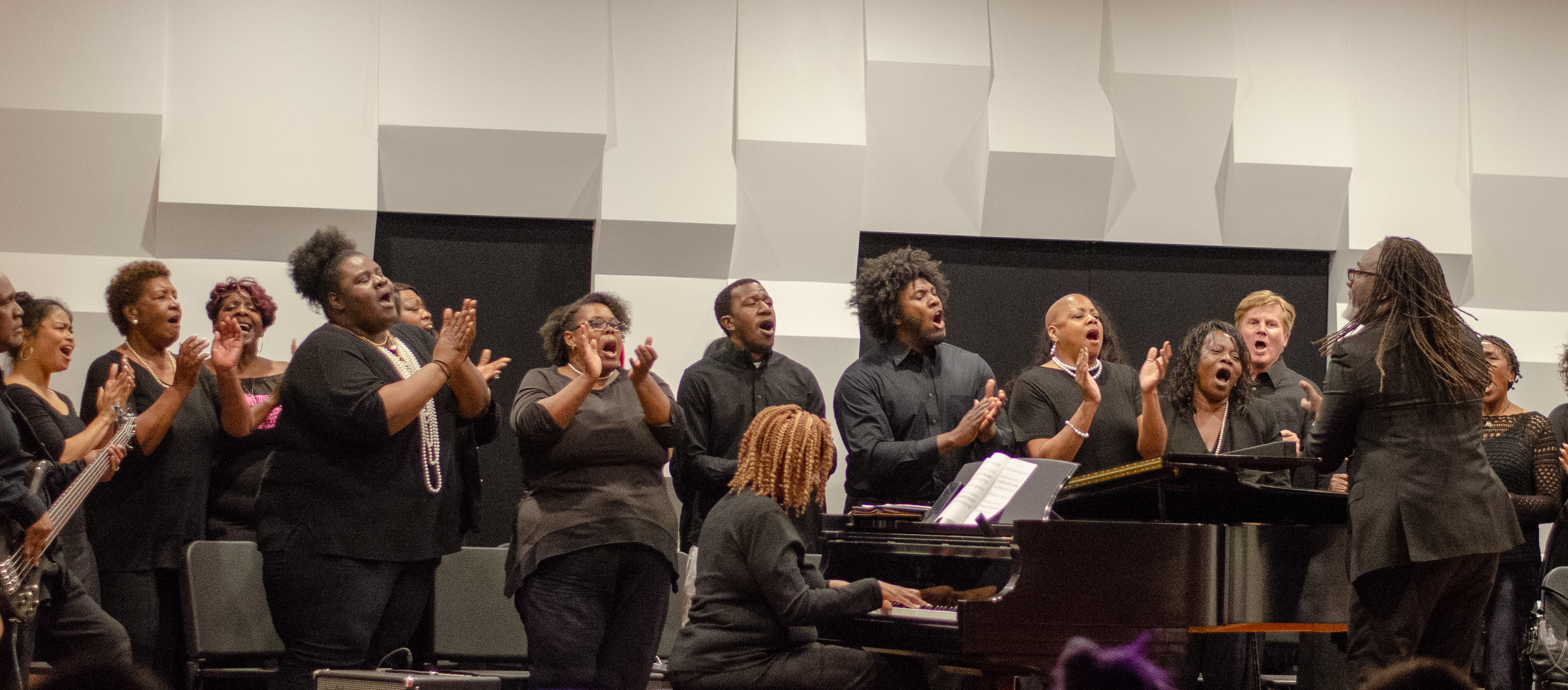 By Jordan Darling
News Editor

After an eight-year hiatus, the Jubilee Choir is returning to CSUDH, and last month filled the new Marvin Laser Recital hall with the sound and spirit of traditional spiritual and gospel music.
According to the CSUDH music department's webpage, the choir is dedicated "to learning and performing music of the African Diaspora including Spirituals, Gospel, music of the Movement, and other such music." But it is also about the present, and that makes it particularly important for many students on this campus, said Dr. Anthony Samad, the director of the Mervyn M. Dymally Institute

"I think it allows our students of a diverse population to tie back into a community and cultural roots," Samad said. "And being a part of a higher education experience where sometimes cultural relevance can be challenging this is a good way to ground some of our students in their cultural roots."
Under the guidance of Charles (Chuck) Dickerson, supervisor of special ensembles, the choir is being reintroduced to CSUDH after an eight-year hiatus. It gave introductory performances March 18 and March 25, performing spirituals and gospels like their upbeat rendition of "The Hand of the Lord."
The concert was held in the newly refurbished Marvin Laser Recital Hall on the first floor of La Corte Hall in room 103. The hall was reopened in January of this year and lives up to the hype with cheerfully colored seats in red and orange, LED accent lights, and revamped acoustics, including electronically controlled sound baffles.
The choir was originally founded by former CSUDH music professor Hansonia Caldwell and at its peak was 100 voices strong and a staple in campus life, hosting events like the yearly Concert of Living Legends.
"The choir annually presented the concert of the living legends where they invited composers from around the country, primarily African-American composers, to work with the choir … and perform," Dickerson said.
Unfortunately when Caldwell retired in 2011 the powers at be let the choir retire with her after almost 30 years.
Dickerson is hoping to see the choir become the premier gospel choir on this side of the Mississippi.
"Looking back [we realized] that we allowed something that was a treasure for this school to wither," he said. "What we seek to do is re-establish, reinstitute, [and] revive the choir."
While the Jubilee choir is a class on campus is is also open to the community. Dickerson is encouraging anyone who wants to participate to join the choir.
"If you sign up, there is no audition. We just take you as you are."
The choir is also pairing with The Christian Fellowship Corral, a community choir, to create a base to grow from.
Philemon Hardy-Moore is a seven-year veteran of the fellowship choir
"The choir is a continuation of something that has actually been lost," he said. "There [are] lot of roots and if you know anything about roots you don't see them, so you don't think about them."
csudhbulletin