A CSUDH exhibit, Black Power, featuring Black Panther newspapers. is currently showing at Page Against The Machine, an independent bookstore in Long Beach. Photo By Brenda Fernanda Verano.
By Brenda Fernanda Verano, News Editor
On Oct. 22, 1966, the day of his 30th birthday, Bobby Seale, co-founder and former chairman of the Black Panther Party (BPP), finalized the Ten Point Program, a set of guidelines he wrote with Huey Newton ,the other co-founder. The document laid out the nascent organization's guidelines and objectives.
If Seale were coming up with a similar set of guidelines today, the 84-year-old activist, who is as relevant today as any time since he stepped away from his party in 1974, says it would be just a little longer.
"I would have a 30 to 40 point program," he said. " We got to deal with all the issues and things that have evolved over the process, so the [10-point program] concept would be much broader."
Each of those 10 points is as urgent and unresolved in 2021 as it was 54 years ago. From ending police brutality against people of color and too many Black people unjustly incarcerated, to demands for decent housing, education and jobs. So when it was announced that Seale would be the featured speaker at a CSUDH Male Success Alliance activist event March 4, the chance to interview him was too good to pass up.
So following is an article based on the 70-minute phone interview Bulletin news editor Brenda Fernanda Verano conducted, augmented by some of Seale's words in the MSA event. Seale reflects on the turbulent social conditions that birthed the BPP, leading a contingent of armed panthers legally into the California State Capitol to protest pending gun legislation, the difference in media portrayals of the Panthers then and now, and the organization's numerous community-survival programs, designed as much to achieve political power as they were to help economically oppressed urban neighborhoods.
"That's where I was coming from the whole time, we had to get organized step by step," he said, "because I was after political seats. And that meant I had to organize the people and get them (to vote and) run for political office. Because that's how we were gonna change the police because now we gonna manage the money and now we gonna manage the police department."
But just as there were massive efforts to suppress voter turnout in communities of color, in the 60's, the same thing is happening today, Seale said.
"And notice today what they are trying to do," he said. "As fast as they can do it's to deny you that vote, (because) what do you want? You want to get control of those tax monies and you want to evolve fair share equity on every level of human existence and human rights and constitutional, democratic, civil rights. That's what the whole thing is."
Bobby Seale Then and Now
In 1968, Seale was included in the trial of what would become known as the Chicago 7, charged with conspiracy to disrupt the 1968 Democratic Convention.He would wind up being bound and gagged in a U.S. court room and charged with 16 counts of contempt. Although Seale didn't like the 2020 Netflix film based on the proceedings
(he said the film down plays his protests, the actor who portrayed him is up for an Academy Award.
After spending parts of four years in prison, but never convicted of a crime, Seal ran for Oakland mayor in 1974, finishing second.
Police Brutality Leads to Coalition Building
The party began its activism protesting police brutality by patrolling and monitoring the Oakland Police Department, and offering free legal advice to residents being questioned by the police in Oakland and neighboring Bay Area communities—while also carrying loaded guns, legally permitted in California at the time.
"We went out to patrol the police and we did it so legally it blew people's minds, it blew the racists minds," said Seale.
The Panthers weren't the first group to monitor police, nor were they the last. And while the party's end goal on monitoring the police, which was to get measures on local ballots to create citizen boards to oversee police departments, was ultimately unsuccessful, Seale said they helped lay the groundwork for future coalition-building between the BPP and other civil rights groups, including the women's liberation, gay rights and anti-draft movements.
Parallel to today:
Just as police brutality was the surface manifestation of the institutionalized racism that sparked an organization willing to take to the streets, it was the deaths of George Floyd, Breonna Taylor and Elijah McClain that ignited the protests in America last Summer that swept around the world.
Guns and Storming a Capitol Building
The incident that first brought national attention to the BPP happened May 2, 1967, when Seale led about two dozen men and women, most carrying carried .357 Magnums, .35 caliber revolvers or .12 gauge shotguns into the California State Capitol building.
But this was not some unruly mob believing lies that an election was stolen. The Panthers were there to protect the rights of gun owners.
Guns for self-defense was number 7 of the 10-point program. Newton has discovered while taking classes at a private law school that people could carry loaded weapons in public if they were not pointed at people.
They carried them while monitoring the police and every Panther who was trained to use a gun was also required to carry a physical copy of the Ten-Point Program and to be able to recite the law that would protect them from being arrested.

"The guns were not illegal, nor did we obtain them in any illegal way, we weren't pointing weapons at a person, nor were we pointing at the police officers," Seale said. Instead , they would stand their ground and "recited the law based that stated all citizens had the right to stand and observe officers carrying out their duty as long as they stood a reasonable distance away."
It didn't matter to the authorities that the Panthers could legally carry these weapons; which is what led to the Mulford bill, a piece of gun legislation=aimed to disarm citizens, including the BPP. And that led Seale to march into the state Capitol and afterward, read a statement:
"
Seale said the publicity from that legal demonstration gave the party a national profile and attracted celebrities like Marlon Brando to support the party, but it also led FBI J. Edgar Hoover to classify the organization as a "black nationalist hate group," and led a massive law enforcement campaign to infiltrate and destroy the party.
Parallel to today
While the Panthers acted legally in every respect in their Capitol disturbance, Seale finds no reason to applaud the people who stormed the U.S Capitol on January 6.
"That ain't nothing but outright white racist rebellion," he said. "They don't want black folks, people of color to get the majority of the seats and take over and that's where we're headed. That's what that.people of color and those progressive whites, this is what this is about, they don't want that."
Health Disparities in the Black Community
LAPD Raid of Black Panther headquarters, December, 1970. More than 5,000 rounds were fired, but no one was killed.
Much of the media coverage of the time focused on the militancy of the Panthers–from their guns to standard issue black leather jackets and berets–or their run-ins wtith the law, which increased in frequency and intensity through 1970, including one in Los Angeles in December, 1969, in which 5,000 rounds of ammunitions were fired in what was the first time a SWAT vehicle was every used.
But there was more to the story of the BPP that wasn't in the headlines nearly as often.
The party also tried to close the disparity in health care and nutrition among Blacks living in urban cities. They decided to form Community Survival Programs, which extended all across the different branches of the party. One of them, the Black Panthers' Free Breakfast for School Children Program, fed thousands of children in 45 cities, and was the basis for federal free lunch programs.
Their main purpose was to close the gap between the class struggle that Black folks were major victims.to meet the needs of more than one local community, Seale directed different party chapters in 13 cities, including Los Angeles, to begin operating healthcare clinics (Peoples' Free Medical Clinics (PFMC) that offered first-aid services and health screenings, vaccinations and blood pressure, lead poisoning, tuberculosis tests, all at zero costs and completely volunteer-based.
Parallel to Today
But the health crisis and the need for mutual aid that the BPP saw through states many years ago, continues to loom today during the COVID-19 pandemic, which has Black people/ people of color suffering at greater numbers. According to the COVID Tracking Project, "COVID Racial Data Tracker" Black people account for 15% of COVID-19 deaths.
Related
Issue No. 5 of spring 2021 semester of the award-winning CSUDH Bulletin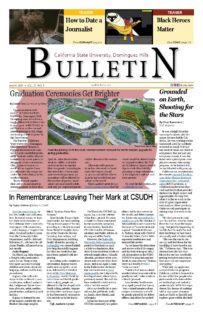 Archives
The Bulletin Sports Report
Here is our new sports podcast, brought to you by co-sports editor Jeremy Gonzalez and co-news editor Robert Rios! Available now on Apple Podcasts and Spotify, links available down below:
Special Election Issue
Sections