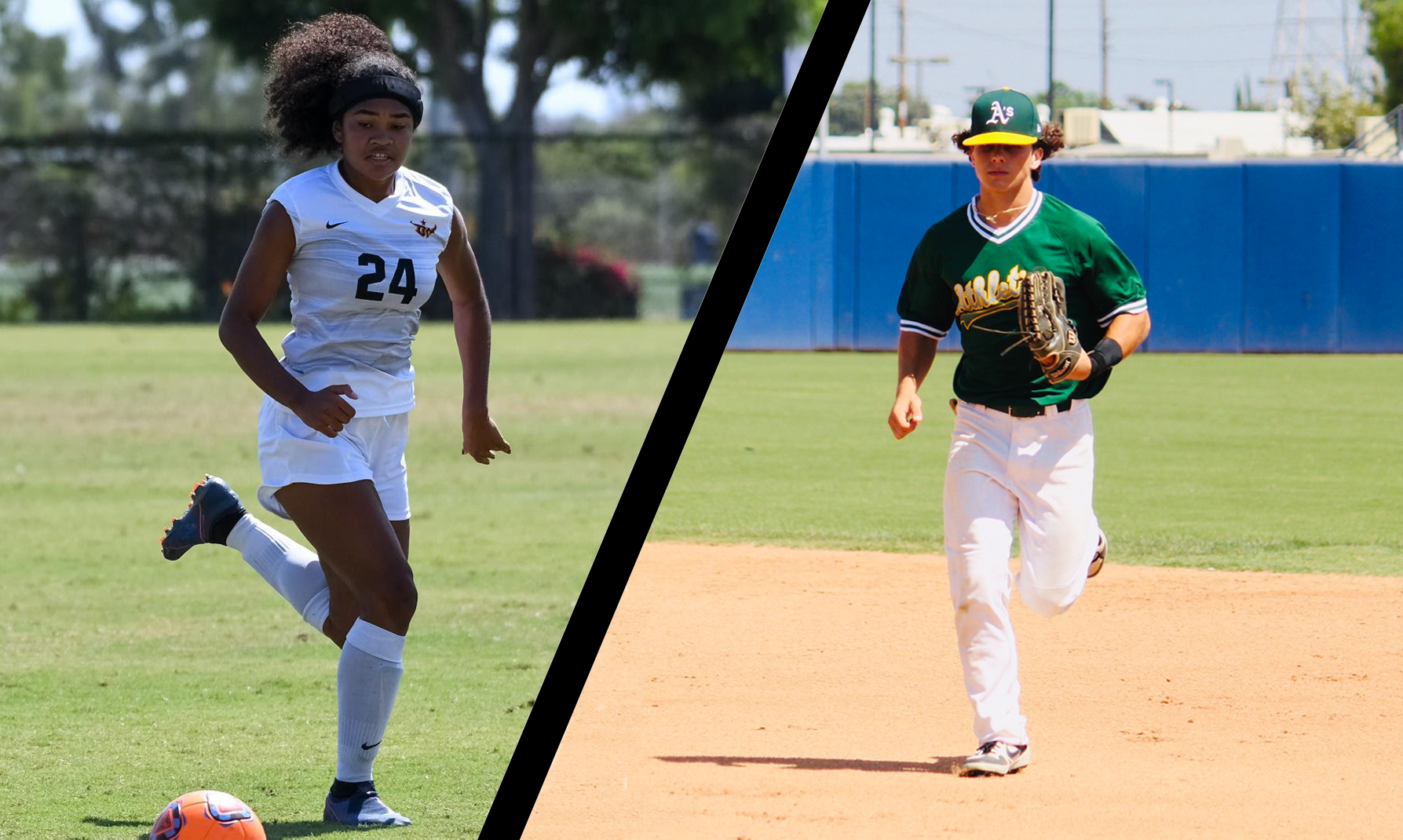 Kekoa Nelson (left), sophomore, and Vincent Temesvary (right), freshman, were two of the 153 Toros student-athletes to make the academic honors lists in the fall. Photos by Vincent Temesvary and GoToros.
By Jeremy Gonzalez, Sports Editor and Chaz Kawamura, Staff Reporter
Despite collegiate athletics being halted due to the pandemic, the California State University, Dominguez Hills' athletics program found a way to rewrite the history books last semester.
A grand total of 153 Toros student-athletes from multiple programs excelled during the virtual fall semester to make the Cardinal & Gold academic honors list, shattering the previous record of 107 that was set back in fall 2019.
After making the transition from a traditional in-classroom experience to everything being online and digital midway through last spring, the entire CSU system entered the fall semester knowing that the virtual learning environment would continue after former CSU Chancellor Timothy White made the announcement over the summer.
Toros athletics saw a record 13 student-athletes earn a perfect 4.0 grade-point average, a whopping 90 student-athletes received Gold honors for owning a GPA between 3.5 to 4.0, and the Cardinal honors, which is for student-athletes who received a 3.0 to 3.49 GPA, saw a new record set with 63 recipients.
Vincent Temesvary, an outfielder for the CSUDH baseball team, was one of the 13 Toros athletes to receive Gold honors with a perfect 4.0 GPA. The freshman explained how his mother was the person who helped him stay motivated in the classroom. Her recent breast cancer diagnosis was one of the key factors in his drive for achieving academic success. It allowed him to find a new level of self-motivation that kept him going throughout the pandemic.
"When you reflect after about a year, I did not think [the pandemic] was going to be this long," Temesvary said. "It's the best mindset to let it go out on its own and keep grinding on your own. Prepare and keep preparing."
According to a GoToros article, the baseball team had the most student-athletes to make either list with 25. Temesvary also had the opportunity to meet some of those players and was welcomed with open arms.
"I am in a group with other freshmen," he said. "It was cool to get to know some of the upperclassmen. We build little relationships. It's nice to stay in contact with people you are going to be playing with in the future, which is very important."
Temesvary was not the only one to receive Gold honors for achieving a perfect 4.0 GPA. Kekoa Nelson, a sophomore defender for the women's soccer team, joined Temesvary as another one of the 13 student-athletes to achieve that feat.
The women's soccer team had the most student-athletes to make Gold standards with 14. Much like the Toros baseball team, the women's soccer team still had chances to meet and interact through organized workouts. 
"It went through the organization of our coach and it wasn't until later in the semester where our coach organized workouts and practices," Nelson said. "I worked out with the people who lived nearby me because not everyone lives close to school."
Nelson and Temesvary both expressed that the cancellation of CCAA athletics allowed the student-athletes to focus primarily on their schoolwork since they no longer had to juggle practices and games with their academics.
Both athletes also said they did not think the pandemic would extend into this year as they thought there may have been a chance to still play their respective sport. Some NCAA programs at local universities still followed through and had a fall season during the pandemic, but the CCAA elected not to play any sports until it was safer to do so. The next possible opportunity for Toros athletics to return could be the upcoming fall.
"Within a year, I thought we would have returned to normal," Nelson said. "The fact that we haven't made it back in a year and haven't made much progress is pretty frustrating. I'm just playing it by ear but I'm mostly hoping we play in the fall."
csudhbulletin