Different Neighborhoods Warrant Rubber Bullets or Traffic Control For Protesters
csudhbulletin
June 12, 2020
0 COMMENTS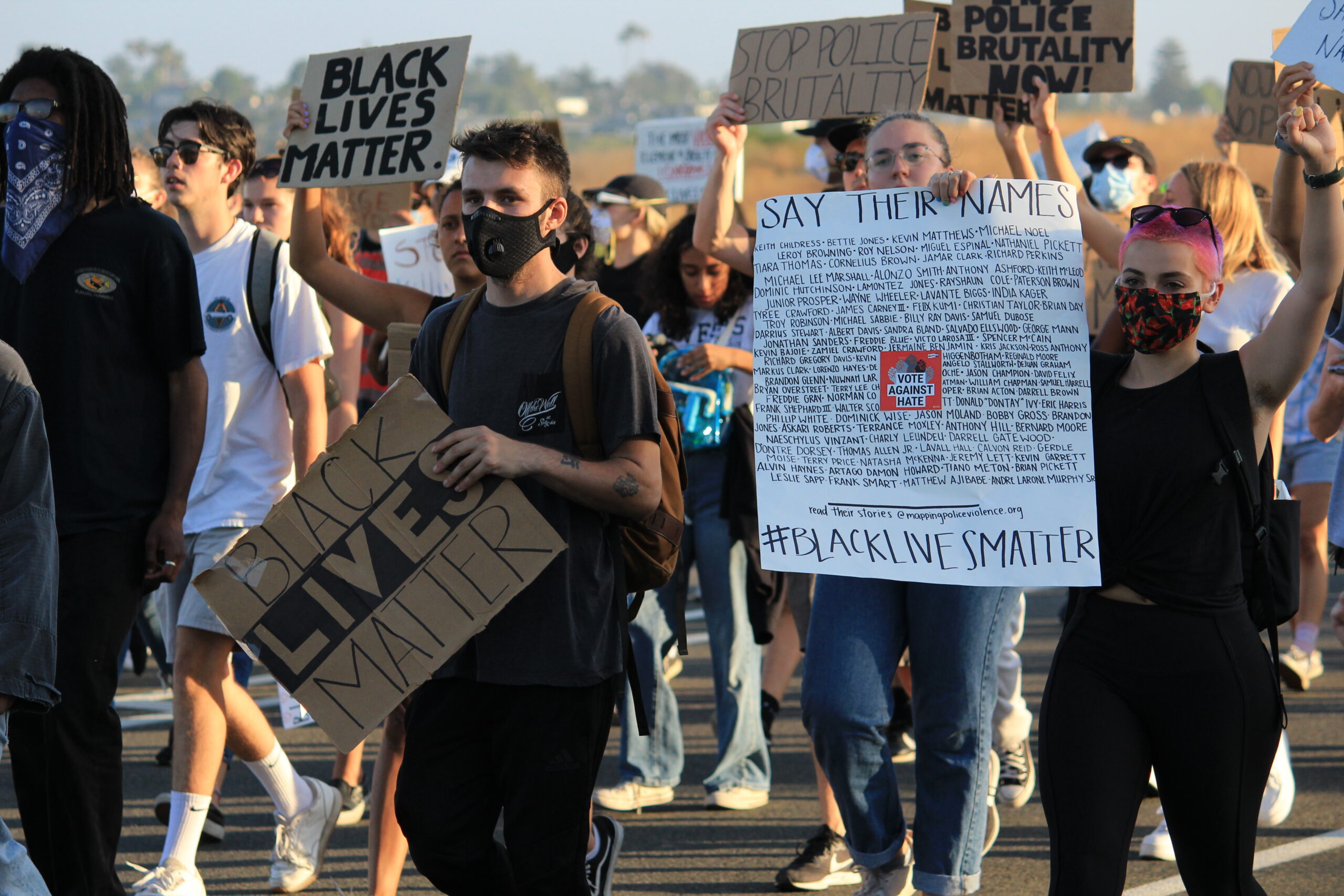 Protesters in Newport Beach chanted the names of George Floyd and Breonna Taylor as traffic drove by, honking in support of the Black Lives Matter movement. Photo by Taylor Helmes
By Taylor Helmes, Managing Editor
If you've been paying any attention to the news lately, there's a chance you saw a scene that looked like it had been from one of The Purge movies: trees were on fire outside the White House, businesses are boarded up, the National Guard has made their appearance, and businesses have been looted, in addition to property damage ranging from tagging to shattered windows and gutted interiors
Being as I'm a baby-journalist, meaning I'm still establishing my voice and literally still in my undergraduate study of journalism, I felt caught between a rock and a hard place recently. The rock, the Black Lives Matter movement and protests, and the hard place being a journalist and keeping my objective credibility.
Like others I am sure, I have felt like I'm not doing enough to help the cause and help fight against the racist reality in this country. But if there's one lesson I've learned about being a journalist, it's to educate yourself, look into multiple perspectives and sources, and make sure those sources are credible.
So when I decided to attend a protest, I did so with two pairs of lenses: one, a dispassionate, objective journalist taking photos and video of a protest, and two, someone who is outraged with the treatment of Black people in this country and tired of seeing injustice towards them.
As protests continue nearly daily, our generation is beginning to raise their voices and take action against the inequality and systemic racism that lead to George Floyd's murder. Since that day, peaceful protests have popped up in cities across the United States like Houston, Los Angeles, Washington D.C., Seattle, and in other countries as far as Australia, the United Kingdom, and France.
Carli Meyer, a 23 year-old, has participated in several protests, three since Floyd's death. Her initial approach to a protest in Downtown Long Beach was excitement and a sense of togetherness with her community. But when police began to shoot rubber bullets at her, and fellow protestors, her excitement quickly turned to fear and doubt: fear for her safety, and doubt in those wearing uniforms that were supposedly there to protect her.
"In Long Beach, they rolled up in a fucking SWAT car and charged out in rows at us, yielding weapons," Meyer said. "They had on full riot gear."
But as hundreds of protesters turned the corner and gathered at a dead-end in Newport's Upper Back Bay, they were met with less than a dozen Newport Beach Police officers who waited on the adjacent sidewalk. These non-aggressive police officers that protesters, like Meyer, saw were the polar opposite of those in uniform whom she met while protesting on May 31 in Long Beach.
These police officers were simply wearing helmets, conversing with neighbors and onlookers. One officer was on their motorcycle creating a barrier to corral protests towards the dead-end, a helicopter circled above for most of the protest, and a Newport Police van (or paddywagon) was parked across the street.
These two protests were vastly different in Meyer's eyes. In Newport, she attended with several friends who had never been to a protest, felt safe but slightly worried. At the Pike in Long Beach, she saw a community explode into chaos when police started shooting rubber bullets into the crowd.
"I gave my water bottle to a woman next to me whose head was bleeding from a rubber bullet," Meyer said.
It was clear to Meyer that there was a significant difference in police presence between protests held in different cities, and neighborhood demographics seem to influence this pattern. And Meyer isn't the only protester who noticed the difference in police presence between different gatherings.
Dylan, a protester from the June 3 Newport protest, also pointed out that the police were wearing a lot less riot gear and were calmer because they were in a white neighborhood. "When I was in Black and brown neighborhoods," Dylan said, "they were ready to go to war with us!"
When police use excessive force on peaceful protesters in response to the 1% of those "protesters" who take advantage and loot or cause damage in the name of, "Black Lives Matter," it taints and further destroys the expected trustworthy relationship between citizens and police officers.
There was an obvious difference in police behavior and response between the Long Beach protest and those further south in Newport Beach: The diverse downtown neighborhoods where people of color (POC) experienced an aggressive and violent police force and the white fenced neighborhoods where bystanders made smalltalk with police, which I suppose is what some call, "building police-community relationships."
People all over the world have come together to demand, again, for racial justice. This fight has been alive for hundreds of years, but keep fighting. If we're loud enough, they're bound to hear us.
csudhbulletin