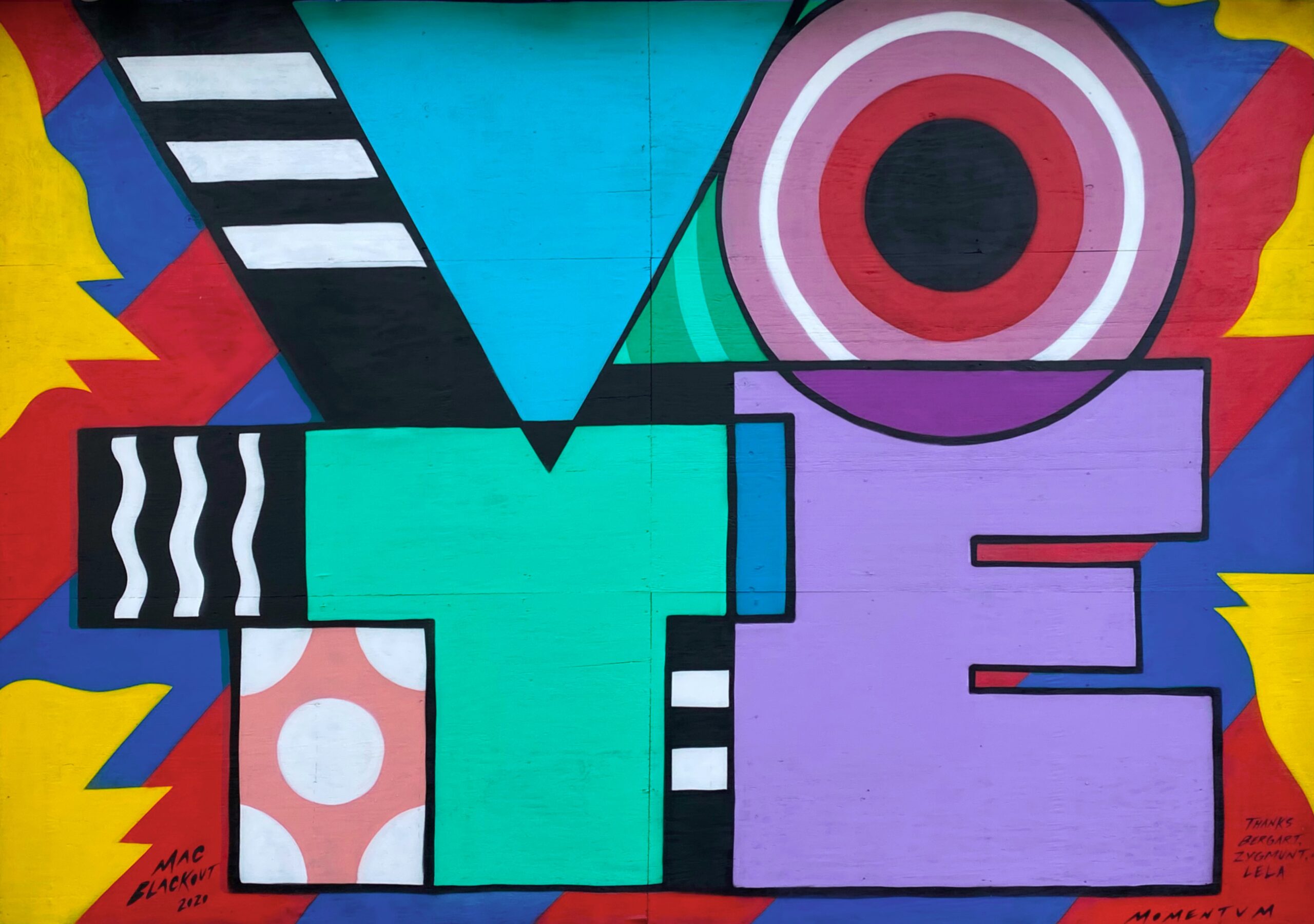 Chicago artist Mac Blackout's new mural encourages Americans to get out and vote in the upcoming election. Photo by Jennifer Griffin on Unsplash.
---
By Carlos Martinez, Web Editor
We are winding down to the final weeks until the 2020 presidential election and the excitement to make our voices heard is filling the air.
There are ads plaguing us all over the airwaves to remind people to vote. Robot-generated text messages and phone calls encouraging people to vote coming in every 5 minutes. Absurdities like rapper Kanye West begging his fans to vote for him as a write-in candidate for president.
It's easy to get overwhelmed. That nagging voice in the back of your head is constantly saying to go out and vote. It's easy to hit a point where you could care less about slipping on a mask and trudging over to the nearest official ballot drop box or polling office to cast your vote. Why not just watch "Hocus Pocus" 35 times in a row?
But though at times voting sounds uncool and looks tedious, it's important to remember that voting is not just a right that everyone has.
As a first-generation Mexican-American, casting that ballot is more than a chore. It is a golden ticket that condenses our beliefs, concerns and voice into a potential wave for change.
According to CNN, approximately 32 million Hispanic voters will participate in this election, more than twice the 12.65 million Hispanic voters in the 2016 election.
But voting is not just about our voice, it's also the voices of our parents, grandparents, siblings and friends who simply can't because they're not citizens.
Granted, being a first-generation Mexican-American or any first-generation American is not perfect.
With the possibility of the electoral college trumping (sorry) the popular vote as to who should be president, it's easy to say voting is a waste of everyone's energy and time. However, we still have the ability to vote for propositions that affect our communities.
First-generation Americans understand what it's like to be part of a seemingly underrepresented community, but considering their sheer numbers, their voices could be the most powerful in this election.
Simply put, voting is a responsibility first-generation voters can't ignore.
Both of my parents were born and raised in Mexico and were brought over to the land of opportunity before they were 21 years old.
For 25 years, my parents rolled up their sleeves, worked hard and contributed to a society that suppressed their voice while raising a family of three children. Growing up, they often reminded my sisters and I how fortunate we were to invoke our First Amendment rights without the fear of getting kicked out of this "fine" nation.
They encouraged us to listen to the issues and propositions that passed at the state and federal levels while trying to imagine how it would impact families such as ours.
We even participated in The Great American Boycott or "A Day Without Immigrants" protest in 2006 where, under the broiling sun, we gathered with families and activists and waved both Mexican and American flags while marching through the streets of downtown L.A.
I was only 11 years old at the time.
With experiences and moments similar to mine, many of the Latinx voters participating in this election are motivated to use their voice to help families with DACA recipients who are in danger of losing their residency, or those who have been waiting for decades to have their citizen applications approved.
No one wants to wait in a long line that wraps around a usually vacant building under the hot California sun for hours just to pick an old white man to represent our country for the next four years. And not everyone wants to hear the constant political catfights on Twitter and we all agree with the fly that buzzed in the Vice President debate that the whole ordeal can smell like a heaping pile of B.S.
But that doesn't mean anyone should opt-out of their obligation to vote.
In the words of Susan B. Anthony, "Someone struggled for your right to vote. Use it."
csudhbulletin