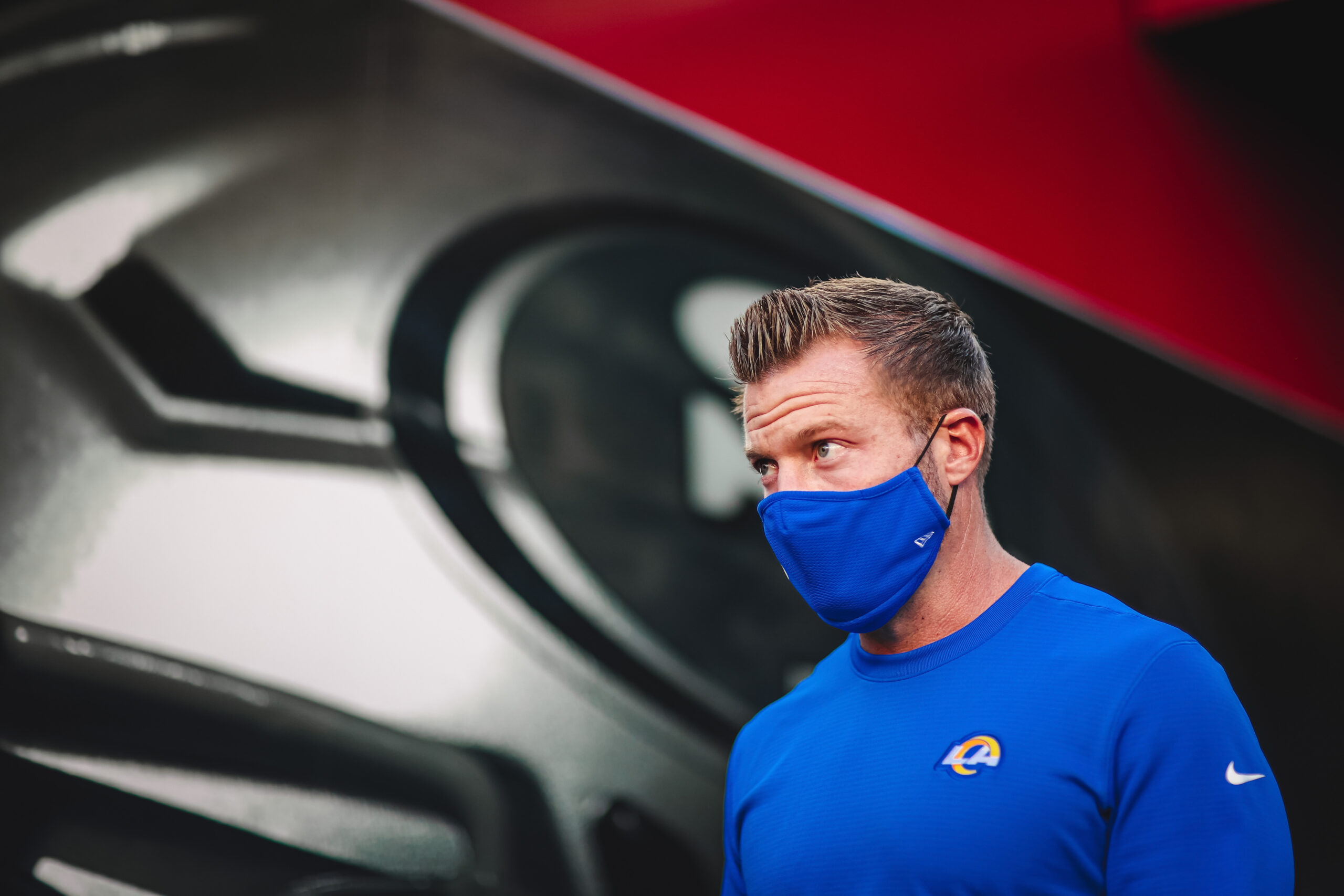 Sean McVay holds his players accountable and always believes each loss is a learning experience for how his team can be better the following week. Photo by Los Angeles Rams.
---
By Matt Barrero, Assistant Sports Editor
THIS WEEK –
The Rams (4-2) will be under the lights for a second straight week as they welcome the visiting Chicago Bears (5-1) to SoFi Stadium for a Monday Night Football showdown. After dropping their first NFC West matchup against rival San Francisco 49ers, and earning their second loss overall, Los Angeles will look to stay undefeated at home. The Bears come in having won their last two games with their most recent victory coming against the Carolina Panthers, 23-16. This is their best start since 2012, where they started 7-1 through the midpoint of the season.
HISTORY –
The Bears are a historic franchise and have given the Rams problems in their matchups. While Los Angeles did earn a victory over Chicago just last season, 17-7, the Rams overall are well below .500 vs the Bears all-time. This will be the 95th meeting of the two with the Bears holding a record of 54-37-3 and have outscored the Rams 2,161 to 1,870. Additionally, Chicago has won six of the last 10 meetings.
PLAYERS TO WATCH FOR –
When the Rams brought in Floyd to fill the loss of defensive end Dante Fowler Jr., Pro Football Focus believed the Floyd signing was the Rams' worst move in free agency. "Floyd never blossomed into the pass-rusher we all thought he'd turn out to be as a top-10 prospect just a few seasons ago." Thus, this has all the makings of a way to quiet the critics. The timing could not be more perfect too, as Floyd gets to face his former team and on the national stage of Monday Night Football. Just last week, Floyd had his best game of the season finishing with five total tackles. Keep an eye on the former ninth overall pick in 2016 to have his biggest impact against a Chicago offense that ranks 28th in the league overall.
Rams Kicker(s)
Hey, look there's another former Bear! Well kind of. Chicago signed Kai Forbath to their practice squad back on Oct. 9 before the Rams quickly poached him off the Bears practice squad, signing him onto the Rams roster. So, could you call it a revenge game? Probably not. Especially since Forbath never actually kicked for the Bears and may not even play Monday night due to COVID protocols. What this could mean for current kicker Sam Sloman, is a chance to maybe win back his spot if he can kick perfectly all night long. Perhaps, Sloman chokes under the pressures of keeping his title and in front of a national audience. Whatever happens, Rams need their kicking game to improve. Will this be the last we see of Sloman? Could Forbath somehow play Monday night? Tune in to find out.
GAME CHANGERS –
At-Home Offense Needs to Shine
The Rams have played only two games at their new home in Inglewood this season and have come out with two victories. The problem is that both of those victories came with the offense only scoring no more than 20 points. Granted, you could tip your hat to the defense for showing out and dominating their opponent to not have the offense need to score more but the reality is this is a high powered offense and playing on your home field should be more than enough motivation to score 30 points per game. In the two home games, Jared Goff has only thrown for one touchdown and a total of 475 yards. The run game has accounted for three total touchdowns, but no running back has ran for more than 80 yards in either game. The Bears have a solid defense and have allowed the fewest touchdowns in the entire NFL. Coming off a clunker of a loss in San Francisco last week where the offense dropped easy catches and committed false start penalties on several occasions, look for a hungry offense to come out and dominate one of the best defenses in the league.
FUN FACTS –
Primetime, Poor Effort
For the third straight meeting, the Rams and the Bears will be playing in a primetime game. While the two franchises have had the spotlight in two straight seasons, the scoring has been subpar, with the Bears winning the 2018 matchup by a score of 15-6 and the Rams winning last season by score of 17-7. Both games prior were played on Sunday Night Football. Maybe some Monday night magic will give us a shootout instead of a dud.
Record Doesn't Match Performance
While the Bears do have a 5-1 record through their six games played, every game has ended with the margin of victory being less than 8 and those five victories have been by a total of 20 points. This is a perfect glimpse of who the Bears as a team are overall: An outstanding defense with a lousy offense and the best definition of a team that knows how to win ugly games.
Tune in to your local ESPN broadcast for Monday Night Football with a kickoff scheduled for 5:15 p.m. PST.
GET ON THE HORN (G.O.T.H.) PREDICTION –
RAMS 38, BEARS 35
csudhbulletin