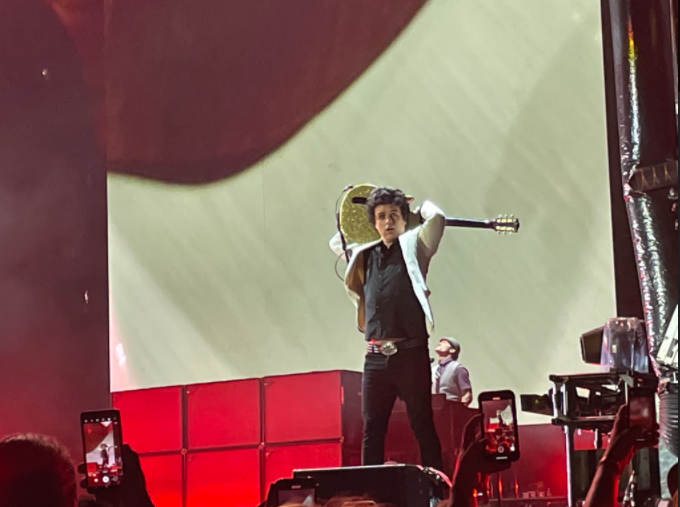 Billie Joe Armstrong and Green Day, one of the three acts featured at the Hella Mega Good Time Tour Concert, Photo Courtesy of Taylor Ogata.
By Taylor Ogata, Staff Writer
The Hella Mega Tour, which was a series of concerts that featured four bands, was probably the best concert I have ever attended in my life.
The tour featured Green Day, Fall Out Boy, Weezer, and The Interrupters. I attended the show on Aug. 29 at Petco Park in San Diego.
There was also a show at Dodger Stadium on Sept. 3. The San Diego show was originally scheduled for early July 2020, but it was rescheduled due to the COVID-19 pandemic.
The Interrupters was the first band to perform. After the Interrupters, Weezer performed second, followed by Fall Out Boy and Green Day, who performed last since they were the headliners.
I was in the pit for the entire show and there was no better sensation than jumping around in between the crowd during the start of every song.
It came as a surprise to me when Weezer performed their cover of "Africa" by Toto, a very popular song in the '80s. It was the only song they performed that I knew but was definitely one that I enjoyed. 
I knew a lot more songs by Fall Out Boy and Green Day since I have been listening to their songs a lot longer. They performed "The Phoenix," "My Songs Know What You Did in the Dark (Light 'Em Up)," "This Ain't a Scene, It's An Arms Race," "Dance, Dance," "The Last of the Real Ones," and "Thanks for the Memories."
As for Green Day, they played a lot of their hit songs, like "American Idiot," "Holiday," "Know Your Enemy," "Boulevard of Broken Dreams," and "Good Riddance (Time of Your Life)- songs that made the crowd vivid and took me back to when those songs were first released.
I would have to say that my favorite band out of all four was probably Green Day, not because it was the headliner, but because it consists of highly talented musicians. Billie Joe Armstrong, the lead singer, and guitarist has come a long way since he first started playing guitar and singing. 
The "American Idiot" album is probably my favorite album that Green Day has released so far. The bulk of my favorite songs by them are on that album and it was released shortly before the band was inducted into the Rock and Roll Hall of Fame.
A lot of Green Day's music has also been used in creating a Broadway musical, also called "American Idiot." It has won a handful of Tony Awards.
According to Brandon Flores of Blast Out Your Stereo, he said that Billie Joe had "hit the concept multiple times that 'we've been staring at our phones for a year and a half sitting inside,' something that for me changed when I attended this concert.
It is no secret that the lockdowns of venues and concert halls have prompted people like me to find new things to do while at the same time we try to connect with friends and family via mediums like Skype and FaceTime. When this happened I had broken out my guitar and played songs I knew and got my friends and family to play "Name That Tune" on Facebook Live and Instagram Live.
From time to time, I like to envision myself playing a lot of the songs I want to cover on stage in front of a large audience.
After seeing the Hella Mega Tour, I can say that I had the time of my life and I could say I definitely got inspired to try and follow in Billie Joe's footsteps in covering songs and maybe even cover a lot of the songs that he wrote for Green Day. It was perhaps the best concert I ever attended.
csudhbulletin