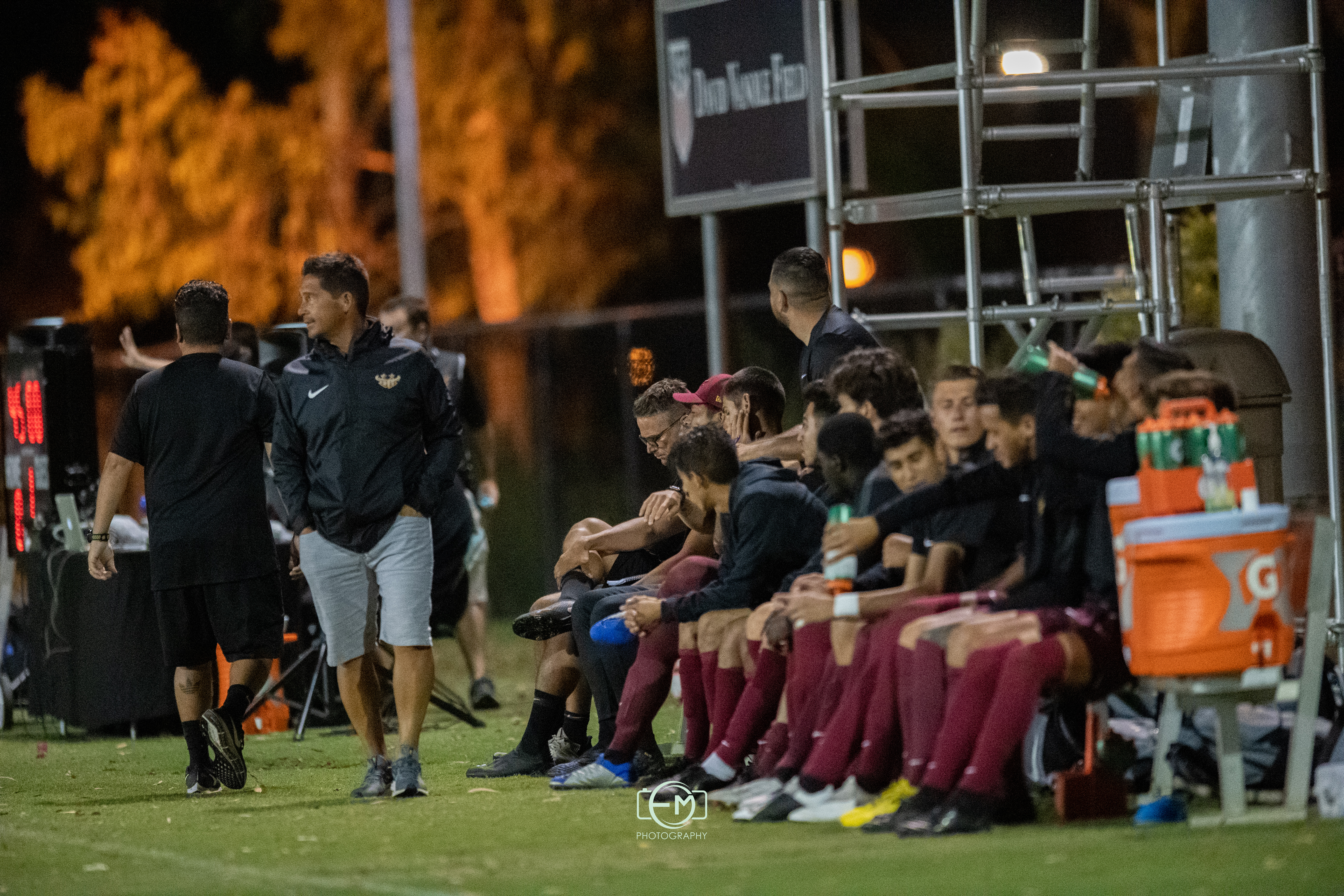 SoCal native Eddie Soto returns
to turn around men's soccer program
In 2014, Eddie Soto was hired to resuscitate the men's soccer program at the University of San Francisco. The five-time NCAA Division I champions had finished under .500 seven straight years and had not appeared in the postseason since 2008. In his first year, Soto led the team to an 11-6-2 record, and in 2017, led the Dons to its first conference championship and the second round of the NCAA playoffs.
    While the Dons finished 6-10-2 in Soto's last season, 2018, it's undeniable the program he inherited was in better shape than he found it.
    And now he's been hired to do the same at CSUDH. Admittedly, the Toros men's soccer team hasn't had as long of a bad run as USF's. But this university's most successful athletics program, one that has claimed two NCAA Division II championships and hadn't had a losing season since 1996, was decimated after the coach that led them to those two titles, Joe Flanagan, was not asked to return after the 2017 season.
 Last year, helmed by interim coach Sean Lockhart, a former All-American for CSUDH, the Toros plummeted to 4-13-1 their worst record since the program began in 1980. 
And Soto, who has 20 year of college and professional coaching experience says he's ready.
    "My life has always been about challenges," Soto said. "All my previous stops like UCLA, USF and the others were projects for me. It helps that I can come back home. But I see Dominguez Hills as another project, not only as an opportunity to be near my family but a chance to restructure and rebuild a program that deserves to be one of the best DII programs in the west coast and in the nation." 
CSUDH Athletic Director Jeff Falkner expressed his confidence in the newly appointed Soto when the decision was announced back in March.
"We are thrilled that Eddie has agreed to be our head men's soccer coach," said Falkner in an article with Toros Athletics. "He has a wealth of experience in the game and great relationships within the soccer community in the region. I am confident he will lead Dominguez Hills back to national prominence."
Soto is a Southern California native. He played soccer at Cerritos High School and developed into one of the country's top college prospects at Cal State Fullerton, earning two All-American selections. After graduating from CSUF, he was selected in the initial MLS Draft in 1996 by the New York/New Jersey MetroStars and played professionally for various teams before ending his playing career with the USA Pro Beach Soccer team.
Before he gained his 20 years of coaching experience, Soto never saw himself as a coach until one opportunity arose during his senior year at Fullerton.
"I was offered a job to be a trainer for a team," Soto said. "It was something that I really enjoyed. We actually ended up winning the league and I was fired after the season was over. But I left really enjoying the experience and opportunity to influence young players."
Soto worked as the assistant men's coach at CSUF from 2001-03 and joined the women's staff at Cal State Long Beach as the lead assistant for two seasons (2004-05).
One of Soto's greatest coaching successes came at UCLA, when he was an assistant coach during a highly victorious tenure that saw the men's soccer team win four Pac-12 championships and eight NCAA Tournament berths (three quarterfinal appearances and two trips to the College Cup). In his final season at UCLA, the men's soccer team finished the regular season ranked No. 1 in the country.
As an assistant, Soto said he was fortunate to be around like-minded individuals who viewed the sport in the same manner he did.
Soto has coached on the professional level as well, including stints as an assistant with Los Angeles Galaxy Academy teams and even served as head coach for U.S. Beach Soccer National Team.
His only head coaching gig and most recent stint was at the University of San Francisco from 2014-18, where he won 40 games and was named 2017 WCC Head Coach of the Year. 
Soto is only five games into his Toro career. The team was blown out, 4-0, in its first game against 11th ranked Azusa Pacific, and then lost a close one to Point Loma, 2-1, before losing in overtime to 23rd ranked Simon Fraser. It then won its first game against St. Martin, Sept. 14 and tied Biola, 0-0, Sept. 18.
With 18 new players on the roster, it may take some time to erase last season's memory, but Soto is determined to restructure the program athletically, but still keep the focus on academics.
 "We want to make sure everybody understands we're here for a purpose and that's to be a student-athlete, student first and an athlete second," Soto said. "[That will take] doing well in the classroom, buying in on the process here on the field and making sure we're looking to strive and get better every day as student-athletes. I am looking forward to where it takes us in the next few years." 
csudhbulletin