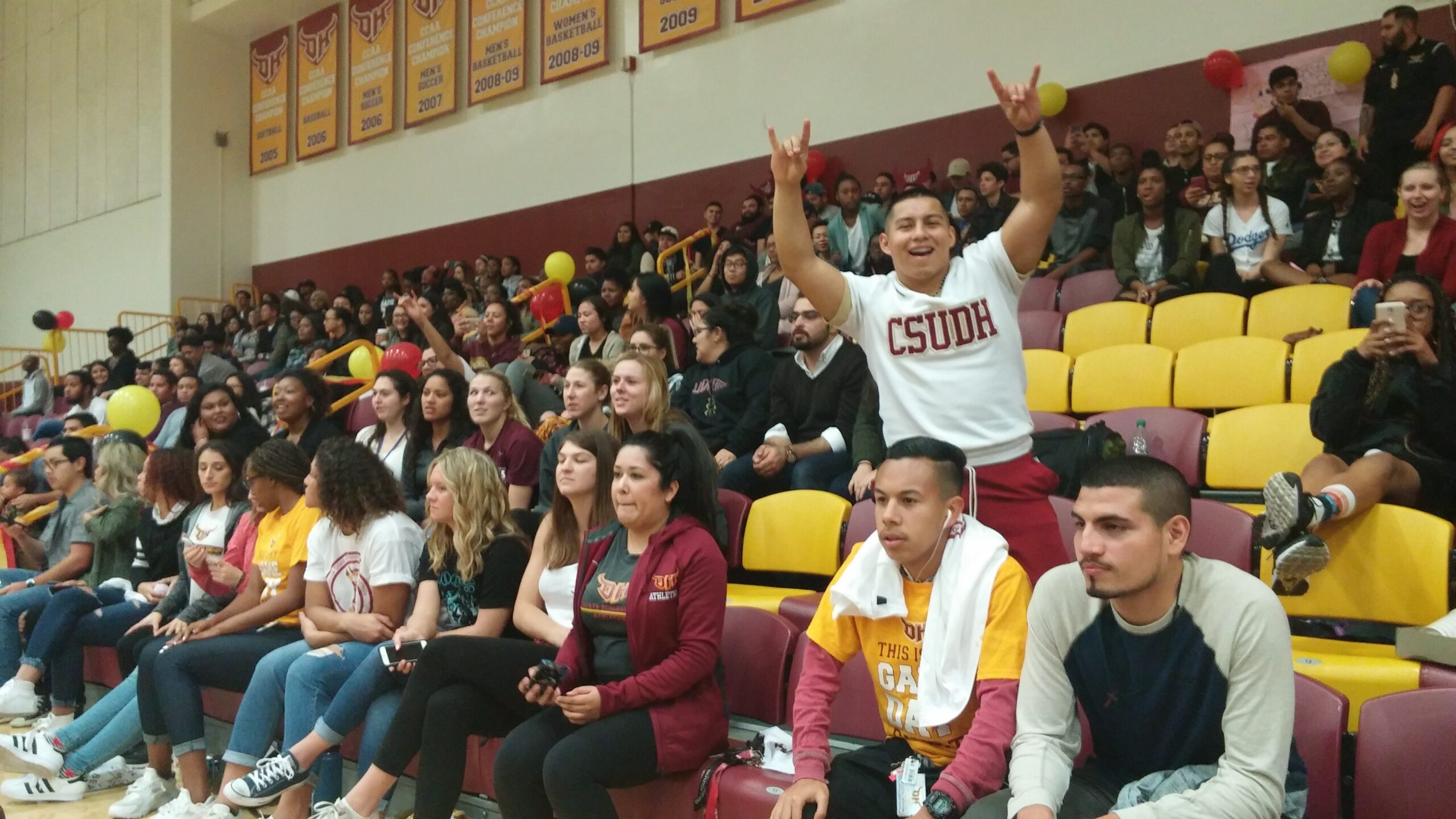 By Cindy Venegas
Staff Writer
Cal State Dominguez Hills welcomed students back to spring semester with Homecoming events on Feb. 8 and 9.
Like other university students on a budget, Dominguez Hills students were happy to save some money on meals or by winning prizes.
Events kicked off the morning of Feb. 8 with a free pancake breakfast for students followed by the involvement fair introducing students to various campus activities.
Some 90 student organizations gathered along the East Walkway from 10 a.m. to 1:30 p.m. to hand out information about clubs, fraternities and sororities and involvement on campus.
The homecoming events are meant for students to feel like part of the campus community and get more involved since the majority spend more time here than in their own homes.
Teddy the Toro, the Dominguez mascot, also joined the party to kick off homecoming week with his new look. Students were excited to join him and take pictures while enjoying free L&L Barbecue sponsored by Associated Students Inc. (ASI).
By noon, students were enjoying a free concert sponsored by the Loker Student Union at the Palm Courtyard. Performers played popular covers by reggae legend Bob Marley and others.
The events that day ended with Toro bingo and a free meal at the 1910 Café & Lounge. Students got to learn about one another and had chances to win take-home prizes.
On Feb. 9, the events continued with a pep rally on the East Walkway at 4:30 p.m. before the women's and men's Basketball games against UC San Diego.  Cheerleaders pumped up the crowd of students and staff who began to gather along the walkway.
Free In-N-Out Burgers and CSUDH shirts were provided, thanks to sponsorship from the Office of the President, and students chances to win iPads and TVs during halftime.
csudhbulletin