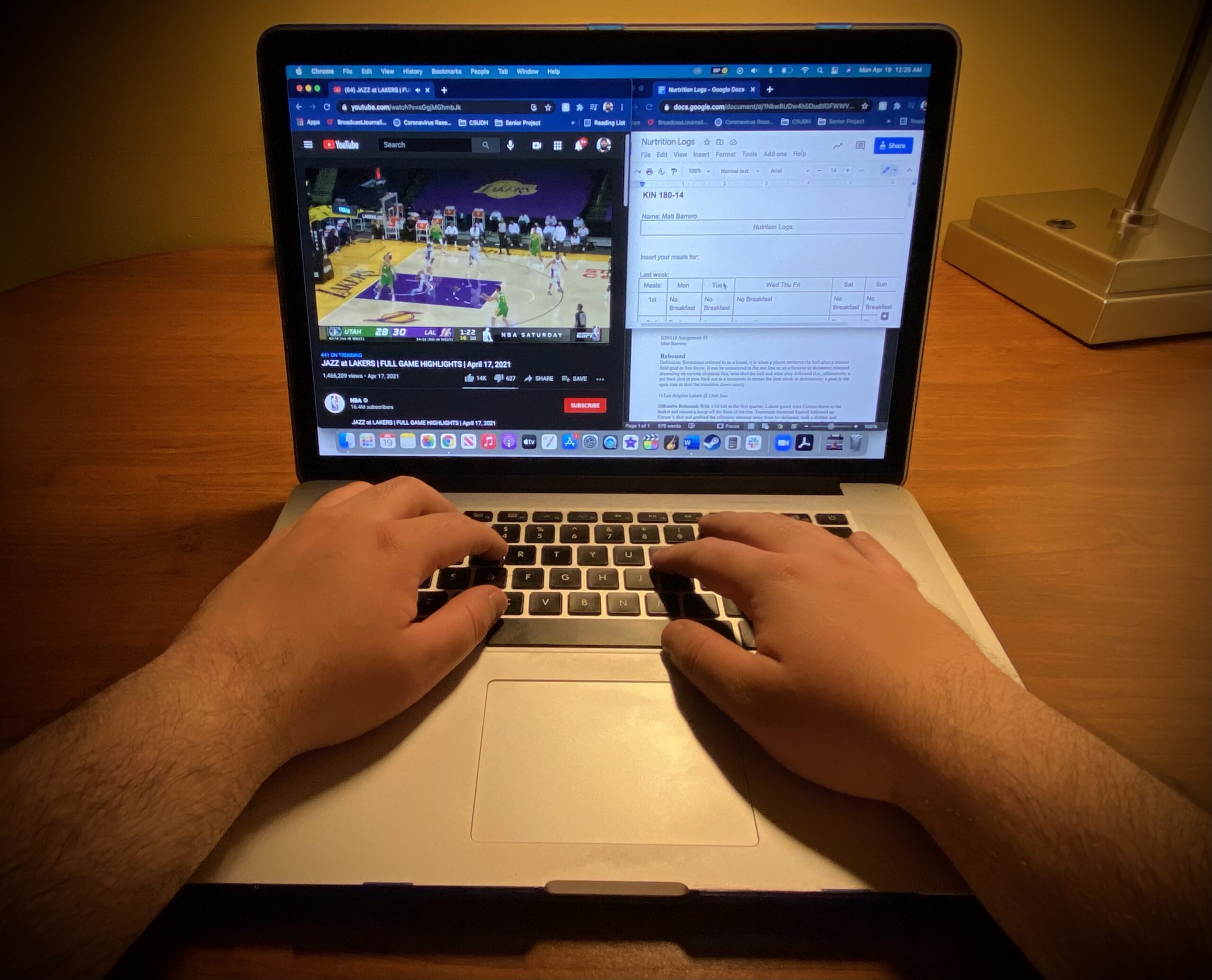 The beauty of participating in intramural sports during the 'Zoom Era': You have a reason to leave the confines of your bedroom. Photo by Matt Barrero.
By Matt Barrero, Co-Sports Editor
Have you ever been short a couple of units in order to qualify for financial aid? How about that moment when your advisor informs you that in order to be considered a full-time student, you need one more course added to your schedule?
Maybe you want to take a course that teaches you another language or perhaps it's the astronomy class that's calling your name.
If you're like me, you know that each semester (senior year especially) provides enough of a workload with the upper-division courses required for your major and what you need to graduate. So why would you want to add another three-unit course? Unless you're an overachiever (and I don't say that in a negative way) the reality is you want an easy, 'get me where I need to go' type of course that actually provides less stress to your student life. And that's where intramural (categorized under Kinesiology courses in the university's catalog) sports come into play.
From weight training to badminton, these one-unit courses provide much more usefulness than many students may realize especially during the unprecedented times of obtaining a college degree whilst stuck at home.
For me, it's Basketball (Kinesiology 118) and Walking for Health (Kinesiology 180) that have provided a great stress reliever and have provided a reason to escape from the confines of being chained to my desk (my own doing) and get me out of my home, even if it's just for a few hours.
In coach Steve Becker's basketball course, those enrolled would usually partake in on-campus activities where the class would be split evenly to conduct drills and learn the basics of the game of basketball. Since we can't be in the Torodome running around and shooting half-court shots, coach Becker has found a way for the class to actually learn (virtually) more about the fundamentals of the sport.
For about 45 minutes every Tuesday morning, the 25 other classmates and myself listen and watch coach Becker show the proper techniques of rebounding, shooting and defending.
It's not so much the visual aids he provides, but it's the motivating words he uses each class period to have us get outside and get active.
Since the beginning of the semester I have created a schedule that allows for up to an hour, give or take, of basketball play and incorporating what I learned from the day's topic. I find myself looking forward to Tuesday mornings knowing I'll be able to go shoot some hoops and step away from the computer for a little bit.
Then comes Walking for Health.
George Wing, director of Intramural Program, is listed as the instructor for the walking course but in the two semesters I have taken the class, it has been taught by his student assistants, who are also kinesiology majors studying to become trainers or therapists.
In the fall semester, the course met two times a week and spent 15 to 20 minutes doing warmups on Zoom prior to going on our walks. I enjoyed the physical aspect of it all because it provided a reason to once again get up and start my day by getting my blood flowing.
The importance of getting right out of bed and working out not only kept me limber knowing I had to sit most of my days on Zoom calls and meetings but it also provided a lot of energy on those Tuesdays and Thursdays so much so that I started going on walks on other days of the week that weren't technically scheduled walks.
For this spring semester, the approach has been a slight 180 from fall, as the course has been focusing more on mental health and learning through PowerPoint presentations above the actual walking itself.
We are still encouraged to go on our walks (as many as we like) and just like the fall semester we are required to send in journal entries from our week of walking to the student assistants leading the course.
Reiterating from what I mentioned earlier, these one-unit courses are so much more than just a course needed to get through college. They have provided an important element to the process of getting through school: the mentality to be able to step away from the grind of schoolwork and projects and improve my physical and mental health.
You may be thinking at this point, 'why waste my time taking a kinesiology course when I can just go exercise on my own time, it's the same thing.'
You're not wrong.
But for some of us, it helps to have that push we may not realize we needed. Especially with Covid-19 still thriving, it's important to have a reason to get outside your room and get some physical exercise. Plus, nothing beats the endorphins.
csudhbulletin