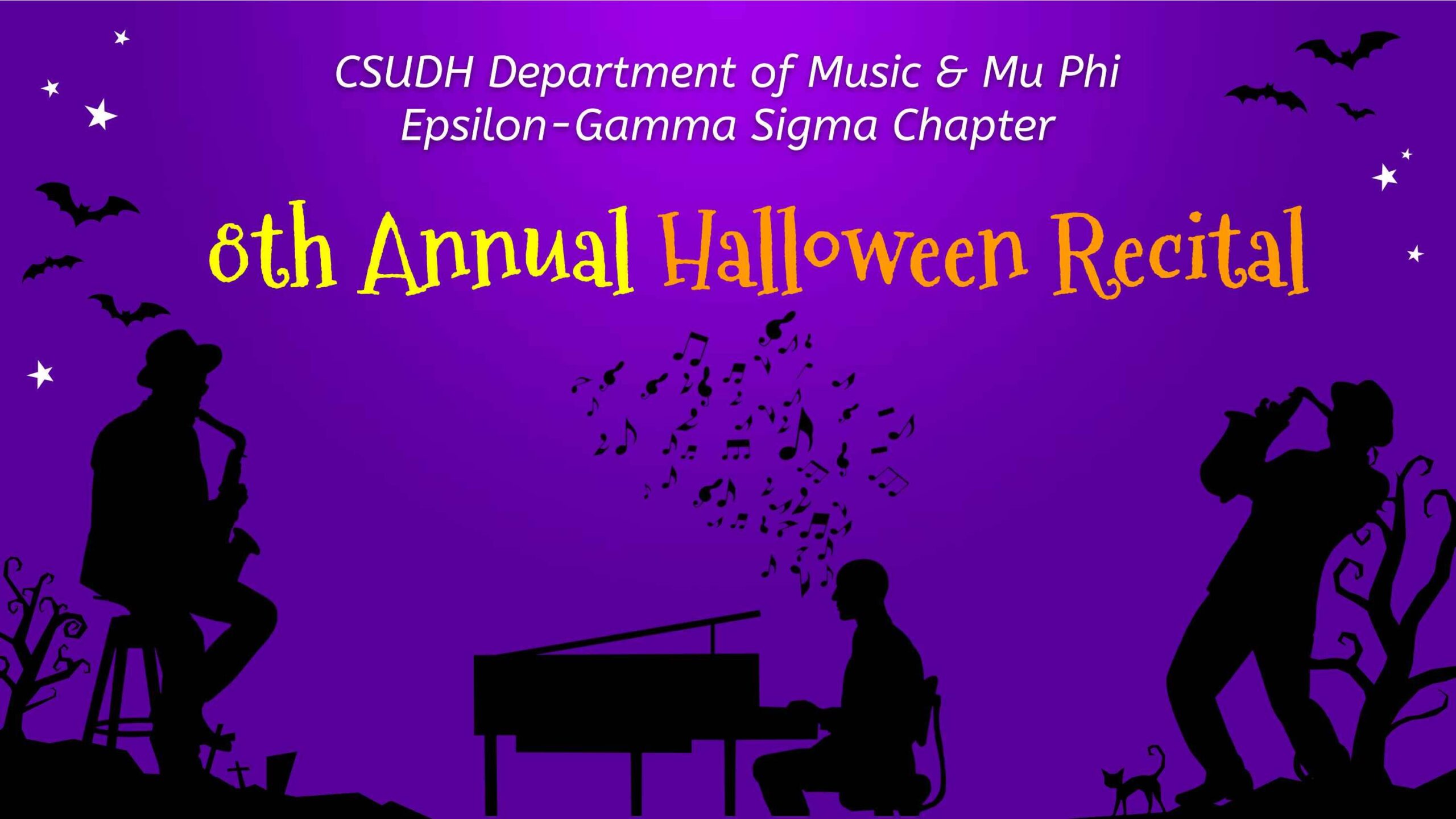 CSUDH Department of Music and Mu Phi Epsilon (Gamma Sigma Chapter) presented the 8th Annual Halloween Recital on Thursday, October 29, 2020, where many talented musicians (students and alumnis) performed.  Art by Ruby Munoz.
---
By Ruby Munoz, Staff Reporter
Having a virtual semester during an unprecedented semester didn't stop California State University, Dominguez Hills' Music Department partnering up with Mu Phi Epsilon (Gamma Sigma Chapter), a music fraternity on campus, to host their 8th Annual Halloween Recital. The idea originated from Mu Phi Epsilon's faculty adviser and music professor, Mary Au.
Before the pandemic, Professor Au traveled around the world as a concert pianist. After she gathered current and post-graduate students to participate in the concert, she revealed the theme: Halloween.
Au will feature plays that alumnus have written, including alumni Ryan Vuckovich who wrote "Diary of A Ghost Hunter" and "Candy Land Is Dead", which Au performed at the recital. Vuckovich took Professor Au's piano class while attending CSUDH.
Vuckovich has also written a sci-fi book titled, "Keep Your Doors Open." He is currently working on a second book and is also in a band called Leave It To Cleaver. They are in the process of finishing a second album.
Popular French children's song, "Alouette" was played on the piano at the recital by Ivan Hernandez, a current student of Professor Au. Right after Ivan Hernandez performed, Ariana Alvarado and Hernandez played the piece as a duet. They played a combination of vocals, violin and piano.
Au explained how the piece sounded morbid, therefore, it was perfect for the Halloween theme. "Alouette is about plucking feathers from a lark," Au said. "I teach piano, and I asked my students to find french words and sing the words and play it at the same time."
President of Mu Phi Epsilon (Gamma Sigma Chapter), Janelle Catbagan, beautifully sang "My Future" by Billie Eilish, accompanied with her guitar at the virtual concert.
Catbagan said that having the concert delivered through a virtual format has definitely been a challenge in terms of logistics and preparation, but although students can't physically be together, she believes it's a great and fun way to bring everyone together and enjoy the music that the students have prepared.
Au said that she attended a number of virtual concerts, and expressed that she enjoyed the ones she has attended. She feels that the audience can still find enjoyment in music despite it being virtual.
She talked about how the Metropolitan Opera in New York had been hosting virtual concerts in cinemas through the pandemic.
"Instead of paying over $200 dollars and more for tickets, people can attend cinemas and pay $20 to see operas all over the world," Au said.
Secretary of Mu Phi Epsilon and Music major, Joseph Garcia, showcased his classical guitar and said that although many wished it would have been live, the audience was still able to see wonderful musicians perform.
"It's great to see what people worked on for the recital, especially those who are not my music major classmates," Garcia said. "We get to see other people's talent and passion for music which is always welcome."
In addition, an alumnus and guitar player, Carlos Rodriguez, who is in a band called Lydian Arrow performed "What If Cattle Decapitation was in a Major Key?"
"I enjoyed the sense of camaraderie among all of the musicians," Rodriguez said. "No matter if we're students or alumni, I appreciate the fact that we are all here for one another!"
With all the performances being pre-recorded, the 8th Annual Halloween Concert was a great event to share with family, friends, and colleagues for a fun and spook-tacular night full of music of different genres, while wearing Halloween costumes.
"If our music can bring the campus together during the pandemic time and bring joy and healing to all, that is what being a musician is all about," Au said. 
All music from the event is pre-recorded. Of the 20 performances showcased, you can view the following on YouTube by clicking on the hyperlink.
Jamie Yu and Joseph Garcia – This is Halloween, for guitar and piano
The Sun Monkeys (Hall & Oates) – Maneater, arranged by Berly Deckman & Adam Ballotto (3:05)
Gabriela Padilla with KXNG Crooked – You was supposed to (3:10)
Carlos Rodriguez – What if Cattle Decapitation was in a Major Key?
L.A. Orquesta Nueva Revolucion – Christian Nodal y Intocabble (Medley #2 cover), voice and band.
csudhbulletin