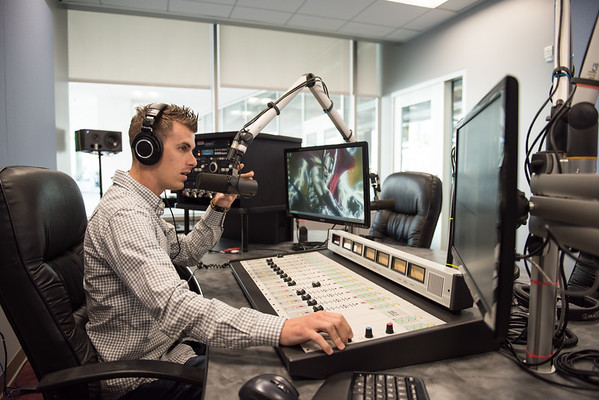 ASI Program Coordinator and Station Manager Stephen Janes at KDHR's home studio on campus in the Loker Student Union. Photo courtesy of CSUDH Photo Archive
---
By Raven Brown, Staff Reporter
Recording a radio show or podcast on campus was once an entirely different operation. California State University, Dominguez Hills' radio station, KDHR, had all the gear and equipment one could ever dream of. A state-of-the-art studio without having to spend a penny out of pocket.
Today, the environment and expectations are different with on-campus recording temporarily becoming a thing of the past. When campus shut down in the spring, the radio station's studio was forced to do the same.
KDHR's radio hosts have had to transition into recording their shows at home or even made the decision to not continue recording at all.
Going from over 30 shows on the air weekly to only seven makes it clear that recording remotely isn't possible for everyone. Buying the necessary equipment can be costly on top of all the other expenses and obstacles students are currently facing.
Understanding these challenges and setbacks, KDHR's station manager, Stephen Janes, and production assistant, Adrian Aguilar, put together a Remote Podcasting how-to guide to inform students of the tools they would need to get involved and still have their podcasts syndicated through the school.
Whether students choose to purchase their equipment or record from their smartphones, the ability to create a podcast or radio show is still there. With all the technology we have in the palm of our hands, there's never been a better time to make your own podcast.
"The quality definitely takes a bit of a hit, but I've always said the content is more important than anything else," said Janes. "As long as the content is there, people are going to come back and listen to it."
When it comes to post-production, radio hosts are now being prompted to send their recorded shows via email to Aguilar, who then makes the necessary edits and then posts them to their Spotify and iTunes channels.
---
KDHR's in-house turntables are currently on a hiatus, but DJs will be spinning virtually on Twitch. Photo courtesy of CSUDH Photo Archive.
---
Being a current film TV, and media student at CSUDH, Aguilar has put his knowledge to good use when transitioning into producing KDHR's shows remotely.
"It took a while to figure out how we were going to do this. It used to be a lot easier to do a podcast with all the technology we had," said Aguilar. "But now we just have to do everything manually."
Janes, who is an alumnus of CSUDH and has been with the radio station since 2005, has not only been a champion for the evolution of the station but has seen it grow into live entertainment.
The KDHR Takeover events used to fill the DH Sports Lounge several times throughout the semester, allowing students and radio hosts the opportunity to interact face-to-face and take a break from their busy class schedules.
Making the shift to remote events, KDHR has started to host virtual concerts on Twitch. Students will be able to watch and participate in these live events by logging into their Torolink.
"On a Thursday and Friday at the end of each month, we will have two different student DJs," Janes said. "We'll still do giveaways and fun things like that. But the Twitch platform at least still allows some interactivity."
Much like every other organization on campus, KDHR has had to make some major adjustments to how it functions. The format may be different, but the station's vision is still the same: support students and keep them entertained.
If you have an idea for a show, now is the time to get creative, get involved and gain some experience in the podcasting space. No idea is too big or small.
For more information, visit here to fill out an application, or email kdhr@csudh.edu.
Follow @kdhrradio on Instagram for updates on upcoming events and info sessions.
csudhbulletin