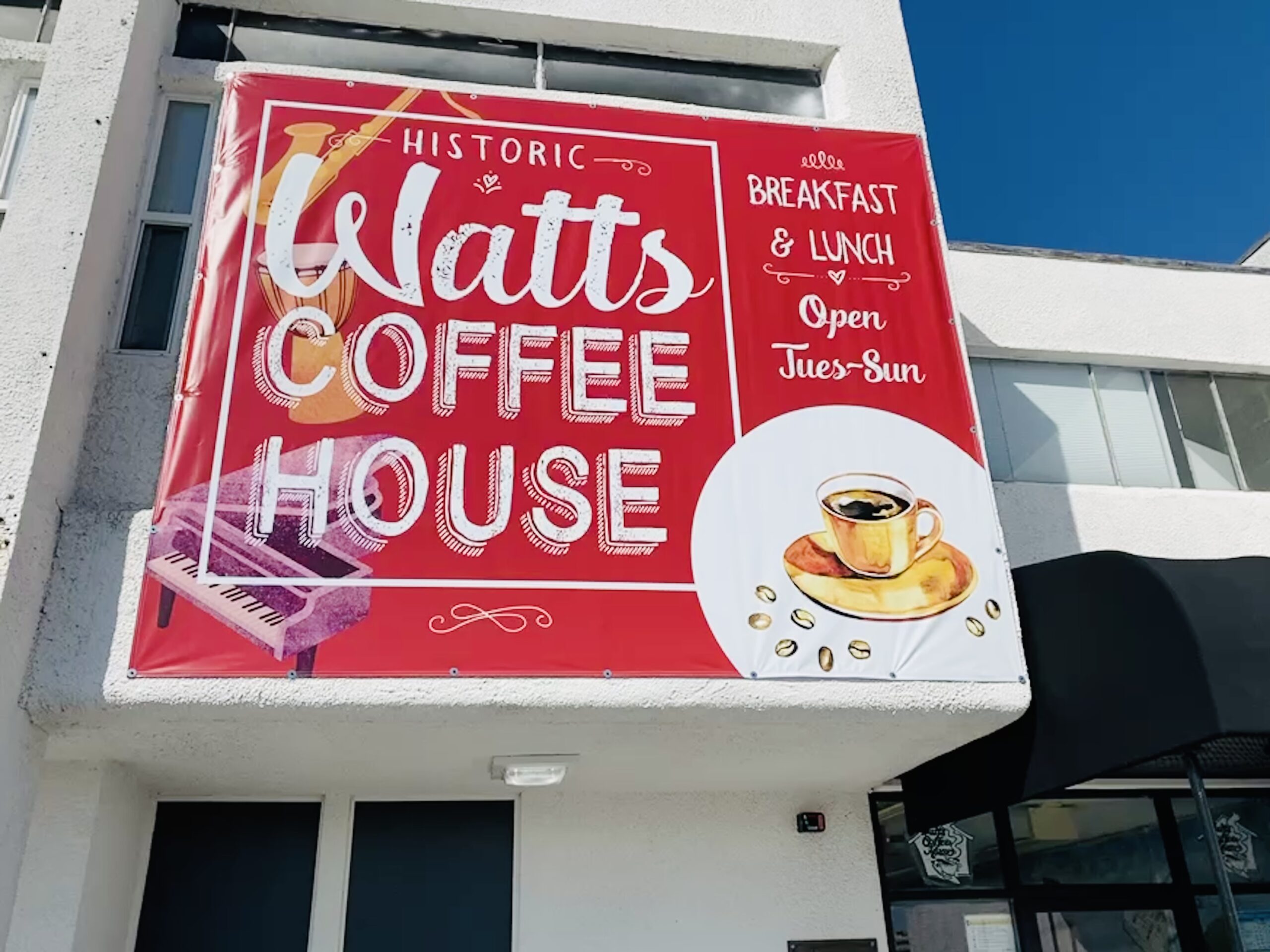 Burned down in 1965, Watts Happening was rebuilt in 1997 as Watts Coffee House. Photo by Skyler Belmonte.
By Skyler Belmonte, Staff Reporter
Head chef, Desiree Edwards makes her customers feel like a part of the family. Close your eyes and imagine; you are visiting your favorite aunt in the South and as soon as you walk inside of her country-style home, an aroma of buttered waffles, crispy fried chicken, cheesy eggs, and the crunchiest bacon causes your body to float. At Watts Coffee House, the steamy goodness lurking from the kitchen welcomes you before the host can!
Watt's Coffee House, located at 1827 East 103rd St in Los Angeles, has all the nostalgia of the mid-90s, and food you could ask for. Edwards, owner and head chef of Watts Coffee House has been running this quaint restaurant enriched with local history for more than 20 years. Edwards' restaurant pays homage to Watts Happening Coffee House, which was drastically burned down during the Watts Riots in 1965. It was a place notorious for Black activism and culture. Poets, musicians, and other creatives indulged in the hip atmosphere. 
Decades later, Edwards revived the town's hot-spot cafe and opened Watts Coffee House across the street where Watts Happening once stood. Locals raved about the famous coffee house making a reappearance. Black creatives rejoiced and in a blink of an eye, she owned one of the city's most historical restaurants. 
If you are in the mood for crispy on the outside, warm on the inside biscuits smothered in a creamy, hot, turkey sausage gravy, I suggest you run, not walk, on over to Watts Coffee House. Once you burn some calories running to the front of the line, you will have enough room in your belly to order a chocolatey, smooth Mocha Latte. Oh, and be careful because the latte comes out HOT!
The customers are predominantly local, elderly folk who have been visiting the coffee house for years. They say it has become a part of their regular morning routine.
"One bite of the fried catfish and I thought my grandmother was in the kitchen cooking," said James Henderson, a frequent customer of Watts Coffee House. "Watts Coffee House has been around since I was a troublemaker running these streets. I've come every Sunday morning with my newspaper and ordered the same plate for the last 15 years."
Watts Coffee House is a reminder of the positive impact a restaurant can have on a community. Political and cultural activists have been gathering at the location for decades. It is a pivotal cafe in the history of the city. It is a place where poets cried for peace through the rhythm of their words. It is a place where Black Panthers stretched their fists in unity and promised to protect their people. It is a place where singers vocalized injustice in harmony and powerful melodies. It is a place of expression and freedom. It is a place where Black people can be safe.
This renowned restaurant is ideal for those who share an appreciation for Los Angeles history. It is an establishment where the walls whisper secrets to those who have an ear for hearing truths behind lies. It has been a sanctuary for Black generations. Upon entering, there are black and white photographs of celebrities, social activists, and locals dining at Watts Coffee House. One thing each photograph has in common is the bright smiles shining from everyone's faces.
Edwards saw an opportunity to rebuild a place that signified an escape from reality for many people. She continued the powerful legacy of Black culture throughout the city of Watts. Her coffee house is more than delicious food and coffee; it is a museum. It is a place of belonging, friendship, conversation, and soul. 
If your mind lusts for local history, and your stomach craves some good ol' comfort food, visit Watts Coffee House. Come early, as their weekly hours are Tuesday to Sunday 8 a.m.-3 p.m.
csudhbulletin