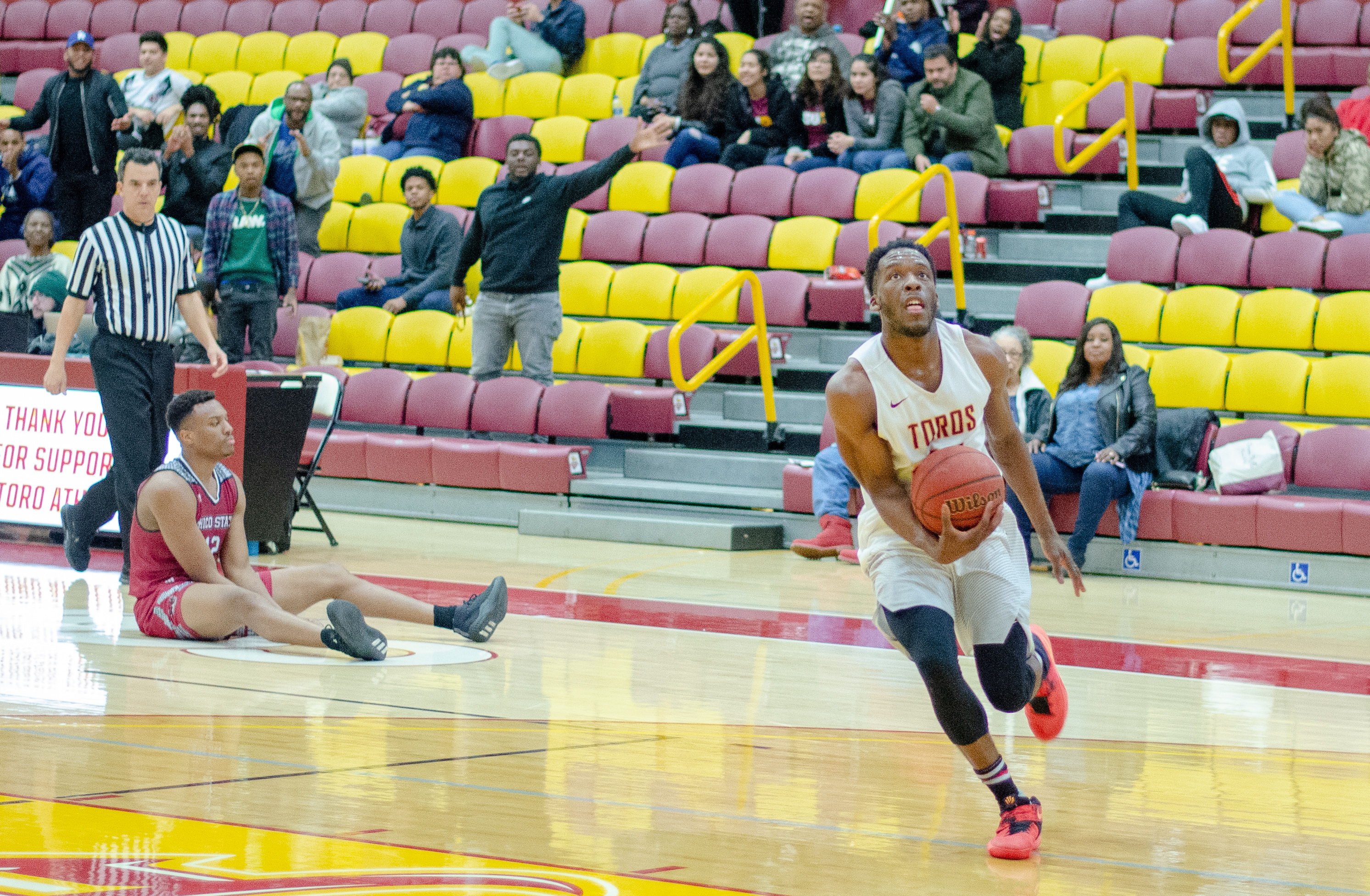 David Howard led the Toros in rebounds and points in their win Saturday
over Chico State.                                                            Photo by Glenn Marshall

By Tristin Taylor
Staff Writer

After tonight's 73-64 victory over Chico State Saturday, the question is less whether the CSUDH men's team will make the California Collegiate Athletics Association playoffs and more will they host a first-round game? The win, the Toros third straight, puts them in a tie for fourth place in the CCAA, at 12-8 overall.
Depending on how the last two games of the season shake out the Toros could finish as high as fourth, in which they would host a first-round game, or as low as a tie for eighth, which would still earn them entry into the postseason for the third straight year.
Head coach Steve Becker seemed less concerned about where the Toros wind up than pleased about his team's performance.
"Their hard work has really paid off and they are ready to take on this challenge and represent CSUDH the best way they know how," said Becker,
If defense shows up the next two games like it did in the second half against Chico State, count on the Toros to host their first CCAA playoff game in eight years. After playing even with the Wildcats for a half that ended tied 34-34, the Toros clamped down, holding Chico State to 31.8 percent from the field. Meanwhile, led by Mikey Hatfield's 12 second-half points, and David Howard's 10, the Toros pulled away, going on a 10-0 early in the second frame, and leading by at least five the rest of the game.
Howard led the team with 21 points, along with a game-high nine rebounds, while Hatfield had 20. Both were among the graduating seniors honored before the game, as it was their last regular season home game as Toros.
"This puts us in a good spot and helps our team get better," said Senior David Howard. "Our team will continue to grow and bond so that we can enjoy our gains and wins."
The Toros last hosted a home playoff game in the 2010-11 season, when they won the CCAA tournament, set the team record of 23 wins, and played in their lone NCAA Division II tournament. Since that season, the Toros have not finished higher than sixth.
Up Next: The Toros compete at Cal Poly Pomona Feb. 28 and Stanislaus State March 2. The first game of the playoffs is scheduled for Tuesday, March 5.
csudhbulletin