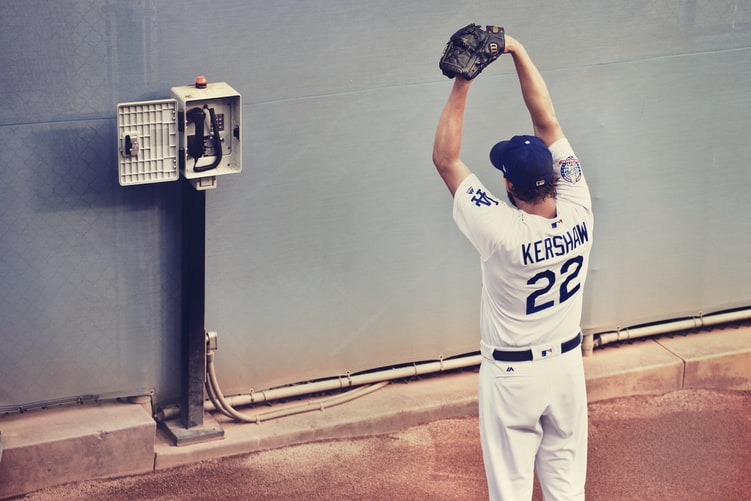 Dodgers pitcher Clayton Kershaw looks to snap his postseason woes and bring LA it's first title in 3 decades. Photo by Tim Mossholder on Unsplash.
---
By: Daniel Tom, Staff Reporter
The 2020 Major League Baseball season has been anything but normal. 102 games were cut from the original 162-game season and owners/league officials came to an agreement to play a shortened 60 game regular season.
After some blockbuster moves during the offseason, the Los Angeles Dodgers are looking to make noise in the playoffs once again. The Dodgers, fresh off their eighth consecutive divisional title, look to finally break through the door and bring a championship home to LA after nearly 3 decades.
Los Angeles finished the regular season with a 43-17 overall record and locked up the number one overall seed throughout the playoffs. With the signing of three-time gold glove winner, all-star and former American League MVP Mookie Betts this offseason, along with the offensive power of 2019 National League MVP Cody Bellinger and other supporting players, the current roster provides a strong combo for the team to light up the opposition with the bats and excel defensively.
The pitching rotation features both young and veteran arms and includes a stacked bullpen that looks to continue to get better game by game. The starting rotation is led by 3-time NL Cy Young Award winner Clayton Kershaw, looks to break his postseason woes and play a role in leading the Dodgers to a title. In 8 appearances this season, he won 6 games and boasts an ERA of 2.16
This year's postseason has a bit of a different look to it. Due to the ongoing coronavirus pandemic, the league is looking to eliminate as much travel as possible while at the same time give teams a fair playing field after an offseason filled with controversy and uncertainty.
In 2020, top seeded teams will host the best-of-three wild card round starting on Wednesday Sept. 30. After the wild card round, the best-of-five game division series and best-of-seven game championship series will be played in bubble environments in Texas and California. The World Series will be played at Globe Life Park in Arlington, Texas.
LA v. Milwaukee (Wild Card): Behind a strong offense and dominant performance from Kershaw, Dodgers move on.
The Dodgers began their postseason journey by hosting the Milwaukee Brewers of the National League Central Division in the best-of-three wild card round at Dodger Stadium in Los Angeles. Dodgers manager Dave Roberts handed the ball to Walker Buehler in Game 1. In 8 starts this season, Buehler threw 36.2 innings, striking out 42 batters, while walking 11 and came in with an ERA of 3.44
Buehler had concerns with a blister on his right index finger leading up to his first start in the 2020 playoffs. It didn't stop him from throwing four innings, giving up three hits, and walking two batters while sitting eight Brewers down in Game 1 last Wednesday.
Los Angeles had their hands full with the Brewers relief pitching but got some help on the offensive side of the ball to secure a 4-2 win. Outfielder Mookie Betts hit two doubles in each of his first two plate appearances, scoring himself via a walk by catcher Will Smith, while also driving in Chris Taylor in the second inning.
Corey Seager added some much-needed insurance by hitting a home run in the seventh to give the Dodgers a comfortable 4-2 lead. This was enough for up-and-down closer Kenley Jansen to come in and slam the door on Milwaukee.
In Game 2 last Thursday, the Dodgers sent Clayton Kershaw to the hill, who's been known to struggle in the postseason. But on Thursday night, with a chance to advance into the division series, it was the dominant Kershaw of old that many Dodger fans recognized.
He pitched eight shutout innings, while striking out a season high 13 batters. Kershaw's Game 2 performance can be regarded as one of his best starts as he also set a postseason career high in strikeouts.
Milwaukee's Brandon Woodruff had gotten himself into a fine groove while being locked in a pitching duel with Kershaw, until the bottom of the fifth inning. 
After giving up three singles to bring up Dodgers catcher Austin Barnes, Barnes drove home the first run of the game via an RBI single. Not long after, Mookie Betts brought home two more with an RBI double, his third of the series bringing the LA lead to 3-0 and forced Milwaukee manager Craig Counsell to re-evaluate his game plan and make a pitching change.
Up three with a chance to sweep the series, offseason acquisition and relief pitcher Brusdar Graterol closed out the game and got three quick outs to send the Dodgers on to the next round.
The Dodgers now get a little bit of rest, head off to Texas to prepare for next week's division series against NL West foe, the San Diego Padres starting on Tuesday.
csudhbulletin