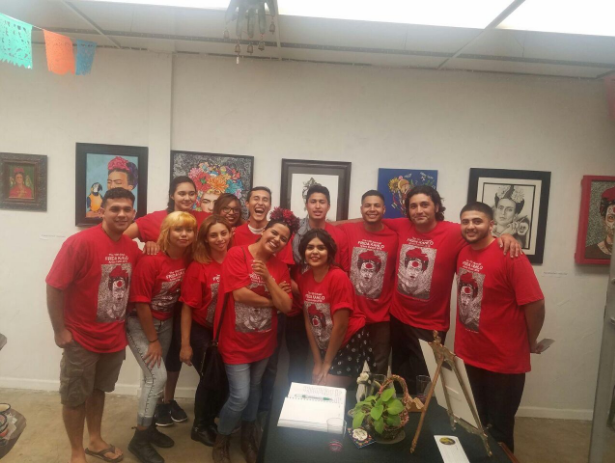 By Christian Mosqueda
Staff Writer
Joy was in full effect on Sept. 10 when members of OLE, Organizacion Latina Estudiantil, paid homage at the 16th annual Frida Kahlo Arts exhibit in Long Beach.
     Kahlo, a self-taught Mexican artist, lover of nature and women and men alike, transcends time with self-portraits and a surrealistic style of art that became popular in the 1920s.
     The event, hosted by Picture This, a small gallery in Long Beach, attracted a mammoth line at the opening that wrapped around the building.
     The exhibit showcased work by local artists, who paid tribute in their artwork to the late Kahlo. Festivities also included a Frida look-alike contest and live music by Casi Son.
     "The line extended outside from 4 p.m. until 8 p.m.," said Juan Antonio Tavarez, a modern language professor at Cal State Dominguez Hills and OLE advisor. "It was 90 degrees outside, and people still went in, waiting 45 minutes."
     Tavarez went on to say that even after death, people still care about Kahlo and the impact she had on the world.
     "She was living ahead of her time," said Isaias Zagal, president of OLE. "(She had) a spirit of overcoming things. A spirit to survive."
     Even through all the challenges that Kahlo faced — a bus accident, a failed surgical procedure that left her with lifelong pain and infidelity by her equally famous husband, artist Diego Rivera — she kept going till the end.
     "People can relate to that," Zagal said.
     Jose Padilla, co-president of OLE who volunteered at the event, stressed his excitement for the way it turned out.
     "It was great to see how diverse the guests were," Padilla said. "All of the paintings and all the look-alike contestants were amazing."
     Padilla said the best part of the event was hearing the fans in attendance express their positive thoughts about the overall event.
     Kahlo continues to be a huge influence in Latin American cultures.
     "(She is) a symbol of resistance," Tavarez said. "Regardless of the obstacles life throws at you, you can still represent your individual self and change the world."
csudhbulletin