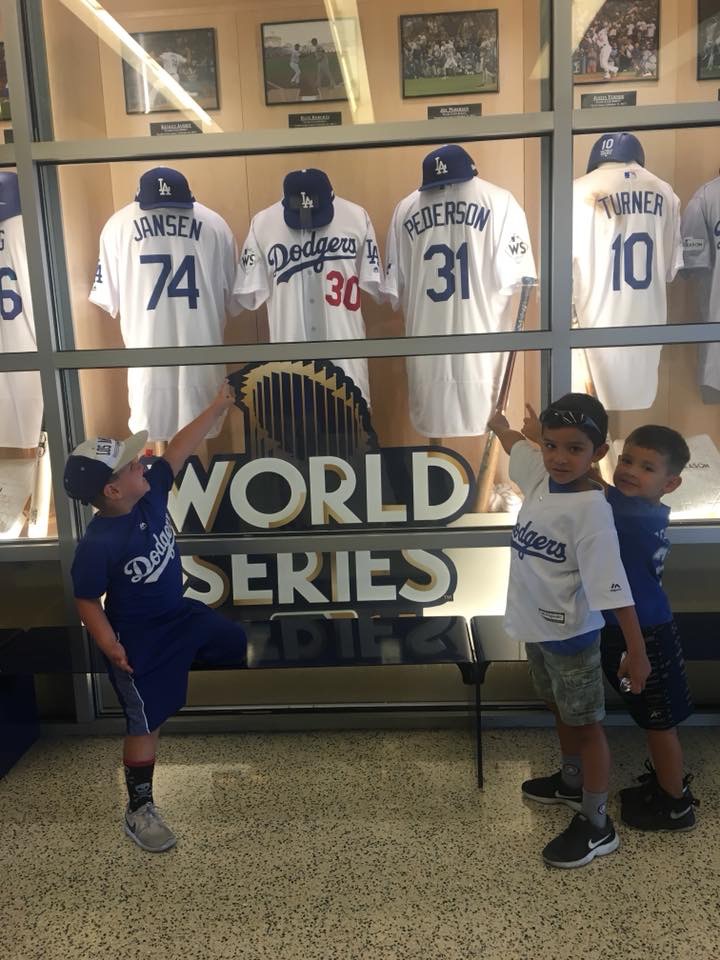 By Victor Munoz                                                                                                                             Sports Editor
While long-time fans of the Los Angeles Dodgers endured 29 years before the team returned to the World Series last year, brothers Tyler and Easton Palmer see it as matter-of-fact. Tyler James Palmer, age 6, and Easton Edward Palmer, age 5, caught the Dodger fever early in their lives, and their embracing of the team has reaped dividends, considering the Dodgers have advanced to two consecutive World Series.
And the Palmer Brothers think there is another appearance coming:
 "One day I want me and my big brother to play for the Dodgers," said Easton.
Both Tyler and Easton currently play ball in Burbank's East Valley Youth Baseball League for the Waves. They both have been selected to represent the league for their respective age group. Also, in their U6 travel team, they won the silver bracket championship in Toluca Lake.
"They are very competitive for their age, sometimes too competitive," said Kevin Palmer, their father. "But that's what makes them better."
Kevin believes there is a chance his kids could one day make it to the Major League Baseball wearing the blue and white jersey.
 "It's still too early to tell. But if they keep working hard and maintain the love for the game they will be able to do anything they set their mind to," said Kevin.
Kevin said that their love for the Dodgers is a big impact on them. Because they see how much fun they have and how hard they work "it feeds off them."
They both have met a couple of the current Dodger players and have set foot in the dodger pitch. They also could name a great amount of the Dodgers World Series representatives.
"Easy [some players are]; Turner, Puig, Machado, Wood, Kershaw, Hill, Kiki, Jansen," said Tyler.
Their actions make a strong statement towards their love and passion for baseball and the Dodgers.
When I told Tyler in a joking manner that Boston was going to win, he got mad and swung his hands as they both scream "no they are not."
It is a hard task for parents to take this generation of kids off a gaming console, but for Deana Alfaro, the mother, and Kevin Palmer, that is not the case.
"Taking them back inside from a day of baseball is definitely a struggle," said Kevin.
Kevin Palmer said that in the last World Series against Houston both his kid's skipped Halloween for the first time to stay and watch the game. The outcome of the entire series resulted in an hour of crying.
Now as the Dodgers return to World Series the Palmer brothers hope the Dodgers make a comeback and give them their most joyful moment, to forget the awful Nov. 1, 2017.
"If the Dodgers win we will be super happy," said Tyler and Eason, their voices resounding with excitement.
csudhbulletin