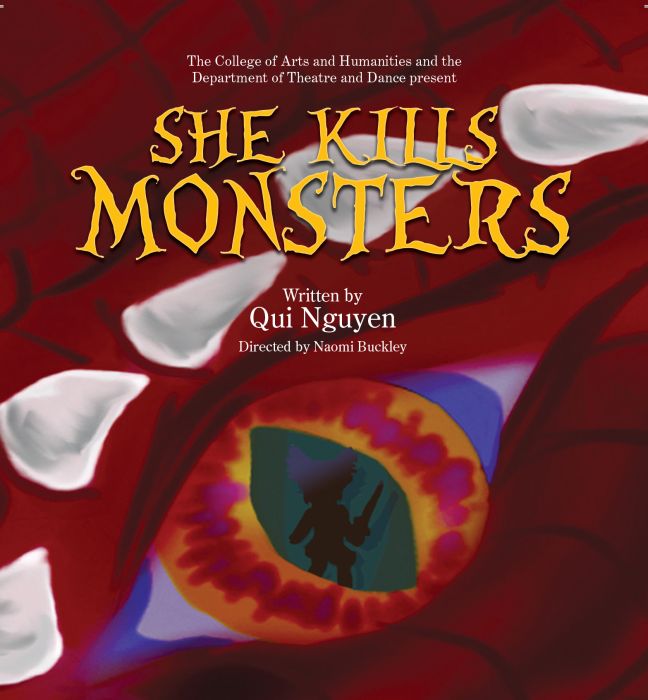 By Judy Camarillo
Staff Writer
Cal State Dominguez Hills' Department of Theatre and Dance will soon present another performance: "She Kills Monsters."
     The play was written by Qui Nguyen, a TV/film writer who co-founded the OBIE Award-winning Vampire Cowboys of NYC Theatre Company. Naomi Buckley is directing.
     "She Kills Monsters" is a dramatized comedy, or dramedy, that includes homicidal fairies, disgusting ogres and plenty of 1990s pop culture.
     "A comedic romp into the world of fantasy role-playing games, 'She Kills Monsters' tells the story of Agnes Evans as she leaves her childhood home in Ohio following the death of her teenage sister, Tilly," according to the theater department's digest of the play. "When Agnes finds Tilly's Dungeons & Dragons notebook, however, she stumbles into a journey of discovery and action-packed adventure in the imaginary world that was Tilly's refuge."
     The "rapid-fire" piece was written with "heart and humor" and showcases entertaining fight scenes and terrifying monsters.
     Its intent is to welcome the audience into the creative world of Tilly, who is described as a dorky, self-assured 15-year-old lesbian.
     The cast features CSUDH students and alumni.
     It's been called "A much needed exploration of a girl geek culture" that "… will slash and shapeshift its way into your heart."
csudhbulletin