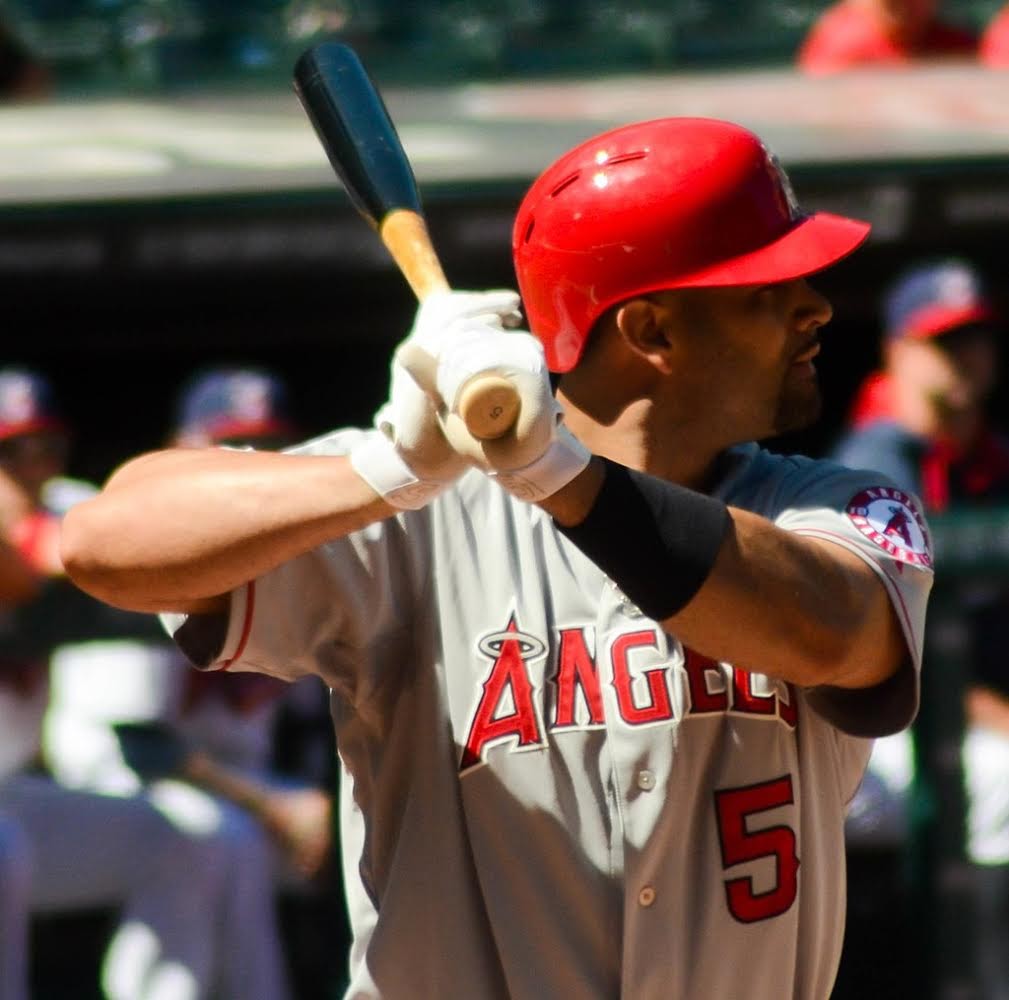 Photo from WikiMedia.
---
By Taylor Ogata, Staff Reporter
The 2020 Major League Baseball regular season felt never-ending for the Los Angeles Angels of Anaheim, even though it was shortened to 60 games from their normal 162-game season. On the bright side however, one of their star players etched his name into the history books.
40-year-old Dominican first baseman and designated hitter Albert Pujols passed legendary outfielder and Hall of Famer Willie Mays for fifth place on the all-time home run leaderboard with his 661st and 662nd career home runs on Sept. 18 against the Texas Rangers at Angel Stadium in Anaheim, Calif.
"I guess it's a relief because I didn't wait 100 games to hit it," Pujols said in his postgame interview. "Last time I waited so long. But you know me. I don't think about it. I know that God's time is perfect always."
Earlier in that week, Pujols tied the "Say Hey Kid" with his 660th homer against the Colorado Rockies at Coors Field in Denver. The blast broke a 93-plate appearance home run drought for him.
"I prefer myself every time to help my teammates, help this organization win," Pujols said. "And I don't want to change it just because I'm chasing to hit one out of the ballpark."
Pujols hasn't been as productive as he was in his first 11 major league seasons with the St. Louis Cardinals, but he has reached several milestones.
"My main thought during all this tonight, because I've watched him historically tie and now historically go ahead: It's too bad that there's no fans in the stands," Angels manager Joe Maddon said after the game in which Pujols passed Mays.
Pujols has only averaged 26 home runs per season in the nine he has played for the Angels after he averaged 40 a season with the Cardinals.
He has one year left on the 10-year, $245 million contract he signed after helping St. Louis win the World Series in 2011.
Ahead of Pujols on the all-time home run list is Barry Bonds (762), Hank Aaron (755), Babe Ruth (714), and Alex Rodriguez (696).
Throughout his career, it seemed unlikely Pujols would join Bonds, Aaron, and Ruth in the 700 home run club, and the odds are really against him now thanks to the drought he was in prior to hitting number 660.
Among other milestones and achievements, Pujols became the ninth player in MLB history to join the 600 home run club with a grand slam at Angel Stadium in 2017, as well as amassing 3,000 career hits a season later.
Last season, Pujols joined Hank Aaron and Babe Ruth as the only recognized players to eclipse 2,000 RBIs.
He was chosen by the Cardinals in the thirteenth round of the 1999 MLB June Amateur Draft, but didn't make his debut until 2001.
In his rookie season, Pujols won the 2001 National League Rookie of the Year award, and later in his career, won three NL MVP awards.
In addition to winning the World Series with the Cardinals in 2011, Pujols also helped St. Louis win the 2006 World Series. He is also a 10-time all-star.
Albert Pujols still has some game left in him and could be going into the Hall of Fame after he retires.
csudhbulletin